October 2010
Cindy Reynolds, Secretary to the Dean of Students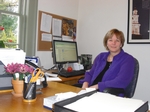 The window in Cindy Reynolds's office looks out onto the intersection of College Hill Road and Campus Road. Talk about a great place to keep tabs on the comings and goings of members of the Hamilton community! But if you're walking or driving by on a weekday and glance up at her window, don't expect to see Cindy looking back — she's too busy with her responsibilities as secretary to the dean of students to be gazing out the window.
Just over eight years ago, in August 2002, Cindy came to Hamilton; she's held her current position from the start. Cindy took the job after spending 10 years out of the work force, raising her children. Cindy had heard that Hamilton was a good employer, and when this position came open, Cindy says, "It seemed like a good fit with my background and exactly what I was looking for." She started working with Dean Flossie Mitchell and has continued with Dean Nancy Thompson.
Cindy says, "I love my job because there's no such thing as a typical day! It's never dull; every day is new." Her responsibilities include managing Thompson's calendar and providing regular secretarial services to her, as well as supporting other deans in the office. Cindy says that interacting with students, and learning from them, is what she enjoys most about her job.
In fact, it was through a student connection that Cindy became a huge fan of the Hamilton women's ice hockey team. During her first year at Hamilton, Cindy met an intern in the office who was a member of the team, and she's been hooked every since. It was at a recent game that Cindy had one of her most memorable experiences at Hamilton. The Continentals faced Middlebury, the top-ranked team in NESCAC, at home on Feb. 6, 2010. It was Women's Ice Hockey Alumnae Weekend, and Sage Rink was packed with fans. When the Continentals won, 3-2, "the place erupted," Cindy recalls.
Cindy is married and the mother of two children. Her son is a senior at Clarkson, majoring in engineering and management. Her daughter is a junior at Cornell, majoring in hotel administration. Cindy and her husband are owners of a new business, Black River Wine and Spirits, which opened in June next to Teddy's on Black River Boulevard in Rome. Her husband leads wine tastings at the store on Fridays. "He knows his stuff," Cindy says.
On top of her responsibilities at Hamilton and at home, as well as with the family business, Cindy finds time to run. She has been president of the Roman Runners, a local club with 150 members, for 15 years. "My membership and role as president keep me motivated to run," Cindy explains. As president, she also directs the Fort to Fort Race, held in April each year. It's the club's biggest event and this year raised $7,000 for the Rome Chapter of the American Red Cross. In addition to hosting that race, the club sponsors one smaller race each month; Cindy acts as race director for some of those, too. Cindy's also a regular participant in the Utica Boilermaker: she's a veteran of 23 of them!
Cindy is stumped when it comes to thinking about where she'd be if she weren't at Hamilton. She muses, "If I had a crystal ball? I don't know where I'd be, but I wouldn't enjoy it as much. It wouldn't be as good, I'm sure!"
So, if you're intrigued by this description of Cindy's varied interests and want to meet her, stop by Elihu Root House during the day — or Sage Rink whenever the women's ice hockey team is on home ice!