August 2010

Claudette Ferrone, Associate Director of Leadership Giving Programs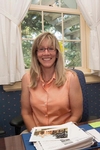 The College Purposes and Goals statement ends by summarizing a Hamilton education as "the foundation on which [students] build a lifetime of personal and professional achievement and satisfaction." Claudette Ferrone, Class of 1988 and associate director of leadership giving programs, has done very well building upon that foundation.
Claudette first came to Hamilton as a prospective student after the Admission Office sent her three mailings— she had never before heard of the College. Hamilton soon became her first choice, and she arrived as a student in the fall of 1984.
After graduating with a degree in biology, Claudette took a job in North Carolina. She didn't stay away long, however, because two years later she was back in Hamilton's Biology Department, this time as the laboratory coordinator. Claudette held that job for nine years before asking herself, "What's next?" In August 1999, she answered that question by moving across campus to C&D as an assistant director of major gifts. Claudette has held several positions in C&D since then, but the major component — planning events and implementing special projects — has remained the same. "My Hamilton liberal arts education served me well as I transitioned from an academic science department to a more relationship-driven environment," she says.
Claudette's base of operations is a compact and well-organized office just off the reception room in the Anderson-Connell Alumni Center. She's involved with planning on-campus building dedication ceremonies, the annual December NYC Leadership Weekend, theme-focused weekends in major U.S. cities and other special projects. Asked to describe a typical day, Claudette replies, "The variety is almost endless." She finds herself attending meetings, managing the details of events in various stages of planning, brainstorming for future events and working with designers and vendors. Approximately four times a year, she does some traveling for her job. "It's just enough travel to make it fun," Claudette says. "It's great to be in the company of such enthusiastic people who care about Hamilton."
In fact, when asked what she enjoys most about her job, Claudette doesn't hesitate: "It's the people. The best part of my job is the opportunity it has afforded me to develop relationships with so many people in so many different walks of life, both on and off the Hill."
In the course of her work week, Claudette fits in regular noontime visits to the Blood Fitness Center. Sports and fitness feature in her life when she's away from the Hill, too. Claudette is married with two college-age children. She and her husband take long walks together, and they participate in the same supervised fitness program. In addition, Claudette is an avid bicyclist. "When I'm on my bike, I can't wipe the smile off my face," she says. Claudette is involved with the annual Ride for Missing Children, a 100-mile ride in a single day, as a rider, "shepherd" to other participants and executive committee member.
Photography is another of Claudette's passions. Through her freelance photography business, she applies her skills to a wide range of subjects, but, she says, "I especially enjoy capturing sports action." One of Claudette's regular subjects is the Ithaca College gymnastics team, of which her daughter is a member. In fact, Claudette confides that a goal of hers is to shoot professional sports and have her images published internationally.
A quick listing of some of Claudette's other interests includes playing the flute at church; volunteering for the House of Good Shepherd's Fund Development Committee; participating in CNYBizTalkers, a local Toastmaster's club; and working toward her goal of doing 10 chin-ups in a row, both over- and underhand (currently, she's up to four). She is a high-energy individual with broad interests, so if you're looking for a fine example of Hamilton's goals and purposes put into practice — or if you're looking for inspiration to get the most out of life, both personally and professionally — you couldn't do better than to stop by C&D and meet Claudette!