November 2010
Lora Schilder, Director of Admission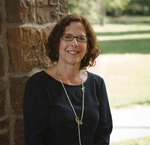 Serendipity? Happenstance? Luck-of-the-draw? Whatever it was, when Lora Schilder, then a graduate student in a master's in counseling program, was assigned to the Colgate University Office of Admission for a required internship, she found her calling. "I loved it from the beginning," Lora recalls. "Before that, I really didn't understand that college admissions work existed as a career at all." Soon she was employed in that same office and launched in a career that has continued for the last 30 years.
In about 1980, after Lora's husband had taken a job in Utica, she accepted a position at Hamilton College. Lora stayed on the Hill until 1986, when she relocated with her family to her husband's home country of Holland. They stayed there for five years, during which time Lora worked as the Northern European representative for a consultant who assisted European students wanting to study in the U.S. When it came time for the family, which now included two young daughters, to move back to the U.S., Lora again took a position here at Hamilton.
What constitutes a typical work day for Lora depends entirely upon the time of year. It might entail sitting down to read 60 application folders — or it might mean visiting five schools in New York City. Lora finds the cyclical nature of her job very appealing. "Just when you think you can't stay another night in a hotel, it's time to go on to the next phase," she says. "There's always something new to look forward to in the process."
Lora also appreciates how people-oriented her job is. It provides opportunities for teamwork and collegiality, and she's meeting new people all the time. In particular, she says, "It's gratifying to know you're working with students and their families at this very important time for them, helping them find the right fit."
A graduate of Skidmore College, Lora feels strongly about the benefits of attending a small liberal arts college. Lora's older daughter, now living in Holland, is a Wesleyan grad, and her younger daughter is a member of the Hamilton Class of 2011. In fact, it was her daughter's matriculation at Hamilton that provided Lora with one of her most memorable experiences here. In fall 2007, as Lora put on her nametag for a Trustee Weekend luncheon, she noticed that "P'11" had been added after her name indicating that, in addition to her position as director of admission, now she was the parent of a Hamilton student!
While Lora's long interest and involvement in liberal arts education is not surprising, many of her colleagues on the Hill might be surprised to learn that she used to be a singer in a rock band. In high school and college, Lora sang with a '60s-style folk rock band. Then when she moved to this area she sang with a country rock band. Lora continued singing when she lived in Holland, that time with a more contemporary band. In recent years, Lora's put singing on hold, but from time to time she thinks about getting back to it.
When asked where she would be if she weren't at Hamilton, Lora takes a long time to answer. "That's a tough one; I have no idea really. I suppose I'd be working in higher education somewhere — or working in a piano bar," she says with a smile. "Education was always going to be the thing for me, in one form or another. I just happened to fall into admissions work, and it was a great fit."
If you haven't yet met Lora and would like to, look for her at one of the events on campus for prospective students. Ask her to share some insights and anecdotes from her years in admissions — and find out if she's lined up a singing gig yet!