June 2011
Joseph Plado, Safety Officer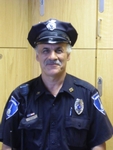 Joe Plado is easy to talk with. Conversation flows from one topic to another, effortlessly, and he smiles and chuckles the whole time. When talk turns to Hamilton, he's even more animated, almost every anecdote ending with the refrain, "I love working here."
Joe first came to the Hill in the 1990s, when he worked for a security contractor that provided safety officers for parties and special events. The College grabbed him right from the start. "It was the beautiful architecture and the people," he recalls. "I said to myself, 'I would love to work here; I want to get into Hamilton.'" That happened in 2000, when he was hired first part-time and then full-time.
As a member of campus safety's "B line," two officers working the day shift, Joe starts his day before 7 a.m. by checking in with the night-shift officers and then reviewing the department's log book. Leaving the office, Joe hops into a vehicle and does a quick sweep before taking a methodical tour of either north or south campus. His routine is often interrupted by calls, from lockouts and escort requests to emergencies and fire alarms, and trips back to the office to file reports.
The parking lots figure prominently in Joe's work days. Sometimes students park in employee lots, and Joe says, "I give them lots of warning, but if I see the same car every day, I'm going to ticket it." He smiles when explaining that some students try to evade a second ticket by leaving the first one there. "I get out and check the date. Every day I'll add one more: sometimes the collection of tickets looks like a flower. But I'm trying to teach them; once they get out of here they need to know how to follow the rules."
Joe is quick to note that most students are great, and his affection for them is evident. Joe's a self-taught auto mechanic, and he has a lot to offer when there's a breakdown. Over his years here, Joe has diagnosed a wide range of problems and supervised numerous tire changes.
Fixing cars isn't the only thing outside of Joe's job description. As a professional hairdresser —he had a shop in Utica for about 30 years — Joe puts his knowledge to use at the unlikeliest times. "Once, I came upon a girl coloring her hair in a basement," he recalls. "I told her how to do it so the color blended in, without being too harsh on her hair." Another time, he helped a student who was trimming his hair with poorly maintained clippers. "I carry a tool on my belt, so it just took a minute to get them working properly. Then I finished the job for him."
When asked to recall a memorable day, Joe laughs. "Every day," he declares. "It's a joy to come to work. Once I help someone and they're happy, it makes me feel good. I could go on for a month recalling stories, there are so many." In fact, Joe has so much fun on the Hill that he likes to be called in on his days off.
Joe is married, and his wife teaches at John F. Kennedy Middle School in Utica. The couple has two children: Johnny is a culinary arts instructor in Texas, and Mary Margaret is enrolled in a master's degree program in public relations. Joe regularly repairs his own vehicles and those of his family and friends. He has a well-equipped garage to work in, but when the weather's nice, he just sets up shop in his driveway.
If he weren't at Hamilton, Joe says he'd still have his hair salon. "I'd be there, still cutting hair, morning and night — sometimes even on Sundays!" In fact, he still maintains his hairdressing business by doing perms, coloring and cuts for long-time customers in their homes. But Joe says he made the right decision when he committed to Hamilton. "To me, it's a pleasure to work here," he says, "In the morning, I can't wait to come to work."
Most of Joe's Hamilton stories really do end that way: take a moment to talk with him, and you'll find out for yourself.