November 2011
Mark Tillson, Special Collections Assistant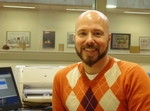 Here's another pop quiz: What was the name of your high school librarian?
Stumped? Not Mark Tillson. Knowing the answer to that unexpected question once helped him land a position in the Madison-Oneida BOCES Media Library. In August 2002, after five years at BOCES and a year's foray into another field, Mark came to the Hill as the media library coordinator. An online job posting had caught his eye. "Here was a chance to work for Hamilton College," Mark explains. "Who wouldn't want to, right?"
Two years later, when an assistant cataloger position opened up, Mark had another singular interviewing experience. "I was in the Graves Room," he recalls, "with 12 or 13 women asking me questions. I then asked them how long they'd been here." Responses varied, of course, but they were long-service employees. "Leaving the Media Library was potentially a scary move, but that was reassuring."
In tech services, Mark processed every new item that came into the library's collection, allowing him to expand his skills. He handled rare books and learned about conservation, so he was delighted when a new staff position in the Rare Book Room was created last year. Mark started as the special collections assistant in fall 2010, and it was a good move for him. "Because it's a new position, the job description is still evolving," he says. "It's exciting to be here."
Mark is based in the main workspace of the Emerson Rare Book Room complex in Burke Library. His day-to-day responsibilities include answering queries, shelving materials, supervising two student workers and offering reference assistance. Projects take up the rest of his time, and currently he's busy summarizing letters written by Ezra Pound's wife Dorothy to her son, Omar. "I'm creating a finding aid, a tool for researchers," Mark explains. He's completed three boxes — almost 800 letters — and there are five or six boxes to go. "It's almost like a biography," Mark says, of reading all those letters. "I feel like I kind of know her now."
Mark most enjoys handling and reading such interesting and unusual material. "Things are always so much deeper than they seem," he points out. "As boring as working in a rare book room sounds to people, it's never boring. I'm always learning." Mark recalls as particularly exciting the day that Hamilton acquired the prison diary of Chester Gillette, the man executed for the murder of Grace Brown in the Adirondacks. "The job's a perfect fit," Mark declares. "It combines my love of library materials and reading with my personal interest in collecting."
And Mark is a collector! He owns hundreds of items of vintage clothing from the 1700s to the 1950s. It started innocently enough. "At an auction about 15 or 20 years ago, I paid $5 for a Victorian bodice," he recalls. But one piece led to another, and soon he was hooked by the connection he felt to their former owners. "It captivated me that the people who wore these things have been gone for so long, but their clothing is a part of them that still exists." His collection was featured in the August 2010 issue of Victorian Homes magazine, and recently an author chose 62 pieces to include in a forthcoming coffee-table book of Victorian and Edwardian clothing.
While amassing that collection, Mark also filled his pre-1914 Utica home with antique furniture and accessories, recreating a look from the house's past. "The parlor is very Victorian, cluttered-like," Mark says with a smile. "There's a lot to look at in there — it's like a museum." It's no surprise, then, to hear that if Mark weren't at Hamilton, he'd probably be running an antiques store.
Next time you're in Burke, stop by the third floor and chat with Mark about both the Hamilton collections and his own. Or, for something completely different, ask about his unusual part-time job: for seven years, Mark, accompanied by an underage auditor, has performed alcohol and tobacco compliance checks at convenience stores throughout Central New York. As you might guess, that's given Mark stories you won't hear anywhere else!