October 2011
Mike Neidhart, Mechanic Foreperson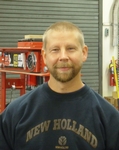 Mike Neidhart has worked in the Physical Plant automotive shop about six years, but he's been fixing things for most of his life. At age 7, Mike tore apart his first engine; as a teenager, he repaired dirt bikes and snowmobiles. "I learned a lot on my own, making mistakes," Mike remembers. "I enjoyed the challenge of it." He enrolled in a BOCES auto tech program during high school, and that led to a job with C. Weaver Chevrolet in Yorkville. Mike worked in its service department for 20 years before coming to Hamilton.
Mike's day starts at 7 a.m. in the Physical Plant office, where he reviews work orders with his supervisor, Don Croft, before walking over to the shop. Mike and mechanic Steve Sypec share responsibility for keeping the College's fleet in good working order. It's a big job: the nine travel vans are checked and fueled daily, while other College vehicles come and go. "When I started, Hamilton had 40-plus vehicles," Mike explains. "The fleet's grown at a rapid rate. Now there are nearly 70." The Mail Center's van and the locksmiths' wagon, for example, are both new since his arrival.

But there's more: The shop also fixes the mechanical tools and equipment used by Plant employees. Almost every plow, trimmer, chain saw and specialty tool that you see around campus eventually finds its way here. "Right now there's a mower with a brake problem in the shop; we've got that torn apart," Mike says. Inevitably, sometimes there's simply too much to do. "When there's a big job, we communicate with Don to decide if we'll tackle it or send it out to a local shop."
Mike still enjoys a challenge, and there are plenty here on the Hill. He recalls the day last February when the College was closed due to a storm. While most of us were home, Physical Plant employees, along with a few others, dealt with the massive amount of snow on campus. "The team pulled together to get the job done," Mike says.
Throughout his career, Mike has continued his education by attending classes, which range from a few days to three weeks long. Recalling one he attended in Loudon, N.H., Mike says with a smile, "It was a lot of fun; we drove Corvettes on the NASCAR track there." Before he came to Hamilton, Mike passed all eight Automotive Service Excellence tests, earning the title Master Auto Technician.
It's no surprise then that Mike has his own shop, next to his home on the outskirts of Oriskany Falls. He and his wife Tammy have three children. He keeps busy with hunting, running — he's participated in the Boilermaker for five years — and working in his shop. Right now Mike and his son have a Jeep in there. "He's learning the ins and outs of it," Mike says, just like he did as a kid.
A life-long resident of Oriskany Falls, Mike was one of only eight in his class in the tiny local school district before it merged with Waterville Central at the start of his senior year. There was some worry about losing the village school, but he had no problems with it. "It was a rival district," he notes, "but I enjoyed the move." Mike now runs with a man who taught a small-engine class that he took in high school. "It's pretty neat," he says of that friendship. "We share a lot of the same interests."
Mike says that if he weren't at Hamilton, he'd have a business in his shop. That was the plan when he was at C. Weaver. "I'd built my shop and I was ready," he recalls. "That was my next step." But plans change, of course, and Mike hasn't looked back. There's plenty of satisfaction here, he says: "When you work on something, maybe get someone's input, and then put it together again, you think, 'Wow, that's pretty cool.'"
So next time you're around campus and see a mower here and a truck there, take a moment to reflect on what's going on behind the scenes to keep them safe and operating: It is pretty cool.