March 2011
Paul Adey, Strength and Conditioning Coach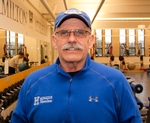 In fall 1982, Paul Adey had been teaching history and coaching at Rome Free Academy for 10 years when he took a call from a football coach at Hamilton. With that, his coaching took a sharp turn: Paul accepted a part-time, seasonal job with the Continentals, and he's been known on the Hill as Coach Adey ever since. When Paul retired from RFA a few years ago, he kept his job in the Athletics Department. "I'm like a bad penny — they can't get rid of me," Paul jokes.
Two years ago Paul was given even broader responsibilities. He became the strength and conditioning coach for the entire varsity program, working year-round and with all the teams, men's and women's. "I'm very lucky," he says. "At some schools a strength coach works only with one team; I have 17 to 20 sports. There's always a different challenge, and I'm never out of season."
Paul works out of the varsity weight room, a space filled with equipment of all kinds, weekdays from 7:30 a.m. until 6 p.m. "We work around the students' schedules; academics come first," Paul says, explaining those long days. "I love my job: you don't work this hard unless you really want to work this hard." He spends lots of time researching new techniques, attending clinics and learning from colleagues in the field in order to work with the team coaches to devise the best programs for their athletes.
Whiteboards outline the various two-, three-, and four-day workouts. Paul holds sessions with teams to introduce the routines, and then the whiteboards, combined with his own hands-on participation, keep everyone on track. "My job isn't just to make the kids stronger," Paul says, "It's to make them better. And the nice thing about working at Hamilton is that we have really smart kids. They ask questions and they're motivated. They make tremendous improvements when they know what to do and why."
But not all of Paul's time in the weight room is spent with varsity athletes. He works with other students and some employees, too. "Members of the community who are serious are welcome here," he says, "and if I see something being done wrong, I offer to help." Paul interacts with a number of professors, and he turns to them if he has a question. "It's a nice relationship," Paul says. "I learn something from them, and they learn something from me."
During football season, you can still find Coach Adey out on the field; he hasn't given up that close connection with the players. Recalling a memorable day with the team, Paul describes the final game of his first season, when the Continentals beat Union, ranked #2 in the nation. "We kept the scoreboard up for two days," Paul remembers. (Another memorable day happened a few years ago, when current and former football players and their families came together in Commons for Coach Adey Day, a tribute to his contributions over the years. But Coach doesn't like attention called to it, so you won't get any more details here…)
Paul, a life-long Roman, and his wife Bonnie have two grown sons — one in New York City and the other in Florida — and a grandson, Parker, who's nearly 3. Early in his coaching career, Paul was advised to take up a hobby for stress relief. He tried gardening, and now, many years later and after having taken Master Gardener classes, he tends extensive flower and vegetable gardens.
I encourage you to stop by the second floor of the Fitness Center and meet Paul. If he's busy, just stand back and take it all in. Watching Coach Adey and the athletes interact is the best kind of spectator sport: there's high energy, lots of emotion, hard work — and everyone's winning! Later, you'll hear Coach's voice in your head, cajoling and encouraging you, when you're stuck on a task (say, finishing an article on deadline), and you need someone over your shoulder urging you to do your best. It's a voice that's been heard on the Hill for a long time, and one that we hope to hear for many more years.