May 2011
Paul Ryan, Associate Director, Annual Fund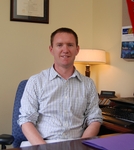 "What brought you to Hamilton?" is a simple enough question for most of us. For Paul Ryan '02, though, there's more to it: what brought him here as a student, in 1998, and what brought him back as an employee, in 2005.
Growing up near Worcester, Mass., Paul planned to attend a small liberal arts college in the Northeast. So, of course, a college-visit trip west meant a stop at … Colgate! Paul turned down the opportunity to swing by Hamilton, and it was only after a family friend suggested it that he decided to visit. "We hopped back in the car," Paul says, and it was a good thing, because Hamilton was just what he was looking for. "I loved it."
"I planned to spend my four years here and then leave, maybe head to Boston," Paul says with a smile, "but that never worked out." In his senior year, Paul set aside long-held career plans and turned to his Campus Activities Board experience for inspiration. He spent a year interning in student activities at SUNY Geneseo, and then two years in a master's program at Syracuse University. Paul was then back on the Hill as the assistant director of student activities. That suited him just fine. "I'd experienced a public college and a large private university, but all along I knew that I wanted to be back at Hamilton," Paul recalls.
Four years after returning, Paul moved over to C&D. "I was looking for a change," he explains, "and I thought Alumni Affairs would be a great place to transition to." In his current position, Paul works closely with class volunteers, principally from the '90s, who do so much to provide the College with annual financial support. His office has two big crunch times: the end of the calendar year and the end of Hamilton's fiscal year. "Right now, we're in full sprint toward our goals," Paul notes.
"I really love interacting with alumni because they're fantastic," Paul says. "They are doing some pretty incredible things all over the world. And being an alumnus myself definitely helps me do my job. Even with someone who hasn't given before, we can still have a conversation about being at Hamilton: people leave here with a special feeling about the place and a real connection to the campus."
Away from the office, Paul continues to enrich student life by running Trivia Night weekly during the academic year. "That first night," Paul says, recalling the start four years ago, "we hoped for nine teams; 29 showed up!" Now up to 150 students attend, with a line forming outside the Little Pub an hour before the doors open.
Paul and his wife Katryna, also Class of 2002 — they married in the Chapel — live in Clinton. They are on the board of directors of the ABC Program on Campus Road, responsible for overseeing the selection of two new high school scholars annually and a resident director as needed. They like to eat out, from Nola's to nearby favorites and anything new that opens up within driving distance.
"I love upstate New York," Paul says. In fact, when asked where he'd be if he weren't at Hamilton, at first Paul guesses that he might have become a concert promoter, lining up gigs at college campuses. But then he reconsiders: "I couldn't imagine doing anything else. This place just feels right. Katryna and I get a kick out of traveling, so we get to see a lot of places, but it's nice just to come home."
Perhaps that opening question to Paul is straightforward, after all. Maybe he only came to Hamilton once, with a three-year personal leave of absence separating his years as a student from those as an employee. As Paul tells us, "This place grabs ahold of you, that's for sure." Let's see: Paul married a classmate whom he met on his first day on the Hill; he discovered a career through his extracurricular activities here; and now he's employed at Hamilton in a position where two numbers — 0 and 2 — after his name give him a big advantage. I'd say it does, Paul.