April 2011
Travis Hill, Director of Residential Life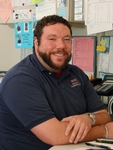 In summer 2003, Travis Hill arrived at Hamilton wearing a tie-dyed t-shirt and sporting a headful of curls. But his journey here began three years earlier, when Travis was a rising senior at Elmira College. After a meeting with student leaders, the dean of students asked him if he'd made post-college plans. "I want your job," Travis quipped. Once the laughter died down, the dean suggested that he get a master's degree in college student personnel.
"The light bulb went on," Travis recalls. "I realized that I loved what I did outside the classroom even more than what I did inside — and there was a career in that." A year-and-a-half later he was in grad school, taking classes and working as a residential life graduate hall director.
Degree in hand, he became an area coordinator here, supervising half of the housing on campus. "I expected to stay about three years, but that's not how it played out," he says with a smile. "Hamilton felt so comfortable right from the beginning; it felt like home." Over the past eight years Travis has held four different positions in res life.
"I look forward to work every day," Travis says. "I'm a huge fan of my boss, Jeff Landry, and I get to choose my staff. Being able to pick my colleagues is an opportunity that I know not everyone gets." Much of his work day is spent attending meetings and addressing current issues. The department's yearly cycle includes matching incoming first-year students to rooms and roommates, supervising the halls during the terms and (mostly) closing them up for breaks, selecting RAs and hosting the annual Housing Lottery, one of Travis's biggest days of the year.
For three years, Travis lived in an apartment in Babbitt Hall, and a special memory was set in motion on the day he arrived. A buddy was helping Travis move in when a female friend stopped by to welcome him to the area. Travis's friends began dating and in time planned a wedding in the Chapel. Travis was best man, and he and the groom dressed for the ceremony in his apartment before walking across campus on a beautiful blue-sky day. Now Travis is godparent of their young son.
Living on campus also gave Travis one of his funniest stories. He was recuperating from surgery (a uvulectomy — who knew?) and went out for some fresh air. Coming upon a band of late-night revelers, Travis witnessed a young man, henceforth known in res life as the Naked Vandal, smash a light fixture. "I think it's safe to assume that you don't have I.D. on you," Travis drolly observed, before following the student back to his room to get his card (and some clothes).
Several years ago Travis moved downtown, but he doesn't spend all his time locally. Travis's parents are snow birds, dividing their time between his home town in western New York and Arizona, so he often joins them in the Southwest for winter break. And as an avid concert-goer, Travis travels widely to see his favorite performers. Summer plans include Phish, Ray LaMontagne, the Dave Matthews Band and Dispatch.
If he weren't at Hamilton, Travis says he'd be less happy: "This is a great place; I feel really fortunate for the opportunity to work here." Several years ago Travis was offered the director of residential life position at his alma mater, Elmira College. That had been his goal all along, but when it happened, he hesitated. "Being a student and being an administrator at an institution are very different," he says. "It was hard to turn down, but in my heart I knew it was the right decision."
Next time you see Travis, have some fun and ask him to show you his Hill card. The photo documents that delightful first-day-on-the-job look, and red lettering soberly designates him an Authorized Emergency Responder. You'll wonder, is Travis a fun-loving guy or a level-headed administrator? He's both, and we're lucky because each facet of his personality enriches life on the Hill.