July 2011
Yvonne Brady, Accounts and Records Assistant, Information Services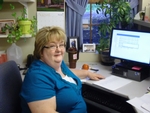 Yvonne Brady came to Hamilton in August 1996, as her younger son prepared to enter kindergarten. "I started at the Print Shop in a nine-month position," she recalls, "after being a stay-at-home mom since the birth of my older son." Yvonne saw the ad in a local newspaper, and having summers off was a plus: "It was nice when the boys were little; they grow too fast." Within a few years she was working year-round; in 2001, Yvonne moved to her present position in Communications & Development.
In her daily routine, Yvonne records gifts to Hamilton, processes matching gifts and related forms, performs research and updates the C&D database. Interacting with alumni, usually over the phone, is her favorite part of the job. "Often the caller asks if I'm an alumna or live locally," Yvonne says. "When I say that I live on Skyline Drive, the response is always, 'Oh, Skyline, I remember the snow.'" One time, an alumna recognized Yvonne's name: she'd been a student worker in the Print Shop. Smiling at the recollection, Yvonne admits, "We talked for half an hour."
Yvonne spends most workdays at her desk on the lower level of the Alumni Center. "The Root Glen is right outside my office," she says. "You couldn't ask for a nicer place to look at." But Yvonne's most memorable experiences on the Hill occurred across campus at the Sacerdote Great Names Series events. "It's just a golden opportunity," she says. "Taking my children to see Bill Cosby, and seeing their faces light up and sharing their laughter, was one of the best memories."
When Yvonne's away from campus, though, there's no telling where she'll be. "I'm addicted to local history and genealogy," she says, and that takes her all over the area. "It started with family genealogy, and one thing just led to another." Yvonne's assisted with two local books: Farms and Barns of Kirkland, NY (2008) and Town of Marshall Barns and Farms (2009). She's currently vice president of the Town of Marshall Historical Society. In addition, Yvonne works part-time at the Kirkland Town Library; it's no surprise to learn that she helps patrons with questions related to her area of expertise and works to update the library's history.
Yvonne is originally from Waterville, and she and her husband Jack live on his family dairy farm in Clinton. They have two sons: Adam is a 2009 graduate of Clarkson University, and Brian, the boy who entered kindergarten 15 years ago, is a rising senior at St. John Fisher College.
Both Yvonne's family and her husband's have long histories in the area (Yvonne's family farm is featured in the Marshall book, and her husband's is in the Kirkland book). She's taken to visiting local cemeteries to fill in blanks in her family genealogies and just to learn more about the area. "Ten years ago, if someone had predicted my interest in cemeteries," Yvonne says with a smile, "I would have thought they were crazy!" They are now such a regular part of her research that sometimes Yvonne's husband or one of her sons will tease her by asking, "So which cemetery did you take your walk in today?"
Yvonne is never sure what she'll find along the way. In one cemetery, a father and son were buried near one another, but their last names differed. "It was a German name," Yvonne explains, "and one had changed it during the scare of World War I." Another time, she and her mother were in a local cemetery when a man approached and offered to help them. Upon hearing her family name, he identified himself as a shirttail relative and subsequently sent Yvonne a booklet about the family. Her hobby is so satisfying that Yvonne readily admits that if she weren't at Hamilton, she'd be researching local history and family genealogy.
Want to learn more? Look for Yvonne in C&D or at the library on College Street. Otherwise, stop by a Marshall Historical Society meeting — as a matter of fact, September's will feature local historian Sue Lorraine discussing "Symbols, Art and Epitaphs of the Marshall Cemeteries." I don't have to tell you who engaged that speaker!