February 2011
Yvonne Schick, Senior Production Specialist at the Print Shop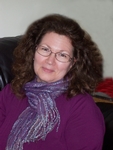 "Print Shop, hello."
Many of you recognize that cheery greeting: it's Yvonne Schick answering the phone at her desk in the basement of Commons. More than 18 years ago, Yvonne responded to an ad in the newspaper, and she's been working in the Print Shop ever since. Her job is not what it was in 1993, however, due to a transformation in the printing industry. Gone are the dark room and printing plates; everything is electronic now. "As technology has changed, so have my responsibilities," Yvonne explains.
In the course of her day, Yvonne receives all new jobs and sends them to the copiers and presses. She also designs and edits a variety of publications. When asked about a typical day, Yvonne smiles. "There's no such thing in the Print Shop, none whatsoever," she observes. "I never know what's going to come in: a different set of jobs and a different set of deadlines." Yvonne says there isn't much of a yearly cycle in the department. "It's just crazy here all the time — in a good way," she adds with a laugh.
While the skills and equipment Yvonne uses have changed over time, some things haven't: her love of the job and the pride she takes in doing it well. She particularly enjoys the creative end, designing posters and the like. "I love it when customers are happy with the final product," Yvonne says. "Sometimes students will jump up and down when they see their posters come out well. It's so sweet."
Not everything Yvonne handles is for public view, however; confidential papers from administrative offices and academic departments come through, as do personal jobs. She has fun creating invitations and announcements related to milestones in employees' lives, including births, graduations, holiday celebrations and weddings. "I see their kids grow up," she says.
Most of Yvonne's day is spent in the Print Shop, but over the last 14 years she's also found herself in many academic buildings on campus. That's because Yvonne is a member of the Hamilton Class of 2013, enrolled through the Horizons program. Now a senior concentrating in religious studies and minoring in environmental studies, Yvonne took her first class when she joined the Master Gardener program at Oneida County Cooperative Extension. She thought a Hamilton course titled "Identifying New York State Plants" would be a nice addition to that training. Yvonne asked to audit the class, but the professor, Bill Pfitsch, insisted that she take it for credit instead. One course led to another, though it hasn't always been easy juggling work, school and family responsibilities. Indeed, once when she was taking a science lab course, she asked to drop it. "Oh, no; we allow no quitters," her advisor told her, so that was that!
Yvonne and her husband live in Waterville, across the road from the house in which she grew up and where her father still lives. Over the past 32 years, Yvonne has devoted herself to transforming the property, and at last count she had 19 species of trees, as well as numerous perennial gardens and a large vegetable garden. They own a horse and some smaller animals. Yvonne's two grown daughters live and work locally, so she spends a lot of time with them. "We're very close," Yvonne says.
In addition to her other interests, Yvonne loves to read and collect books. Her most memorable experience at Hamilton was being allowed recently to help herself to anything she wanted from portions of Jay Williams' library. Yvonne filled a grocery bag with books, and she was pleased when Jay told her, "They're going to a good home."
There's a lot more to learn about Yvonne (like her Native American heritage or the time she borrowed a butterfly net from Ernest Williams to study dragonflies — for four years), so try to connect with her. You might see Yvonne as she heads to and from class. Or look around at the next film, play, lecture or musical you attend; she may be in the audience, too. Yvonne says that one place she enjoys being after hours is … back on the Hill, attending an event: "I feel at home here."