March 2012
Amit Taneja, Director of the Days-Massolo Center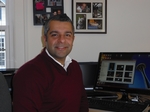 Last summer, Amit Taneja came to Hamilton from Syracuse University after hearing about a newly created position in the Days-Massolo Center. He'd been told that working at a smaller school would offer "a range of responsibilities while retaining lots of student contact," and he hasn't been disappointed. "This has been especially true at Hamilton," Amit says. "It's what excites me the most about this position."
Amit's own undergraduate experience was very different from what's offered here on the Hill: he attended the University of British Columbia in Vancouver, an institution with 40,000 students. When Amit enrolled as an engineering student, he was a new immigrant to Canada from India. "There was so much going against me," he recalls. "I found it very hard to find my place on campus." Student affairs professionals helped Amit connect with resources, and two years later, inspired by their example, he changed his major in order to make a career of working with students. "Engineering wasn't my calling," Amit explains. The path he's followed since then reflects this decision: "My whole interest in going into higher education was to help students who have been historically marginalized."
While Amit declares that "there is no typical day," he spends a lot of time meeting with student groups. "The heart of that activity happens after students get out of class at 4 p.m.," Amit says. "It's rare that I'm home before 9 p.m." He also collaborates with faculty members and departments, and all those connections are paying off. "Twenty-five different student organizations and academic departments are partnering with the Days-Massolo Center," Amit says proudly, referring to the center's spring calendar of events.
The late hours are paying off, too. On a Thursday night in early October, Amit hosted his first major lecture, featuring Dr. Eduardo Bonilla-Silva, professor of sociology at Duke University. "I was nervous; first impressions matter," Amit confides, but the evening was a big success. "Seeing 150 people in the Events Barn, and hearing the complex questions that the students were asking him, reminded me why doing this kind of thing is important."
Amit tries to balance work and his personal life to avoid burn-out, and sometimes that means bringing the two together. It happened recently when Amit acted as a DJ of techno music —something he did professionally in Vancouver and took up again for fun and stress relief about a year ago — for a Late-Nite winter dance party. "250 students attended," he remembers. "They got to see a different side of me, and they were excited about it." It sounds like a memorable evening — Amit was up until 3:30 a.m.!
During the week, Amit stays locally, but he lives in Syracuse. Amit and his partner Christopher share their home with two cats. "It's hard living away during the week," Amit admits, "but we're making it work." Amit and Christopher both love cooking, and they try a new recipe each week, "everything from barley stew to baked plantains." Amit still retains a connection with Syracuse University as he's enrolled in a doctoral program in higher education. If all goes as planned, his dissertation, "Don't Put Me in Your Boxes: Experiences of LGBT Students of Color at Historically White Institutions," will be finished within the year.
Amit says that if he weren't at Hamilton, he'd be doing the same kind of work elsewhere. In fact, he's already taking his message off campus. "I've been doing a lot of consulting," he explains. "This year I've visited Canisius College, Rochester Institute of Technology and Davidson College." Wellesley College hosts Amit later this month.
It's no wonder that Amit connects easily with people, both on campus and off. He's fun to talk with and very inspiring, too. Amit clearly appreciates and supports the College's mission, and it's good to be reminded just how special Hamilton is. If you haven't met him yet, stop by the Days-Massolo Center or attend an event on its spring calendar — there's still plenty to come this semester.