January 2012
Amy Palmieri, Senior Assistant to the Executive Director of Major Gifts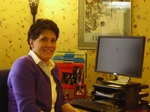 Amy Palmieri has worked in Communications & Development for more than 10 years, but she started her career at Hamilton as the assistant in Personnel (now Human Resources). In fact, if you were hired between August 1995 and August 2001, she probably was among the first people you met on the Hill. Amy moved across campus to try something new and work more closely with students and alumni, but she remembers her time in Personnel fondly. "One thing I miss is that I met everyone," she explains. "I knew everyone's name."
A year after joining C&D as an Annual Fund assistant, Amy began supporting Bill Brower, executive director of major gifts, and she's worked with him ever since. When asked about a typical day, Amy smiles and says simply, "It's busy; there isn't much downtime." Bill travels several times a month, so there are lots of arrangements to make. She also keeps Bill's calendar and assists with his correspondence.
Amy's other responsibilities vary with the season. On the fundraising side, there's a big push twice a year, in December at calendar-year end and June when the fiscal year concludes. Amy participates in large mailings — right now, there's one to Kirkland alumnae — and she edits and distributes newsletters for athletic teams and clubs. "This job is different from day to day and from month to month," Amy tells us. "That's what keeps it so interesting."
When asked what she likes best about her job, Amy doesn't hesitate: "It's the relationships that I develop. I work with alumni, from the Class of 1938 to the Class of 2011, who love Hamilton and want to stay connected. Either they wouldn't have had a chance to attend without financial aid, or they just had a wonderful time here."
The Alumni Council, made up of approximately 250 alumni volunteers, meets on campus twice a year, at Fallcoming and during the Spring Volunteer Weekend. Amy is the staff liaison to the council's Executive Committee, attending their meetings and overseeing logistics, and it's a role she relishes. She also works Reunion Weekend and the Great Names series events. "I love those weekends — as crazy as they are!" she says. "It's a chance to reconnect."
Amy also enjoys working with the Annual Fund and Alumni Relations student interns, who often hold those jobs for several years before becoming alumni themselves. "We have former interns who now come back with their families," she says. Amy's delighted that this spring, for the first time, she will hire and supervise her own intern.
Heading home at the end of the day, Amy doesn't travel far; she lives on College Street, near the foot of the hill. Amy loves to garden, and she and her husband, a contractor, are renovating their 19th-century home, an ongoing project. The couple has a daughter Caitlin, a graphic designer who lives in North Carolina, and two sons. "People are surprised to learn that I have a son who plays professional ice hockey, and a son who's 6," Amy says with a laugh. Nicholas, who has a two-way contract with the New Jersey Devils and their AHL affiliate team in Albany, is currently based in New Jersey. Jack, a first-grader, plays hockey, too. "We'll see where that goes," Amy says, noting that he has grown up watching his older brother play. "Jack has been traveling with us since he was probably 3 weeks old."
Amy's office, in the heart of the second floor of the Anderson-Connell Alumni Center, is a cozy space with a fireplace and a view west. When asked where she'd be if she weren't at Hamilton, Amy first pictures herself on a beach, but then she grows serious and replies that she's already in the right place: "I honestly love coming to work every day." Amy carries with her something she learned from her years in Personnel: "There are people who would do anything to get their foot in the door. We need to realize how lucky we are to work here. I definitely feel that way."