April 2012
Jim LaVere, Educational Technologist, Digital Graphics and Student Management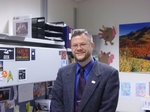 When Jim LaVere accepted a position in ITS in summer 2008, he welcomed relocating from the Midwest. Jim grew up north of here and majored in graphic design at MVCC. After transferring to SUNY Oswego and then starting his career elsewhere, he was ready to return home to Central New York. "I met my wife on the first day at MVCC," Jim recalls with a smile, "and now we live a mile away from there."
Jim didn't plan to work in education; one thing led to another and along the way he discovered his calling. Working as a graphic designer, he found that he enjoyed and was good at coaching his colleagues. He transitioned to teaching graphic and visual communications and working as an instructional technologist. "On my first day," he recalls of his job in a St. Louis school, "they said, 'You're in charge of everything with a plug.' I thought they were kidding — but they weren't." Jim's time there was professionally rewarding, but he and his family missed New York.
Through word-of-mouth, Jim heard of an instructional technology opening in ITS, but, sadly, he didn't land the job. The team was growing, however, so another position popped up a year or so later. "I was not dissuaded," he says. "I said to myself, 'That's the job for me.'" Jim's perseverance paid off, and he and his family headed back East.
Jim has responsibilities in three areas. Using his graphic design and teaching skills, along with his educational technology expertise, he supports courses and administrative projects. For example, he leads workshops in visual literacy and design for students creating posters related to research projects. Working as part of a team, Jim supported 12 courses and numerous projects this spring.
As one of three people in ITS who manage student lab consultants, Jim is the administrator of the Multimedia Presentation Center in the first floor of Burke. "Our labs are staffed by friendly, knowledgeable and helpful Hamilton students," he says proudly. Jim also shares responsibility for supervising the student employees in the Digital Arts Lab (List 220) and in Camera Loans (within the Help Desk).
Finally, Jim is the chair of Hamilton's Mobile Technology Committee, which identifies academic uses of iPads and similar devices. As part of this initiative, Hamilton co-sponsored and hosted the inaugural Mobile Learning Summit in March. Some 272 educators from throughout New York State attended presentations, demonstrations and discussions in Kirner-Johnson. Jim says he's already planning next spring's conference.
Given Jim's assorted responsibilities, it isn't surprising to learn that he enjoys "inspiring folks to do new things." He likes working with faculty members, students and peers here and at other institutions. Asked to recall a particularly memorable day, though, Jim demurs. "Specific instances are good, but at the same time I see opportunities plural as being really exciting," he explains. "It could be just a passing conversation that's memorable. Each day is a new adventure."
Jim does mention an annual event that stands out, however. At Halloween, he and colleague Ted Fondak dress up as Star Trek characters. A big science fiction fan, Jim admits that in some ways he never grew up: "At Toys R Us, I don't know who has more fun, the kids or me." Jim surmises that if he weren't at Hamilton, he might be designing and illustrating packaging for a toy company.
Away from campus, Jim enjoys spending time with his active family. He and his wife Jennifer are parents of four young children, Nathan, Bethany, Hannah and Madeline. Jim is also pursuing a master's degree in information design at SUNYIT. "It's a blend of a variety of fields," he explains. "It augments the skill set that I have, so I can be more effective."
Looking back on his nearly four years on the Hill, Jim says, "I've grown tremendously. It's been a great ride, and I'm very thankful to be here." If you'd like to meet Jim, find him on the third floor of Burke. But remember, if it's Halloween — he's Captain Kirk.