September/October 2012
Joan Wolek, Interlibrary Loan Assistant in charge of lending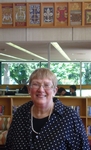 In fall 1971, Joan Wolek and her parents were living in Brooklyn and planning a move to Central New York where they had family. Joan's experience working in the Brooklyn Polytechnic Institute's library helped her land two job offers here. "Colgate offered me a position," Joan recalls, "but Hamilton's 'old' library won my heart!" Even though library staff would soon move to Burke Library, Joan says the historic James Library charmed her. "I like to read mysteries, which often feature libraries," she explains, "and the Great Room, with its spiral staircases and dumb waiters, was quite a selling point."
Joan wasn't doing old-fashioned work, however. Forty years ago, interlibrary loan (ILL) was taking off, and it required expensive new technology to transmit requests for books and articles quickly and efficiently. Hamilton acquired a TWX machine, a teletypewriter, when it became the bibliographic center of a newly formed council of area libraries. Picture a long, thin tape with dots on it — first Joan created the tape, detailing the materials that Hamilton and the other libraries needed, and then she fed it back into the machine to transmit the request to the receiving ILL system. Within a few years, Joan was allotted an hour a day on a mainframe computer.
Technology has continued to change and library networks have expanded, leading to tremendous growth in ILL volume and speed. Now Joan is responsible for filling requests that come from libraries all over the world. She starts each day by checking for new requests: A recent morning saw requests for 30 books and 19 articles. More requests arrive throughout the day. Joan readies them for her student workers, who locate the materials in the collection. "They have to do it speedily, and it better be accurate," Joan says. "Ideally, a request is processed within a day, unless there's a problem."
But problems are inevitable, and Joan's students come to her when they're stumped. Sometimes it's a case of "creative shelving," and they need to search harder for a book, and other times the information provided is inaccurate: the volume and date of a periodical don't match, for instance. When all else fails, Joan heads out onto the floors herself. She doesn't mind. "It's a lot like being Sherlock Holmes. I take it step-by-step, asking, 'Why is there a problem?'"
Joan pays special attention to RapidILL requests, articles that must be transmitted electronically within a few hours. "We've signed a contract that we will fill these," she explains. "If we're going to be away from the office for a few hours or a day, we have to call the central staff in Colorado and let them know. They'll take us down temporarily."
But that's not all: Hamilton is also a member of Connect NY, yet another ILL outlet, and Joan is responsible for returning materials borrowed by Hamilton patrons. Being part of multiple ILL systems means that sometimes two libraries will request the same book simultaneously, and Joan has to choose which will get it. "It is never dull!" she exclaims. In fact, Joan says that when ILL professionals get together, they "tell each other horror stories" of systems gone awry, odd requests and shipping catastrophes.
Joan lives in Clinton, and she enjoys gardening and flower arranging. She has a lot of cousins in the area. A member of St. Joseph's Church in Oriskany Falls, Joan started teaching in the church school about 18 years ago. "I was asked," Joan says with a smile, "but you didn't really say no. You were strongly encouraged." It was a little rocky at first — she had a class of seventh-grade boys who tested her — but she's since become committed to it, currently serving as teacher/director of faith formation for the confirmation preparation class.
Joan describes herself as "a big Harry Potter fan — as well as Star Trek!" She says that if she weren't at Hamilton, she'd work in a bookstore or be a florist/garden center owner. But talking with Joan, it's clear that she loves the time she spends in Burke, solving mysteries as she connects ILL patrons with materials from our collection.