May/June 2012
Liz Spaziani, Assistant to the Vice President and Dean of Admission and Financial Aid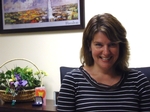 In 1989, Liz Spaziani came to Hamilton as a receptionist and secretary in Alumni Affairs. She soon took a different position within Communications & Development, and by the time she transitioned to Admission and Financial Aid, in 2005, Liz had worked in five offices within C&D — and had had 13 different supervisors! "I learned such valuable lessons from each and every one of them," she declares with her trademark smile. "I wouldn't change a thing."
But Liz was lured away after Monica Inzer, then newly hired as the dean of admission and financial aid, spoke at a C&D retreat. Liz recalls thinking, "I have to work with this woman." It didn't take long, because soon afterward Monica reorganized her office, and Liz applied for the opening as her assistant. She hasn't looked back: "It was meant to be."
You'll find Liz at the top of the stairs in the Siuda House, in an office she calls "Communications Central." She never knows what to expect when taking an incoming call — think admission decisions, and you'll know what she means. "The caller could be overjoyed or so upset," Liz explains. "It keeps me on my toes; there's no falling asleep at my desk."
Liz has both day-to-day responsibilities and jobs that revolve around the admission cycle. She supports Lora Schilder, director of admission, and lends a hand to anyone else who needs it. "My job's a healthy balance of getting Monica's work done and helping out. When the processors are in the thick of things, in December, I'll assist them," she says, "and if an admission officer has a need, I'll do that."
In recent years, Liz has coordinated the annual off-campus yield receptions. These April events bring admitted students and their families together with alumni, parents and trustees, as well as with staff from both Admission and C&D. Liz is involved at every stage, from "negotiating contracts through roll out, with catering and AV." She partners with the Alumni Office in C&D, which handles RSVPs.
It's no surprise to hear that Liz most enjoys interacting with others. "I'm definitely a people-person," she says. "I'm in touch with the whole world here, either by phone or in person." Liz interacts with colleagues from throughout campus, employees at local businesses, alumni and trustees. "Some of the connections that I made in C&D carried over; the players didn't change much," she notes. In fact, C&D continues to value her experience, and every spring they invite her to work the Information Desk at Reunions.
In fall 2003, Liz was asked to represent the College's non-faculty employees and deliver a formal welcome to President Stewart at her inauguration. "My one-minute speech took three hours to write," she remembers. "It was really cool to be a part of that." Liz isn't sure how she was selected for the honor, but it stands out as her most memorable Hamilton experience.
Liz and her husband Paris are the parents of two children, Nate, a student at the Albany College of Pharmacy, and Gabrielle, who just turned 16 and is learning to drive. They live in New Hartford. Liz doesn't spend all her time locally, though: her favorite destination is a 95-acre family camp on Butterfield Lake, near Alexandria Bay. "I just live for summer," she admits. "Two hours and we're there. It's like a big slice of heaven."
But Liz isn't one to just laze around. "My day starts early, at 4 or 4:30, when I'm up jogging or working out," she says. "If I miss it, I feel logy." Liz also works part-time for Weight Watchers, and she's a Hospice volunteer. If she weren't at Hamilton, Liz says she'd find a way to "follow people through their journey." If she's dreaming, though, she pictures herself as a coffee shop/bookstore owner on Martha's Vineyard.
In summarizing her job, Liz says, "There's always something interesting and new." That upbeat attitude is evident when you talk with her, as the conversation flows easily. Liz really would make a great shop owner, but we're glad she's here on the Hill!