February 2012
Nitsa Weld, Program Coordinator, Associated Colleges in China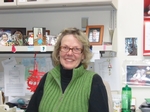 In February 1999, Nitsa Weld came to Hamilton as the academic office assistant in foreign languages after hearing about the opening from Amy Palmieri, who was then the assistant in Personnel. Nitsa accepted her present position with the Associated Colleges in China program in summer 2006 and now occupies a spacious office tucked under Christian Johnson's roof. "I like the quiet here; I get a lot done," Nitsa says of the fourth floor, "but it's harder for students to find us." If everything goes as planned, in a year she'll be in the heart of things, when all the study-abroad offices relocate to the first floor of CJ.
Nitsa handles many of the day-to-day responsibilities associated with administering the ACC's language-intensive program in Beijing. Three terms are offered each year, so stacks of green application folders periodically cover her desk. That's especially true in February, since the summer program deadline is February 15 and the fall deadline is March 1. "This is probably my busiest time," Nitsa explains. Students from colleges and universities throughout the U.S., and occasionally from Europe, apply.
Describing a typical day, Nitsa says, "I get a lot of calls from students and parents." Students in all phases of the admissions cycle have questions, and they continue right up until departure. Parents' questions and concerns continue long after that. Nitsa also coordinates advertising for the program and makes sure that the online placement exam is up and running.
Sometimes her job requires foreign language skills, so Nitsa employs a student assistant to "do the stuff in Chinese that I can't do." Each month or season has its own focus, which Nitsa likes. "I would much rather be busy than sit around," she says. "Even downtime isn't really 'down'; it's still busy. This is definitely a full-time job."
In order to better serve students and parents, Nitsa twice visited the program in Beijing, and those trips made for her most memorable Hamilton experiences. On her first trip, Nitsa traveled to the Great Wall. "Think of the man-power it took, without modern technology," she says, recalling the awe she felt.
Nitsa had an experience of a different sort in Beijing itself. When going out, she always carried a card, written in Chinese, that listed her local address. One day, after visiting a silk market, Nitsa got caught in a drenching rain. By the time she hopped into a taxi, she was soaked and the card had blurred. Nitsa looked at the driver and the driver looked at her: without that information they had nowhere to go. At first, Nitsa thought she was truly lost and would have to go to a hotel, but then she remembered the name of a nearby grocery store, Bon Jour. As Nitsa repeated "Bon Jour, Bon Jour," the driver puzzled over the nearly illegible card — until suddenly he understood. Nitsa made it back to the program just fine, but after that she always carried a laminated card!
Although Nitsa says Beijing is unlike anywhere else she's been, city life isn't new to her. Nitsa's father was in the Foreign Service, and she grew up all over, including Greece, Paris, Morocco and London. In fact, Nitsa says that if she weren't at Hamilton, she'd probably be living in a city — in a warmer climate. "I'm getting tired of shoveling," she admits, "and I kind of miss the big-city life."
Nitsa has lived in Clinton since 1992, but her family's College connections go back further. Her father is an alumnus, an uncle was a trustee, and her uncle George Nesbitt — one of two for whom the Writing Center is named — taught English here for many years. Nitsa considers Clinton a great place to have raised her daughter Alexandra, who's being married here in the fall. Alex is based in New Zealand currently, and that's fine with Nitsa, as she lists traveling as one of her hobbies.
Before Nitsa takes off for parts unknown, take a minute to look her up. Find her in CJ, or try the Fitness Center as she likes to take classes there at lunch. Ask her about the ACC program or her trips to Beijing — there's a lot more to learn!