July 2012
Peggy Bartels, Custodian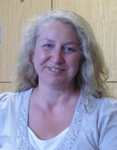 Peggy Bartels started working at Hamilton in 1998, after years of trying to get her foot in the door. She knew Amy Palmieri, then the personnel assistant, from around town. "Once in a blue moon I'd stop in," Peggy recalls, "and one time Amy said an opening was coming up." That's all it took. She started in a temporary custodial position, and four months later the job became permanent. Peggy began as a floater, but soon settled in at the Burke library. She moved next door to the former science building for a time, but when construction began on the Science Center she headed back to the library.
Two years ago Peggy accepted her current position, on the Taylor Science Center's second floor, home to biology and archaeology, as well as a portion of the computer science department. She's there early, turning her attention first to those classrooms and labs used for morning classes. In the dead of winter, it can get a little creepy. "There's nothing like going through a dark lab at 6 a.m. — it's like a '50s horror film with all that equipment," Peggy jokes. Biology is a big presence on her floor, and she describes the work in the labs as "mostly nasty dissecting."
After her morning break, Peggy continues with her responsibilities: hallways, restrooms, study areas, offices and more labs. She describes her job succinctly: "If you see dirt, you clean it." Peggy's job doesn't include animal care, and that's just as well because she's wary of the resident pythons, Lily and Reggie. "I like looking at them in the cage, but I'm not touching them," she says. "I tell the handlers, 'If you need help, I'll call 911.'"
The building's main office is on Peggy's floor, and that pleases her. "I get to see people from other departments," she explains. Many are faculty members with whom she worked in the old science building. Peggy says that getting to know faculty members and staff, seniors who are working on research projects and other custodians is the best part of her job.
In the summer, Peggy's responsibilities change. She's on a crew that goes from one residence hall to the next, "doing all the things that you wish someone would do to your home." They clean walls, blinds, cupboards, drapes and windows, as well as give every bathroom a thorough scrubbing. Specialized crews, who clean carpets, wood floors and tile, follow the general cleaning crews as they move through the buildings.
Peggy's early hours remain the same, though, and that suits her just fine. She loves the beach, and often after work she'll drive to Delta Lake State Park to swim and relax. On the weekend, she heads further north to Hinckley Reservoir, Limekiln Lake or Nick's Lake, which she calls "the best beach in the Adirondacks." In fact, Peggy says that if she isn't at Hamilton, it's a good bet she's somewhere swimming!
Peggy lives in Lairdsville with her husband Dave and their daughter Audrey, a rising sophomore at Clinton High School. Bella, a Miniature Pinscher, rounds out the household. The couple's son Tim and his wife live in Tonawanda with their young son Cameron. Peggy tends a big garden that Dave plants and enjoys socializing with family. She likes listening to Garrison Keillor on the radio, in particular his twice-yearly Joke Fest. "Some jokes are just hysterical," she says, "and then it's right on to the next one." Peggy, Dave and her brother-in-law enjoy collecting and trading one-liners and bar jokes.
Before coming to Hamilton, Peggy worked many different jobs: clerk, bartender and cocktail waitress, to name a few. She thinks the full list would surprise people because it includes so many different titles and businesses. But Peggy says she's happy at Hamilton. It's convenient, and she enjoys the facilities and benefits, but the main thing is the atmosphere. "Nice people," Peggy says simply, "that's why I stay." With Peggy's ready smile and sense of humor, it's easy to see why people like her back. If you haven't met her yet, stop by the Science Center — just don't expect to find her hanging around the pythons' cage!