November 2012
Tambra "Tammy" Rotach, Mail Services Assistant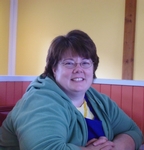 Tammy Rotach joined the Mail Center in January 2001 after her mother Karen, then a custodian in Beinecke, heard about the part-time opening. The position's long-term future was in question, though. "Because of the Internet, they expected the mail to dwindle," she recalls. "They said, 'We don't know where this position is going.'" While mail has declined, online ordering has exploded. As a result, Tammy's been working full-time since 2008.
The numbers are staggering: Each academic year, between 25,000 and 30,000 packages arrive for students, and Tammy handles almost every one. "If a student package comes in," she explains, "it's my responsibility." Deliveries come from a near-constant flow of trucks that back up to the Mail Center's dock. Here's a day's listing: Fed Ex Home, USPS, Fed Ex Air, UPS, Fed Ex Ground and DHL — that's all before lunch — followed by USPS Express Mail in the afternoon. Whew!
Even before a truck pulls away, sorting begins. Packages for students get shuttled to Tammy's computerized workstation. She scans the package's bar code, which generates an auto-email to the student, indicating that it's ready for pickup at the package window. A student worker then puts the package on shelving at the back of the room.
At the busiest times, Tammy handles 500-600 packages a day, so she's only made a dent in one shipment before the next arrives. It can feel like an avalanche. "Especially at the beginning of the school year, when online book orders come in, you just put one foot in front of another," Tammy says with a smile. "You tell yourself, 'Don't think about it, just do it.'" The shelves in the back can't begin to hold it all: "Everything is piled high; there's no room to turn."
Tammy's day has plenty of variety, though. "I have to do a lot of detective work," she says, referring to packages that come in without complete or accurate recipient info. "I look for anything that might be a clue. We try not to send it back unless we've investigated all avenues." At other times, technology fails. "There are glitches," Tammy admits. For the process to operate as designed, three computer systems — UPS Trackpad, Pitney Bowes and Hamilton's — need to work well together.
On light days, Tammy has time to help out elsewhere. She covers the stamp window, runs mail through the meter, processes mail for forwarding or stuffs mailboxes. Tammy doesn't wait to be told. "We've worked together so long that we know what needs to be done," she explains. "We just go do it."
When asked what she likes best about her job, Tammy doesn't hesitate. "I love the energy of the students, their enthusiasm, their hope. And knowing that we can help them — it's quite fulfilling." Because about 20 students work in the Mail Center every year, Tammy gets to know some of them very well. "We love them," she says. "It's very cool — we treat them like nieces and nephews and kids."
One first-year student used to stay and do her homework in the corner after her shift was over. It turns out that she was miserable at Hamilton and almost left. Tammy recalls, "When she was a senior, she told us, 'Being able to hang out in the Mail Center with you — that's what kept me here. You treated me normally.'" Tammy says that was one of the nicest things she's heard from a student.
Tammy lives in Vernon, and her five brothers all live within a short drive. She has 14 nieces and nephews. This fall, Tammy's mother retired after 32 years at Hamilton.
In thinking about where she'd be if she weren't at Hamilton, Tammy says, "If I were rich, I'd be traveling." It's that adventurous spirit that led her, four years ago, to join three others in a hot-air balloon ride starting from her back yard. As luck would have it, the wind blew them over the Hill. "We could pretty much see the entire campus," Tammy recalls. "It's such a different perspective. It's as close as you can get to being a bird." If you're daring, too, connect with Tammy — she's taken a few more rides since then and says it's time to do it again!