August 2012
Ted Wampfler, Grounds Foreperson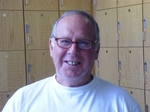 Here's a great story: On a Friday night in late March 1990, Colgate's Zamboni broke, melting a hole in the middle of the rink's ice surface. They needed someone to repair the ice in time for Saturday night's NCAA Division I men's quarter-final game. Colgate called Hamilton, which dispatched Ted Wampfler, then a member of our athletic grounds crew, to help out. Thing is, Hamilton didn't own a Zamboni; we resurfaced ice the old-fashioned way, with a farm tractor fitted with a snow-resurfacing attachment. Ted and his contraption worked all day Saturday to repair the hole, adding layer upon layer of new ice, and the game began as scheduled. At the end of the first period, the rink doors opened and Ted and his tractor emerged. "When I came out onto the ice after the first period," he recalls, "the place erupted." The crowd, which knew all about Ted's role in getting their team onto the ice, greeted him as a hero. Colgate won that night — the team included Ted in its post-game celebration — and in the semi-final, but ultimately lost in the championship game.
While that stands as Ted's most memorable experience at Hamilton, he has plenty to recall from his more than three decades on the Hill. In fact, the story of how he was hired is pretty good, too. In 1981, Ted was working for the Village of Clinton where one of his jobs was to run the street sweeper around campus. When the College grounds supervisor, Jack Bertelsman, needed a heavy-equipment operator, he thought of Ted. "Jack just called me out of the blue," he recalls, "because of my work with the sweeper." Hamilton's offer was better than what the village was paying, so Ted made the move.
On campus, Ted operated a backhoe when the weather was milder and mostly plowed and sanded in winter. But backhoe work didn't stop completely in the cold months. When a water pipe broke, often he was the one to excavate it, regardless of the conditions. Ted remembers a break once near the Carriage House on the day of the Physical Plant Christmas Party. It didn't spoil the fun, though. "We just finished it up and went to the party," he recalls.
After about eight years, Ted moved to athletic grounds, which includes the golf course and playing fields, as well as Sage Rink. "I loved working on the golf course," he says. "Birds chirping; deer running around. It was so beautiful at night when I came in to water the greens. So peaceful — it's hard to explain. Often a fox would come out and sit by the pond at the first tee, and then walk along the stream, checking." Ted stayed there for almost two decades, working as foreperson for many of those years.
Ted moved back to grounds about three years ago. "A lot of the grounds crew were the same people I'd worked with 19 years before," he says. "It says so much about Hamilton. The best part of my job is the people I work with; it's nice to work with these guys again." As foreperson, Ted heads a crew of nine, who are joined by six college students in the summer. He receives the crew's work orders — deliveries and the like — supervises their day-to-day jobs and works alongside them as needed. "I try to stay in the mix as much as I can," Ted explains. "There's a lot to do: it's like a little village."
Ted lives in New Hartford with his wife Pat, and he has a son who lives in Whitesboro. He likes to stay in shape and plays squash two or three times a week in the wintertime. "It's an exciting sport," he says. "It makes the winter go by pretty fast."
Ted says that if he weren't at Hamilton, it's likely he'd still be with the Village of Clinton. But he hasn't looked back. "I think it was a great move," he declares. It sure was: We here in the "village" of Hamilton College are lucky to have him.