December 2012/January 2013
Andrew Jillings, Director of Outdoor Leadership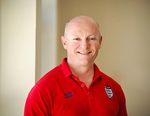 In 1997, Andrew Jillings was working at Simon's Rock College when a colleague handed him a job ad and said, "This might be something you'd like." The ad was from Hamilton College, and it featured an outdoor leadership position with responsibility for Adirondack Adventure, the Outing Club and a new ropes course in the Kirkland Glen. Having experience in residential life and outdoor adventure, Andrew applied, noting now that the position "fit my skill set of the time."
Originally, Andrew planned to stay for three years. "I thought I'd head to Colorado, to the mountains," he recalls. "But it's all here: We have the Adirondacks, some of the best whitewater in the country, flat water, winters that are just right for skiing. This is the place to be."
Andrew appreciates Adirondack Adventure's role in assisting new students with their transition to the Hill. "It's playful and fun and dead serious at the same time," he explains. "We call it a wilderness orientation program, but it's not. It's an orientation program that happens to take place in the wilderness because that's the best place for it." Andrew is busy year-round with AA, hiring two student interns, selecting trip leaders and then working with the interns all summer to pull it together. This past August, 43 percent of incoming students participated.
Throughout the academic year, the Outing Club continues to emphasize the outdoors. "It's a student-run club," Andrew points out. "I'm an advisor; I don't tell them what to do." In the fall, Andrew runs a course for anyone who'd like to become a trip leader, though he leads some of the more technically demanding trips. Any member of the College community can join for $10 per year.
Andrew also administers the ropes course, through which either he or a trained student facilitator leads groups. It's open to on- and off-campus organizations. "Hamilton sports teams and clubs use it," Andrew says. "So do classes; it breaks down shyness and helps with class discussions significantly."
After working out of eight offices in nine years, Andrew moved to the Glen House in 2006, when it was renovated for the Outdoor Leadership Program. He recalls the formal opening, held just two days after returning from Adirondack Adventure: "I had to make a speech, and I was tired, but it was a really fun day." After the ribbon-cutting, Andrew hung out in the hammock on the porch.
The Glen House is a magnet for students, and that's the way Andrew likes it. "I most enjoy working with students, particularly the people who come in here, and seeing how much fun they have in this place. They do more learning here than they realize." He notes that in his programs, students can't rely on electronic communication — they have to do it face-to-face, and they find that they're just as capable as anyone else.
At the end of his work day, Andrew doesn't have far to go. He and his wife Sarah, assistant director of outdoor leadership, their daughter, Hadley, and their dog, Indie, live at the bottom of Norton Ave. In fact, Andrew can walk to work by leaving his back door, crossing a field and then following a snowmobile trail up to the Roger's Estate. But as an avid canoe racer and whitewater paddler, oftentimes Andrew's adventures take him much further afield. "So much of what I do here is what I do in my life. The lines blur. There's so much more to the job; it's a way of life." Andrew says that if he weren't at Hamilton, it's likely that he'd be somewhere similar — though he does wonder sometimes what he'd be doing if he'd taken a different path.
Andrew considers storytelling a teaching tool, and he's beginning to tell his own stories. So stop by the Glen House, and if he's in, ask him about his official "Bad Guy" name badge, or about the moose antlers with the USPS Priority Mail label, or about the time that he tossed a coin to see if he'd stay at Hamilton or take a job elsewhere. You'll hear a great story, sure, but you'll also learn something — and that's the point.