September 2013
Claire Skjellerup (Audiovisual Services Coordinator)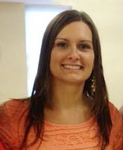 A fairly new face at Hamilton is that of Claire Skjellerup, who joined the Audiovisual Services Team in ITS a year and a half ago. After being laid off from a grant-funded position, she hoped to find a job that was more family-friendly and offered a more normal and flexible schedule. The college atmosphere is not uncommon to Claire, who worked previously at Utica College and Utica School of Commerce.
Claire's duties combine two previous positions, and the workload certainly keeps her busy. She takes in all incoming requests for academic support for audiovisual needs, orders rental films for faculty and maintains a Google calendar for scheduling. Claire also supervises 17 student interns, whom she hires and trains. Since she'll be looking to replace one-third of her team who graduated last year, Claire will have plenty to do this fall.
Being extremely detail-oriented is a must in Claire's position, and it's a skill she uses both at Hamilton and in her volunteer activities. Not only does she coach 5- and 6-year-old cheerleaders for the Sauquoit Pop Warner football team; she also takes care of the organization's website and Facebook page.
Claire has a son, Timothy, 7, and two stepchildren, Aiden and Madison, with her significant other, Patrick. She's very fond of her "bonus children," ages 7 and 11, respectively. The boys play tackle football for Sauquoit Pop Warner.
Outside of work and family, Claire has a passion for garage sales and "rescuing old things." She likes to refurbish what others consider useless items. If you get a chance, stop by ITS on the third floor of the Burke Library, and say hello to Claire.