October 2013
Dave Thompson (director of the Blood Fitness and Dance Center, director of campus wellness and professor of physical education)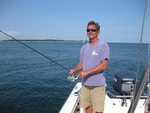 Dave Thompson, director of the Blood Fitness and Dance Center, director of campus wellness and professor of physical education, has been a member of our on-the-Hill community for three decades. As a recent recipient of the Hamilton's Distinguished Service Award, he is the perfect role model for a well-rounded, passionate employee, exemplified by the array of positions he's held since arriving on campus in 1983.
Given his love of the sport, it's not surprising that Dave started his career on campus as the interim head swimming coach. From there, he took on assistant coaching positions with cross country, softball and women's lacrosse. After serving as associate athletic director, and ultimately athletic director, Dave ended up in the job he currently wakes up excited to do every day.
As director of the fitness center and campus wellness, Dave spends his time teaching physical education classes (lap swimming if anyone is interested!), facilitating wellness programming, troubleshooting and managing fitness center matters, and scheduling events in the athletic center for on- campus and off-campus groups. Additionally, he spends a significant portion of his time meeting with student representatives from the club sports and intramural groups. Given Dave's involvement with recreation, and the vast number of students actively participating in physical activity, you can regularly find him talking one-on-one with students or working out himself. As a strong believer in the phrase "practice what you preach," he engages in some form of physical activity every day.
"I've had three main jobs I have loved. All three in different ways, but all absolutely great," Dave says of his positions at Hamilton. "At the end of the day, what I like best that is common to all three is being in a position to inspire and motivate people to do their best. The greatest thing to me is having the ability to teach, and I would wish that for everybody — to get satisfaction from what they do every day!"
When Dave isn't getting satisfaction from his job, he enjoys the company of his family. His relationship with his wife, Sherry, who many students and employees know well, is the most important one in his life. His son Alex graduated from Hamilton last spring and is attending graduate school at Yale; his younger son Drew is a sophomore at Colgate. Whether alone or with his family, Dave's life involves lots of outdoor activities, and he tries to be as active and as "outside" as he can possibly be. An avid fisherman with a love of boats and time on the lake, he is also passionate about music and high-end audio. In fact, you may be surprised to hear that Dave played in a band on campus during Senior Week in the early 2000s … twice. If he could do anything else, he would be "touring the world in a rock band" and "playing the drums in a hot rock n' roll outfit" — a pretty neat alter ego!
Dave invites fellow employees to stop by the fitness center and come to him with any of their fitness needs or ideas. Adamant about promoting wellness on campus, he loves meeting new people and wants to help everyone achieve his or her fitness goals.