July 2013
Sue Campanie, Events Administrator, Office of the President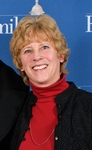 Matriculation and Convocation, the Class & Charter Day ceremony, Commencement Weekend. Every year these big-deal, pomp-and-circumstance events originate in a quiet corner of Buttrick Hall. Sue Campanie works out of a tidy, white-walled office that features artwork from the College collection. It's an oasis, right in the heart of campus. But the order has a purpose. "I have to be organized here because it's impossible to keep things straight otherwise," Sue says. And she's not kidding: her Commencement to-do list is six pages long!
Sue has been coordinating College events since March 2000 — in fact, she's worked in Buttrick longer than any other current occupant. Sue started across campus, though, when she came to the Hill in August 1994 as the part-time assistant for the Theatre and Dance Department. A busy volunteer at the time, Sue credits her husband with helping her make the transition to working at Hamilton. She recalls with a laugh, "He said, 'If you're going to do this much work, get a job.'" At the time, her friend and neighbor Kelly Rose worked on the Hill, so one thing led to another. A few years later, Sue began supporting the Chemistry Department, too, but she left both behind when she transitioned to Buttrick.
Sue recalls that when she started in her current position, her then-supervisor, Meredith Harper-Bonham, was new to the President's Office, too. "We were shell-shocked, planning Commencement," Sue recalls. Over the years she's learned a lot, and she now relies on that lengthy to-do list to keep the weekend's events on track. But Sue is very modest when discussing her role; she has nothing but praise for the myriad departments on campus that help pull it off so seamlessly. "It's amazing working here. Sometimes I feel like a stagecoach driver: You say 'go' and they do it. They do all the work — I just make my lists."
In addition to coordinating those big-name events, Sue has numerous other responsibilities. Members of the faculty know that she plans the senior evenings at the president's house, and she plays a role for the Great Names Series events and the Board of Trustees' meetings. Sue says that she most enjoys the variety in her work, citing the Jon Bon Jovi benefit concert, held in conjunction with the December 2012 board meeting in New York City, as one of her most memorable experiences. "It was new," she explains. "We'd never put together a rock concert off-site. But overall it went very smoothly; it was a lot of fun."
Sue and her husband, John, are the proud parents of two Hamilton grads: Joe '04 and Abby '06. (She's quick to add that Joe's wife, Elaine, is also Class of 2004.) Sue is a grandmother of three little ones, Sophia and Lillian Campanie and George Buchanan, and she says that if she weren't at Hamilton, she might be living nearer to one or other of her children, who are now both out of state. In the meantime, she divides her time between the family home in Kenwood and summers in Sylvan Beach, on Oneida Lake.
Sue says that people might be surprised to learn that she likes science and nature; she might have been a biology major if given a second chance. But it's clear from her organizational skills that Sue has chosen a profession for which she is well suited. The Hamilton community is lucky to have her, and we can hope that she will keep at it for years to come.