In April of 2007, President Joan Hinde Stewart affirmed Hamilton's commitment to maintaining and developing environmentally sound facilities and policies by signing the American College & University Presidents' Climate Commitment. This voluntary initiative committed Hamilton to a framework of short-term actions, such as:
The establishment of the Sustainability Leadership Team (known as the "Green Team"), chaired by Karen Leach, vice president of administration & finance
The selection of certain "tangible actions" to initiate the commitment
A greenhouse gas emissions survey
A written climate action plan
The ultimate and long-term goal is to establish a timeline for Hamilton to become climate neutral and thereby achieve a net-zero impact on Earth's climate. Hamilton has met all of its initial obligations, including the written plan and several interim progress reports. The College is realizing a slow and steady decline in its gross carbon emissions and is moving toward the climate neutrality goal, even as new construction has increased the physical footprint of the campus.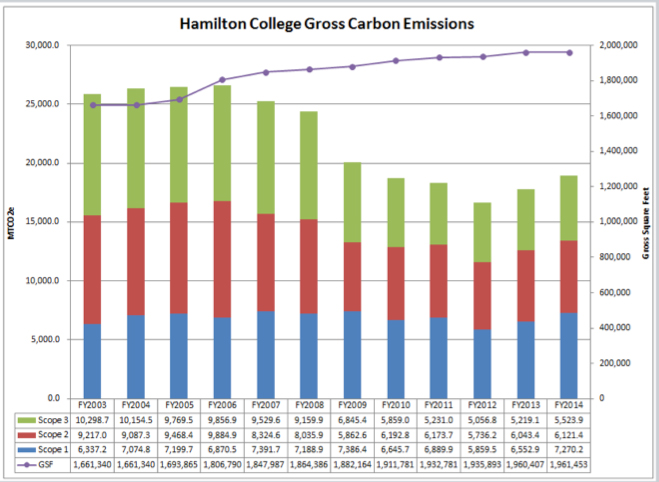 As part of Hamilton's ongoing commitment to climate neutrality, the College intends to impress upon its community members the value of environmental sustainability. Hamilton will accomplish this by doing what it does best: innovating and teaching current and future generations of students inside and outside of the classroom.
Contact
Contact Name
Brian Hansen
Director of Environmental Protection, Safety and Sustainability