Virtual Event: Arcadia Fall in London Program Q&A
---
Join us for a conversation about Arcadia University's fall semester in London program. Niki Barron, Associate Dean of Admission, will facilitate this panel and Q&A discussion with Arcadia University's Senior Program Manager and Hamilton College's Director of Orientation and First-Year Programs.
Thursday, April 16 at 7 p.m. (EDT) • Register
About the Panelists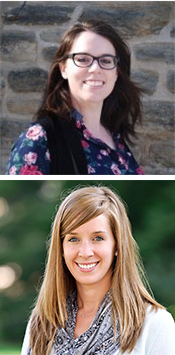 Mary Rogers is a Senior Program Manager at the College of Global Studies at Arcadia University. She has worked with each cohort of Hamilton's Jans who have participated in the London program since January 2016.
Tessa Chefalo is the Director of Orientation and First-Year Programs at Hamilton, and serves on a team that ensures a smooth transition to Hamilton for all students, including our January entering first-years.
Please register by completing this short form where you will be able to submit your questions in advance.