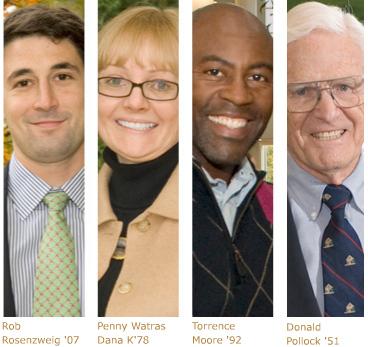 It's who we are. As members of the Hamilton family, what does that mean?

Our answers are as diverse as we are. It has been said that as Hamilton alumni, parents and friends, giving back defines us. And so it does. Giving back by supporting current students and professors through our annual gifts. Giving back as volunteers? interviewing high school seniors, offering internships to Hamilton students, hosting events and calling on our classmates to encourage their support.

Yet all that is only part of our story? part of what it means to be members of this community. We are generous, yes. We are also devoted and compassionate. Creative. Competitive. We are lifelong learners. Teachers. Problem solvers. We are leaders. Healers. Activists. Collaborators. Investors. We are workers. We write clearly. We speak compellingly. We think deeply. We are loyal to our colleagues, our friends and our families.

And Hamilton is our shared connection.

Individually and together we transform our world every day. And our support of Hamilton helps prepare the young men and women currently studying on College Hill to join us.

It's who we are.