Providing for Hamilton's Future
---
Phil Hawkins '78 and Elizabeth Porter Hawkins K'77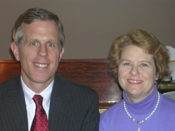 Like many alumni couples, Phil Hawkins '78 and Elizabeth Porter Hawkins K'77 share a nostalgic fondness for the College where they met. But it's looking ahead to the future that motivates them to support Hamilton.

"I enjoyed my Hamilton experience very much. Hamilton taught me lessons in learning and getting along in a community. It helped me begin to grow up," Phil recalled. "I may not have agreed with every decision made at the College over the years, but I am encouraged about what Hamilton has become. It's a place that continues to provide very relevant and meaningful opportunities to today's young people."

On the Hill, Phil studied economics and was on the swim team. A French studies major at Kirkland, Liz took most of her courses at Hamilton. During her junior year she participated in the Experiment in International Living where she served as an assistante teaching English in a French public school. After earning his M.B.A. at the University of Chicago, Phil began his career in corporate real estate investment. Today he is president of CarrAmerica Realty Corp., a real estate investment trust based outside of Washington, D.C. Liz continues to devote her energies to education as a volunteer and substitute teacher at the Flint Hill School.

Although Phil's career took them to several cities throughout the country over the years, the Hawkins remained connected to their roots on the Hill, serving in a variety of volunteer roles. About five years ago when the couple went through an estate-planning process, their financial advisor asked about their charitable interests. "We both felt strongly that Hamilton belonged on that list," Phil said. "To the extent that we are able, we will continue to offer our support."