After his graduation from Hamilton, Brent Wedding '58 returned to his home state to pursue an M.S. and Ph.D. at the University of Illinois. He was subsequently hired by Corning Inc., where he worked as a research physicist. In 1991, Brent and his wife Susan had a plan for the future when they established their first deferred payment charitable gift annuity with Hamilton. It was simple — they wanted to express gratitude to the College. Nine deferred payment gift annuities and numerous capital and Annual Fund gifts later they have done that and more. Now in retirement, the annuity payments augment their income.

Recently, Brent reflected on the scholarship assistance he received as an undergraduate. "Devoted alumnus and trustee, Charles F. Hemenway, Class of 1910, and other alumni in Chicago established the Illinois Regional Scholarship that made my Hamilton education possible. Susan and I honor his memory by contributions to the successor fund — the C.F. Hemenway and Frank Barbour Memorial Scholarship."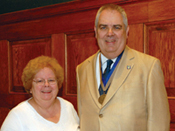 The Weddings have completed a number of outright and planned gifts to provide similar opportunities for future "Charlie's men and women." The Wedding legacy did not end with Brent. Their son, John, and daughter, Caryl, both chose Hamilton. John '94 lives in King George, Va., with his wife Vanessa and daughter Jillian. He received a Ph.D. from Rensselaer and is a physicist in a research lab. Caryl Hirst '98 resides in Bath, N.Y., with her husband Ronald and daughter Susan. She is a school psychologist with the Penn Yann School District, having earned an M.S. from Alfred University. Both were accomplished musicians at Hamilton.