The academic dress found in most colleges and universities in the United States is derived from that of the universities of Oxford and Cambridge, which was a development of academic and clerical dress common throughout the medieval universities of Europe. There is an Inter-Collegiate code which sets out a detailed uniform scheme of academic regalia.
The modern gown is a garment resembling a long black cape. The gowns most commonly worn, that of the clerical type gowns of Bachelor of Arts (BA) and Master of Arts (MA), are substantially the same throughout the English-speaking world. Both are traditionally made of black cloth and have the material at the back of the gown gathered into a yoke.
Doctoral robes are typically black and are similar to the gowns worn by bachelor's graduates, with the addition of three velvet bands on the sleeves and velvet facing running down the front of the gown. The Code calls for the gown trim to be either black or the color designated for the field of study in which the doctorate was earned. Many institutions offer doctoral gowns in their primary school color.
The Code calls for the shell material of the hood to match the robe, and for the color to be black regardless of the color of the robe being worn. The interior lining - generally silk - displays the colors of the institution from which the wearer received the degree, in a pattern prescribed by it (usually, if more than one color is used, chevrons or equal divisions). The opening of the hood is trimmed in velvet or velveteen.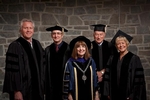 The width of the hood velvet is 2 inches, 3 inches, and 5 inches for the bachelor's, master's and doctorate degrees, respectively. The hood's length also indicates degree, with bachelor's degrees being the shorts and doctoral degrees being the longest. In most American colleges and universities, the color of the velvet hood trimming is distinctive of the academic field to which the degree earned pertains. For instance, one who has earned a Bachelor of Science in Dentistry would wear velvet trim of lilac to signify "dentistry", rather than salmon pink to represent "public health" or drab to represent "business".
Even the tassel adorning the mortarboard has significance. For Bachelor degrees the tassel may be black or whichever color represents the field of the degree earned, whereas the tassels for doctoral degrees are always gold.
For more information about the Inter-Collegiate Code, visit the American Council on Education's website.
To learn more about Hamilton's own Commencement ceremony, visit the Commencement website.