College and University Presidential Inaugurations
---
Every year, Hamilton is invited to participate in the procession of delegates from institutions of higher learning at presidential inaugurations for countless colleges and universities across the nation. Traditionally, at the inauguration of a college or university a procession of delegates from institutions of higher educations, learned societies, and associations begins the ceremony. Donning full academic regalia, Hamilton alumni serve as representatives from the College and march as delegates in these processions. Colleges and universities that are leaders in higher education are invited to have a delegate represent their institution in the procession, an invitation that is considered a great honor.

To learn more about representing Hamilton in an inaugural procession and for more information, please contact Sharon Rippey, Alumni Relations srippey@hamilton.edu
Recent Inaugurations Attended by Hamilton Alumni
Williams College's Induction of its 17th President Adam F. Falk

On Saturday, September 25, Dean Alfange, Jr. '50 served as the delegate for Hamilton College at the inauguration of Adam F. Falk as the 17th president of Williams College in Williamstown, Massachusetts.
Alfange is a Professor Emeritus of political science as the University of Massachusetts. Wearing his full regalia, he walked in the procession that commenced the induction ceremony, which coincided with Williams' Convocation. Alfange attended with his wife, Barbara, and remarked that the festive occasion was pleasant.

The University of the South (Sewanee)'s Inauguration of John McCardell, Jr.
On Tuesday, October 12, Barclay Ward '59 donned his regalia to represent Hamilton at the presidential inauguration of John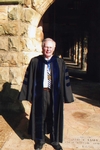 McCardell, Jr. at the University of the South (Sewanee). A professor of political science at Sewanee, Ward attended the installation festivities and served as a delegate for the College during the inaugural procession.
The inauguration coincided with Sewanee's convocation ceremony and its Founders' Day events. "It was an important occasion for Sewanee and elegant, as is Sewanee's custom," Ward said. In addition to attending the installing of McCardell, now the sixteenth vice-chancellor and president of Sewanee, Ward attended the Gala Dinner which commemorated the event.
The procession consisted of delegates from over 80 institutions.
Pomp & Circumstance: What is academic regalia?
The academic dress found in most colleges and universities in the United States is derived from that of the universities of Oxford and Cambridge, which was a development of academic and clerical dress common throughout the medieval universities of Europe. In America, there is an Inter-Collegiate code which sets out a detailed uniform scheme of academic regalia. More...
Please Edit to add slideshow images