Associated Colleges in China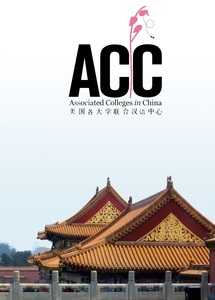 Established in 1996, the ACC is an intensive Chinese language program administered by Hamilton College, and hosted by the Minzu University of China (MUC) in Beijing.
The curriculum, designed and supervised by experienced American college professors, focuses on studying the Chinese language through individualized instruction with a high level of participation and interaction.
A Chinese-only language pledge is applied and upheld by the professors and instructors. Students are encouraged to interact only in Chinese in order to increase their proficiency in the Chinese language, and also, their understanding of China's culture and society.
ACC's Chinese language program has successfully trained over 1,500 students who are linguistically and culturally proficient in Mandarin Chinese, and who can function freely in Chinese-speaking communities.
For more information, please visit our main page.
Intensive Language & Culture Program in Beijing
The ACC Intensive Language & Culture Program in Beijing is a summer, fall, and spring intensive Chinese language program.
ACC is considered one of the top programs in China for its academic rigor, quality of teaching, highly interactive and individualized instruction, culturally enriching class activities and innovative curriculum.
The daily course schedule is as follows:
- Eight-on-One Lecture and Practice
- Four-on-One Drill and Practice
- Two-on-One Conversation
- One-on-One Individual Class.
For more details, visit www.hamilton.edu/China
Summer Field Studies Program
The ACC Field Studies Program for advanced students of Chinese combines field experience in rural China with advanced language courses for a seven-week total immersion.
Website: www.hamilton.edu/academics/acc/summerfieldstudieshome.html
K-12 Chinese Language Teachers Institute
The Chinese Language Teachers Institute is an intensive summer training program for non-native Chinese language teachers. This six-week institute (late June-early August) will be held at the Minzu University of China (MUC) in Beijing.
Website: www.hamilton.edu/academics/acc/08K12CTT.html
Summer Immersion for K-12 Students
The Chinese Summer Immersion Program for Central New York students is designed as a one-week residential day camp program. The program aims to provide a language immersion experience for 15 highly motivated students while improving their linguistic proficiency and cultural competency.
For more information, visit: www.hamilton.edu/China