Faculty members have prepared their courses for flexible, high-quality instruction, and for delivery across multiple modes. Faculty teaching methods may include:
Hybrid: replaces some class time with synchronous or asynchronous online instruction
Blended: (usually) synchronous courses where some students, faculty, and presenters attend in person and some attend online at the same time
Remote instruction: the faculty member is remote, but students may attend in person or in any other mode
Modular course design: syllabi are reorganized to plan courses in multiple modular segments that could be reordered or rescheduled if needed
Advisor Meetings
Advisors may continue to meet with their advisees in small groups and individually via Zoom or in outside spaces
Faculty members may not hold one-on-one meetings with students in faculty offices
Library, Technology, and Other Resources
All library materials and IT support services are available. Library and Information Technology Services (LITS) will use social distancing strategies such as contactless pickup for library books and remote (Zoom) appointments for Help Desk, librarian support, and other services.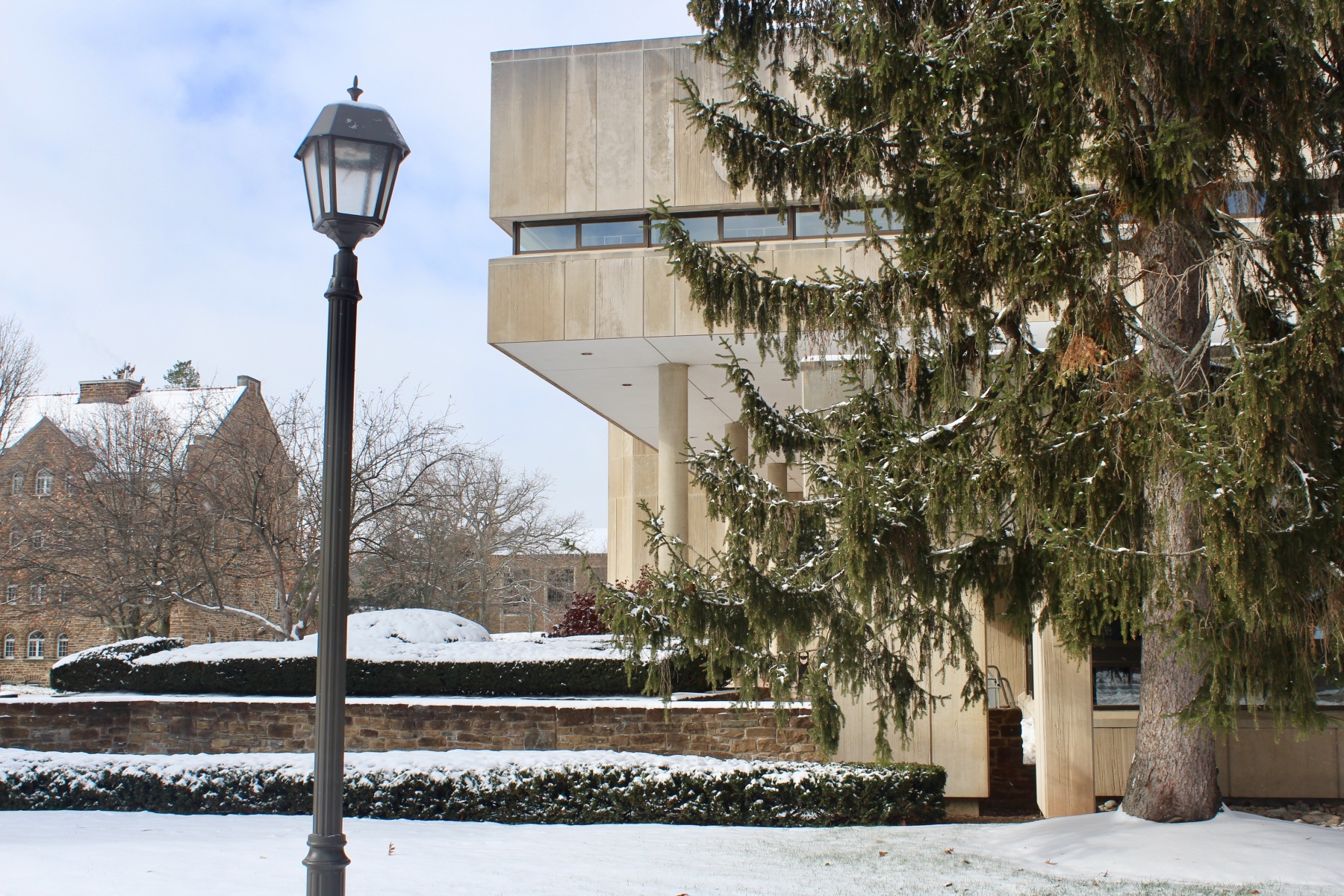 The Burke Library will not be open to the general public. Building availability for Hamilton students, faculty, and staff will be evaluated throughout the semester based on safety guidelines and to accommodate student and curricular needs.
Hamilton students who choose to study virtually in 2020-21 continue to have access to all of the library's research services, electronic resources, and technology support.
Visit the LITS webpage for information about library hours and how to access resources
Academic Accommodations
Students who decide to return to campus, but need accommodations, should follow the normal procedure of notifying Allen Harrison, the assistant dean of students for international students and accessibility, by email at aharriso@hamilton.edu or by calling 315-859-4021.
Off-Campus Study
Hamilton's study abroad programs in China, France, and Spain, along with off-campus programs in New York City and Washington, D.C., are suspended for spring 2021. Information for students interested in studying abroad for summer 2021, fall 2021, and subsequent semesters will be provided on the off-campus study website as soon as decisions are made.
Leaves of Absence and Waiver of Residency Requirement
Personal Leave of Absence or Waiver of the Residency Requirement: Returning students may petition for a personal leave of absence or a waiver of the residency requirement to complete their coursework remotely, and these petitions will be evaluated by the Dean of Students staff.

Students were asked to submit their intentions by Oct. 30, 2020, however, later petitions will be considered from students who cannot come to Hamilton because of travel or border restrictions, visa issues, increased risk due to a medical or mental health condition, or if they do not feel comfortable participating in the campus experience in the spring semester because of the changes that are required.

Personal Leave of Absence (Unable to Return to Campus): Returning students who are not able to return to campus and who will have difficulty participating in coursework remotely (e.g., required coursework is not well suited to remote learning or personal circumstances) should contact the Dean of Students Office for a personal leave of absence.
Different Credit-Bearing Option: Returning students who wish to pursue a different credit-bearing option, such as programs or courses that will transfer to Hamilton, should work with their academic advisor and Crystal Pierce-Jadwick in the Registrar's Office.
Returning students who request a personal leave of absence should understand there may be:
Financial implications: please speak with the Financial Aid Office
Consequences for academic progress (especially for sequential courses that may only be offered in a particular semester): please speak with your academic advisor and note that Hamilton's policy of not accepting transfer credit for online courses taken at another institution will remain in effect for the spring semester
Visa consequences for international students: please consult with Dean Harrison
Tuition and Fees Considerations
Hamilton recognizes that the coronavirus pandemic continues to create risks and uncertainties that may affect the future structure of its traditional on-campus learning and residential experience, but the tuition and fees charged by the College are based on the quality and expertise of the faculty and are not dependent on the format of our educational programs.
If Hamilton is forced to alter the structure of its on-campus educational programs, or transitions to a remote learning model to mitigate the possible effects of the coronavirus pandemic or because of restrictions imposed by federal, state, or local authorities, tuition charges will remain as published for 2020-21 and will not be refunded or reduced.
Students who choose full remote learning for the spring semester will not be charged room, board, or the student activities fee. Those who begin the semester remotely may not change to in-residence learning at a later date.
Students who are approved to leave during the semester to study remotely will receive prorated room, board, and student activities fees for the number of weeks not on campus as detailed below, however no refunds will be given after April 5. Those who are on financial aid will have their awards adjusted to reflect the changes in costs and projected expenses.
| Date | Refund Amount |
| --- | --- |
| Prior to January 31 | 100 percent |
| February 1 to February 7 | 90 percent |
| February 8 to February 14 | 80 percent |
| February 15 to February 21 | 70 percent |
| February 22 to February 28 | 60 percent |
| March 1 to March 7 | 50 percent |
| March 8 to March 14 | 40 percent |
| March 15 to March 21 | 30 percent |
| March 22 to March 28 | 20 percent |
| March 29 to April 4 | 10 percent |
| After April 5 | No Refund |
Late Arrivals [REV., jan. 13]
Students who have requested to complete their coursework remotely for the spring 2021 semester will not be allowed to return to campus in person at any point during the semester. Students will only be allowed to start the spring semester remotely and transition to in-person coursework if they are delayed for an approved, extenuating circumstance such as visa or international travel issues, quarantine or isolation in their home county, a family emergency, or a similar matter. Students in such situations should seek approval from the Dean of Students Office by emailing dosdept@hamilton.edu and providing appropriate documentation to support their request.
Such students will still be considered "in person" and will be billed for full room, board, and student activities fees, but once the student arrives, 8 percent of those charges will be credited for each week the student was not able to be on campus, and financial aid will be adjusted accordingly. If students cannot arrive by Sunday, March 7, they will need to petition to take their classes remotely for the entire spring semester. Upon arrival, students will need to have results of a pre-arrival COVID-19 test and will take a Hamilton test at a local hotel. A second test will be performed approximately three days later. Students will quarantine at the local hotel until they receive a negative result from their second Hamilton test, at which point they will be transported to campus.
Refund Policy
All refunds to a student withdrawing from the College are based on the date on which the student, parent, or guardian notified the Dean of Students Office of withdrawal. The College policy on the refund of payments to students who withdraw voluntarily or due to illness, or who are dismissed during any semester, is stated below. Tuition insurance may apply in some circumstances.
Students who receive financial aid from the College and withdraw during a semester will have their aid re-evaluated, and possibly adjusted, based on the type of aid received, government regulations, and the period of attendance.
Prior to the first day of classes, 100 percent of tuition, room, board, and the student activities fee will be refunded, less any nonrecoverable costs incurred by the College.
Room charges will not be refunded if a student withdraws after the start of classes unless the student is moving to full-time remote learning as described in Fee Considerations for 2020-21.
| TUITION, BOARD, AND FEES ARE REFUNDED AS FOLLOWS: | REFUND AMOUNT |
| --- | --- |
| 1) Withdrawal or dismissal during the first week | 80 percent |
| 2) Withdrawal or dismissal during the second week | 70 percent |
| 3) Withdrawal or dismissal during the third week | 60 percent |
| 4) Withdrawal or dismissal during the fourth week | 50 percent |
| 5) Withdrawal or dismissal during the fifth week | 40 percent |
| 6) Withdrawal or dismissal during the sixth week | 30 percent |
| 7) Withdrawal or dismissal during the seventh week | 20 percent |
| 8) Withdrawal or dismissal during the eighth week | 10 percent |
| 9) After eight weeks | No Refund |
Questions? Contact:
Office of Financial Aid
Email: finaid@hamilton.edu
Student Accounts
Phone: 315-859-4324
Email: stuaccts@hamilton.edu
Financial Aid and Emergency Assistance
The College recognizes that many families may be experiencing or anticipating hardship due to the ongoing COVID-19 pandemic, and we will do our best to assist you. Students who have never applied for financial aid and would like to explore that possibility should contact the Financial Aid Office for counsel. Students who have already applied and/or are receiving financial aid, and whose financial situation has changed, may submit an appeal, documenting changes and requesting reconsideration of aid eligibility. Questions can be directed to finaid@hamilton.edu.
Hamilton's Student Emergency Aid Society funds assistance with one-time emergency or exceptional needs that are not part of Hamilton's cost of attendance, but that impact a student's ability to learn and progress academically. Students with critical needs should complete this form or write to seas@hamilton.edu. All inquiries, nominations, grants, or loans will be handled confidentially and with discretion.