The fact that there are always graduate students from other institutions participating in these Antarctic research expeditions is one of the key benefits for Hamilton undergrads. They have the opportunity to observe and learn from their older peers and to experience the type of projects in which they might be engaged should they, too, decide to pursue a graduate degree. It is rare that undergraduate students from any institution travel to Antarctica. This is an experience usually only available to graduate students.
Hamilton alumna Liz Bucceri '11 was invited by Associate Professor of Biology Michael McCormick to join this expedition because a portion of the research they are undertaking on the trip is a continuation of her thesis completed last year. She had worked with Professor McCormick's samples taken from the last LARISSA cruise. Liz, who is considering a couple possible graduate study programs, described the opportunity as "a great experience to meet a lot of great scientists and [engage in] real research sampling. I am also learning a ton about Antarctica and the amazing research taking place here…. the experience is once in a lifetime."
In this blog below, Liz describes the work undertaken by Duke PhD candidate Megumi Shimizu, another member of Professor McCormick's team, who is working with her and Hamilton junior Andrew Seraichick:
Wednesday, March 21
Liz Bucceri '11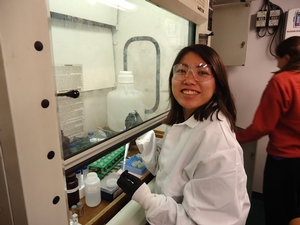 Professor McCormick's research team consists of four researchers: Professor McCormick, Andrew Seraichick '13, myself and Megumi Shimizu. Megumi is a PhD student at Duke University, currently a second-year student in a five-year program. She studies at the Duke Marine Lab, specifically in the marine science and conservation program.
During this cruise to Antarctica, she is helping with the marine microbiology sampling, but she is also doing some of her own sampling. For her doctorate, she is investigating the lipid levels of microbes in the Antarctic sediments. Specifically she is interested in the interactions between the lipid levels and environmental changes as well as the chemical components of the sediment.
With the Antarctic sediments, she wants to focus on how the retreating of major ice shelves has affected microbial lipid levels. One of the plans of the cruise is to get various samples from different horizons from the retreating of the Larsen B Ice Shelf. Each horizon will represent a different time period in the ice movement with sediment and water open from beneath ice for varying time periods. Megumi plans to take sediment samples from these different horizons and hopes to see how the microbial lipid levels have changed across them. This cross-link of microbiology and geology is something that interests her very much and is something she hopes to pursue in her program as well as after she receives her doctorate.
This Larissa cruise is her first major research cruise, but she has been on several day-cruises to Cape Lookout Bight, N.C. During these trips she collected marine coastal sediments in order to do similar lipid microbial research. She says that this expedition to Antarctica is much more exciting both from a scientific standpoint and a traveler's standpoint.
Before Duke University, Megumi spent four years in Toyko, Japan, earning her undergraduate degree. She was born in Osaka, Japan, but spent most of her life in Kyushu, which is located in the western part of the country. She has spent the last two years in Beaumont, N.C. When she has finished her PhD, she is uncertain whether she will stay in the United States or return to Japan. Ideally she would like to spend time in a completely different place, doing research for a few years before settling down. After this trip, she will have traveled to every continent except Africa.