Friday, April 6
Liz Bucceri '11
With all this time at sea, I have been given the opportunity to get to know a lot of different kinds of people. Between the students, scientists, technicians and crew members it has been very interesting being able to learn where everyone is from and what everyone has done before. In previous blogs written, we have talked about the different students, scientists, and crew members. But there is one occupant aboard the Nathaniel B. Palmer that doesn't fit into any of these categories. Amber Lancaster is not a scientists or a crew member, but is a high school Biology teacher who has been given the opportunity to come to Antarctica to learn and be apart of the research.
Amber was selected to come by a program called PolarTREC, which focuses on allowing teachers from all across the U.S. to join with scientists and their research programs in the Arctic and the Antarctic. According to their website, their goal is to advance polar science education and understanding by bringing K-12 educators and polar researchers together through hands-on field experiences. In order to be a part of the program, Amber as well as the LARISSA group had to apply. Once the applications were accepted, both groups had to go through extensive interviews and conference calls before their applications were matched together. For Amber, she applied in the fall and found out in early January that she had been accepted, only two months before she was being asked to leave. But with this trip being once in a lifetime, she had no complaints.
While here, she has had the opportunity to work with every science group and learn a lot about what each was doing. She started the trip off with following around the Chief Scientist, Maria Vernet, learning about what it takes to organize 40 days of intense scientific sampling. Then she was given the opportunity to work both day and night shift as a benthic ecologist, microbiologist, geologist, and anything else that she wanted to try; all of which she has been sure to document on her blog. She also made several of her own presentations to the scientists aboard the vessel. In one presentation she explained how to present science and research to the general public in a way that, no matter what science background you have, you can understand it. She has made sure to be a part of as much as possible and says that she plans to bring it all back to her students in San Francisco.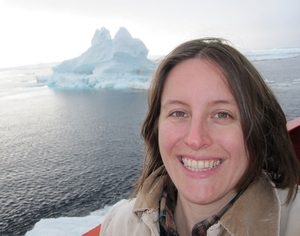 Amber grew up in Missouri and received her Bachelors degree in electrical engineering from the University of Southern California. After she graduated she went into the Peace Corps where she spent four years, on and off, in Zimbabwe and Morocco. Then she went back to school where she got her Masters in Education from Berkeley. After working at a science center in St. Louis, she went on to her first teaching job at the June Jordan School for Equity in San Francisco. She has been there now for three years and currently is teaching Biology to 9th and 10th graders as well as Marine Biology to 12th graders.
For anyone interested, Amber will be making a large conference call, called a PolarConnect event, on Monday April 9th. Anyone in the country is allowed to register and listen in on the talk, with more information found at the PolarTREC website: www.polartrec.com. Amber will be talking about the different science groups and what the scientists are hoping to achieve through the LARISSA project. You can also find her blog at http://tinyurl.com/scienceonaboat, make sure to click on journals.