Antarctica 2005
Faculty
Eugene Domack, Ph.D.

Professor of Geosciences, Hamilton College
Hamilton Geology Professor Eugene Domack has 25 years of Antarctic experience, the last 15 in the Peninsula region. He is interested in understanding the natural record of environmental variability locked in glacial marine sediments in fjords and inner coastal basins on both sides of the Peninsula. He is currently investigating the paleorecord of Antarctica's disintegrating ice shelves. Domack's research is made possible by funding from the National Science Foundation Office of Polar Programs. Contact Professor Domack at
edomack@hamilton.edu
.
More about Gene Domack ...
Stefanie Brachfeld, Ph.D.
Assistant Professor of Earth and Environmental Studies, Montclair State University
Stefanie Brachfeld joined the Montclair faculty in 2003. She earned her masters degree in Earth and Planetary Sciences at the California Institute of Technology, and her Ph.D. in geophysics at the University of Minnesota. Brachfeld specializes in magnetic methods, which she applies to geophysical and paleoclimate studies in the Antarctic, North America, and the North Atlantic. Brachfeld has participated in five marine field expeditions aboard the
RVIB Palmer
, the
JOIDES Resolution
, and the
Marion Dufresne
. Her work is supported by the National Science Foundation Office of Polar Programs, and the Office of International Programs, Western Europe division. Brachfeld's work is published in such journals as
Earth and Planetary Science Letters
,
Journal of Geophysical Research
, and
Geology
. Contact Professor Brachfeld at
brachfelds@mail.montclair.edu
.
More about Stefanie Brachfeld . . .
Bruce Huber
Senior Staff Associate, Lamont-Doherty Earth Observatory, Columbia University

Bruce Huber is a Senior Staff Associate at Lamont-Doherty Earth Observatory of Columbia University. He has 30 years' experience in physical oceanographic field work in the tropics, subtropics, and southern ocean. He has been working in the Antarctic since 1981, and has had the pleasure of working with the German, Soviet Union, Russian, Italian and Brazilian Antarctic programs as well as the US program. Most recently, he has been engaged in the design, construction, and deployment of oceanographic moorings in the Ross and Weddell Seas, Antarctica; Makassar Strait, Indonesia; the Delaware River plume; and the Hudson River. His research on this trip is funded by the National Oceanographic and Atmospheric Administration (NOAA), and is focused on the circulation of deep and bottom water exiting the Weddell Sea. Please visit the
project web site
for additional information. For more information about Huber, please see
http://www.ldeo.columbia.edu/~bhuber/
. Contact Professor Huber at
bhuber@ldeo.columbia.edu
Scott Ishman, Ph.D.
Associate Professor of Geology, Southern Illinois University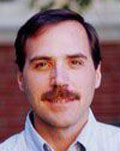 Scott Ishman is a paleobiologist at Southern Illinois University-Carbondale where he has been a member of the faculty since 1999. He earned his master's degree and Ph.D. in geology at The Ohio State University specializing in Cenozoic foraminifera. He spent eight years as a Research Geologist with the U.S. Geological Survey before moving to Southern Illinois University. Ishman has participated in a half-dozen field seasons in Antarctica. He has published his work in journals such as
Geology
,
Marine Micropaleontology
, and
Journal of Foraminiferal Research
. Ishman's research has been supported by grants from the National Science Foundation. He received his Antarctic Service Award in 1986. Contact Professor Ishman at
sishman@geo.siu.edu
.
More about Scott Ishman . . .
Amy Leventer, Ph.D.
Associate Professor of Geology, Colgate University

Amy Leventer has been a member of the Colgate University faculty since 1997. She earned her master's degree in marine science at the University of South Carolina and her Ph.D. in geology at Rice University. Specializing in polar marine diatoms, Leventer has participated in more than a dozen seasons of field research in Antarctica. She has published her work in journals such as
Nature
,
Marine Geology
, and
Geological Society of America Bulletin
. Leventer's research has been supported by grants from the National Science Foundation. She received her Antarctic Service Award in 1984. Contact Professor Leventer at
aleventer@mail.colgate.edu
.
More about Amy Leventer ...
Kate McMullen
Co-Director, Antarctic Program, Hamilton College
Kate McMullen recently returned to Hamilton College to co-direct the Antarctic Program. She participated in two research cruises as a student at Hamilton and completed her senior thesis titled "Glacial Morphology and Marine Stratigraphy of the Mertz Trough, East Antarctica." After she graduated she spent a year working in the Sediment Lab at USGS in Woods Hole, MA. Contact Kate at
kmcmulle@hamilton.edu
.
Laurie Padman, Ph.D.
Senior Research Scientist, Earth & Space Research (ESR)
Laurence ("Laurie") Padman is a senior research scientist at
Earth & Space Research
(ESR), and has 18 years experience in the physical oceanography of polar seas. His research encompasses measuring and modeling turbulent mixing in the ocean, modeling tides around Antarctica, and assessing the effect of tides on a variety of processes including ocean mixing, basal melt
of ice shelves, ice-shelf rifting, and sea ice dynamics and thermodynamics. His role in this program is to provide interpretation of physical oceanographic data collected during cruises, and to model tides and other ocean processes to assist in understanding the physical processes affecting the sedimentation records. Padman's research is funded by the National Science Foundation, Office of Polar Programs. Previous support from NASA assisted with the development of tide models for application to ice shelf studies. Contact Professor Padman at
padman@esr.org
.
More about Laurie Padman . . .
Sean Sylva
Woods Hole Oceanographic Institution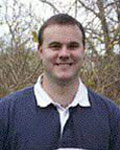 Sean Sylva earned a B.S. in Geology and Geological Oceanography from the University of Rhode Island in 1997. He joined the Woods Hole Oceanographic Institution in 1998 and became a member of the technical staff in 2001. Sean's research is in the isotopic composition (13C, 14C, and 2H) of organic materials in the environment. He also develops techniques and novel interfaces for isotopic analyses. Contact Sean at
ssylva@whoi.edu
Dave Tewksbury
Technical Support, Department of geosciences, Hamilton College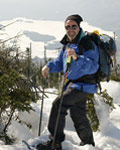 Dave Tewksbury began working in the Antarctic during the 1977-78 field season in Marie Byrd Land, with return trips in the 1980s, 1990s and 2000s. Dave provides support in the lab, on deck and on shore. An early adopter of digital photography, he has provided images in nearly real time for posting on the Hamilton Web site. Contact Dave at dtewksbu@hamilton.edu