Week 4
Monday, May 1
Over the last night we continued our transit across the northern edge of the Weddell Sea through the region called Iceberg Alley. Last night we had no swells, and the Palmer cut through calm seas covered in newly formed ice. The flows were large pancakes each the size of child's pool, they were soft and slushy so the ship made a quiet slice through them, with only the sound of a soft shhhhhhhh to let us know we were in ice. Early this AM we are feeling a gentle swell as we continue east at about 10 kt. Later today we will conduct the mooring work.

Wednesday, May 3
Today is May 3rd and we are two days into our transit back across the Drake Passage. We are facing some rough seas after a night of relative calm. The image depicts a NOAA satellite image using an infrared sensor that shows cloud circulation and the development of a monster storm right in our path back home. The ship location is shown by the white cross and the winds are coming right at us from the NW at about 40 kts, it will be some days for the storm to pass and that will mean we will be in it for the entire crossing. There is a reason we have no pictures to send from the decks, as they are closed and many folks are sleeping late past breakfast this AM. Otherwise all is well.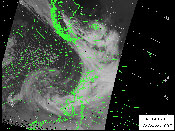 Thursday, May 4
We are taking some large rolls and one thing it does if you don't get sea sick is that it makes you really sleepy. The image below shows Kim Roe while on watch responding to the steady back and forth motion of the ship. We let her go on like this for a good 1/2 hour before we woke her up. On the crossing there is not much to do, now that all our gear is packed up. But we can reflect upon what we did back down on the ice and what we left behind.

Saturday, May 6
We have arrived back to the well lit world of civilization, the port city of Punta Arenas bids us welcome back after nearly a month at sea. It is Saturday night, nearly 9:00 PM local time, the city is just coming alive in the cold autumn air. There are not many words that can describe what all of us have gone through these past weeks, I have tried to convey some of our every day events, our periods of active investigation, the long days of transit. Thanks for following us on the web site. I leave you all with these words of that ring so true to me every time I go to sea, and return to home.

We shall not cease from exploration and the end of all our exploring will be to arrive where we stared and to know the place for the first time. --T. S. Elliot (from Little Gidding)


-- Commentary provided by Chief Scientist Eugene Domack