I've never met a person I couldn't call a beauty — Andy Warhol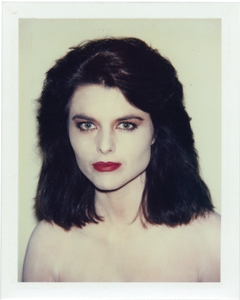 Maria Shriver, 1986
Polacolor ER
Collection of The Frances Young Tang Teaching Museum and Art Gallery
Skidmore College, Saratoga Springs, New York
Gift of the Andy Warhol Foundation for Visual Arts, 2008.6.53
© The Andy Warhol Foundation for the Visual Arts, Inc.

Born in 1928 in Pittsburgh, Andy Warhol is acknowledged as a key figure in Pop Art—a way of making art that inserted popular, mass-produced imagery into high art forms and contexts. Warhol died at the age of 58 in New York and these images, mostly from the last decade of his life, show his fascination with celebrities —from those who were acknowledged in mass media like Princess Caroline of Moncao, Lana Turner or Dorothy Hamill, to artists, friends and families who were elevated to star status through his camera. Taken with a Polaroid Big Shot camera Warhol first purchased in 1970, these images reveal the limitation of that camera and how its effect infused the look of Warhol's work in all mediums. The camera's fixed focal length required Warhol to be three feet away from each of his subjects to keep them in focus. This constraint, mixed with the glaring effect of the flash attached to the camera, created the look Warhol adopted as his signature. Each of these images was taken in one of Warhol's several studios in New York, often for commissioned portraits. The white makeup seen on many of the sitters was sometimes applied by Warhol himself and was intended to compensate for the effect of the flash and to soften all details in the face. By lessening those details he accentuated the contrast in each portrait, which made for a better transfer of these images into silkscreen. The artist later used the silkscreens to
produce paintings on canvas.
The works on view in Andy Warhol: Polaroids are being shown for the first time. They are selected from a group of works gifted to The Frances Young Tang Teaching Museum and Art Gallery at Skidmore College in 2008 by The Andy Warhol Photographic Legacy Program. This program organized in 2007 in celebration of the Warhol Foundation's 20th Anniversary, donated over 28,500 photographs by Andy Warhol to more than 180 colleges and universities across the United States.