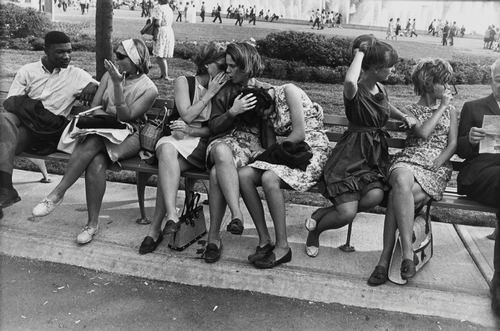 Garry Winogrand (American, 1928-1984)
World's Fair, New York City, 1964, Publ. 1981
From the portfolio Women are Beautiful
Gelatin silver print
Gift of James, Class of 1980 and Georganne Garfinkel
© The Estate of Garry Winogrand
In the 1960s and '70s, Garry Winogrand (1928-1984) and a new generation of photographers working in New York City introduced a form of street photography that continues to define the genre. Unconcerned with making nice pictures, they resisted traditional formal conventions to better capture the racing pulse of the city and its lively, and sometimes odd, landscape of people and popular fashions. Winogrand, an aggressive and prolific photographer, was a leader of the genre.
In 1975 Winogrand published Women are Beautiful, a book of eighty-five photographs of women. The images, culled from hundreds, are candid shots of anonymous women on streets, at social gatherings, marching in protest, and generally going about their daily lives. Winogrand wrote: "Whenever I've seen an attractive woman, I've done my best to photograph her. I don't know if all the women in the photographs are beautiful, but I do know that the women are beautiful in the photographs. By the term 'attractive woman,' I mean a woman I react to, positively….I do not mean as a man getting to know a woman, but as a photographer photographing." Despite his own dissatisfaction with the book and its lack of success, Winogrand later issued two portfolios devoted to the same subject, Women are Beautiful (1981) and Garry Winogrand: Women are better than men. Not only have they survived, they do prevail (1982).
This exhibition features a selection of works from the Women are Beautiful and Women are better than men portfolios in the Emerson Gallery collection. It explores Winogrand's unique style of street photography, his fascination with women, and his desire to contain and study them within the photographic frame.
Garry Winogrand: Women are Beautiful is made possible in-part through funds from The John B. Root '44 Exhibition Fund, The Dietrich Foundation, and The Edward W. and Grace C. Root Endowment Fund.
Garry Winogrand was born in 1928 in New York City where he studied painting and photography at Columbia University, and photojournalism with Alexey Brodovitch at The New School for Social Research. He worked as a freelance photographer, and in 1964 he earned his first of three fellowships from the Guggenheim Foundation. He served on the faculties of The Cooper Union for the Advancement of Science and Art, Instiute of Design, Illinoois Institute of Technolgy and the University of Texas, Austin before his death in 1984.