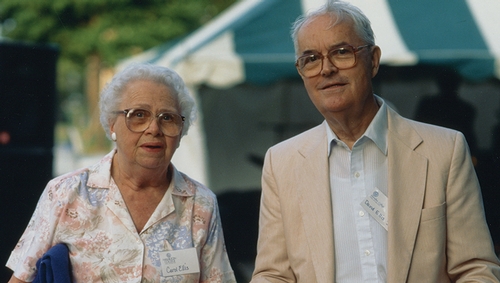 Carolyn C. and David M. Ellis '38
Many Remember Him as "Spoolie"
Legions of alumni had the pleasure of taking courses taught by Publius Virgilius Rogers Professor of American History David M. Ellis, Class of 1938, believed by many to be one of the foremost authorities on New York State history. He was the principal author of New York: The Empire State, which went through five editions and became a standard grade school text. The ultimate teacher and scholar, eager to share his knowledge, David Ellis was not so much interested in philosophy or theories of history as he was the painstakingly accumulation, examination and interpretation of facts. In the words of Professor Jay Williams '54, "These details, spooled out to the class in a way which gave him the nickname 'Spoolie,' were always offered with a broad and humane perspective and with many a humorous aside."
When Hamilton received a generous unrestricted estate gift from Carolyn C. Ellis, widow of David Ellis, the Board of Trustees passed a resolution establishing The Carolyn C. and David M. Ellis '38 Distinguished Teaching Professorship. Dean of Faculty Patrick Reynolds named longtime Professor of Comparative Literature Peter Rabinowitz to be the inaugural recipient of the Carolyn C. and David M. Ellis '38 Chair.
Carol's gift says so much about her and her husband. Beyond his excellence in the classroom, he and Carol were supportive of extracurricular activities on the Hill, generous volunteers for the College and in the greater Utica area, and were welcoming to students and alumni in their home. Prior to their marriage in 1953, Carol was a professor at Cornell.
During their lifetimes, David and Carol established a book fund, made ­contributions to each of Hamilton's three pooled income funds, became the first charitable gift annuity donors and were charter Joel ­Bristol Associates.