Student Experiences
Luciana's Blog
Luciana visited Italy. These are her thoughts...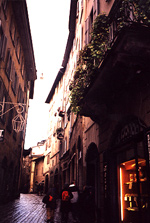 You wake up one morning and you realize you've had a dream. You don't remember it precisely, the dream could have been about anything: airplanes, colorful autumn leaves, teachers and classrooms, boisterous crowds wearing carnival masks...
"Non sono mai stata in questa città; è davvero bellissima. Oui, c'est vrai, je me suis établi ici il y a quarant'ans parce que j'aimais cette ville; même aujourd'hui c'est encore de l'amour, pas de l'habitude. Ce ciudat, parcã l-am mai întalnit pe omul ãsta _i în alte _ãri. He had lived in all those places out of love."
You wake up one morning, all confused. Your memory of the previous night's dream is one big empty shell, yet you are left with two conflicting feelings: of strangeness and of ease.
"Ma da dove vieni tu, il tuo nome sembra italiano ?! Pas du tout, c'est un nom roumain, mais à ce moment-ci je viens de… partout ; je suis en « transition ». Ce idee asta cu tranzi_ia, o fi necesar la vârsta asta, mai _tii ? Age could have something to do with it, but I doubt it: I was born a traveler."
You wake up one morning and all of a sudden the mystery is unveiled. It has happened again. In the morning, when your mind processes thoughts with the speed of light and does not have time to separate them all by origin.
"Ho sognato di nuovo in più di una lingua. J'ai rêvé encore une fois en plusieurs langues. Am visat din nou in mai multe limbi. I have dreamt again in more than one language."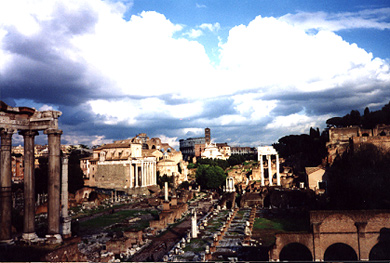 What language am I using now to formulate these thoughts? It's an odd question that might take a few seconds to answer, and which brings back memories long forgotten. It is only in moments like these that you realize the progress that you've made, the easiness with which your thoughts can now flow from one language into another, and your ability to articulate and depict the surrounding world in myriad colorful ways. You remember nostalgically yet with a sense of relief the long journey that sometimes seemed impossible to complete. You remember it all, from the early times when the new language was a barrier - not a means of communication - to the final realization that somehow, miraculously, this new language has become second nature to you. You know this not because you can now speak the language flawlessly – you never will, – but because your unconscious mind has found alternate ways to express your ideas, and because your ability to manipulate each language has increased ten-fold. Not only do you not stumble upon words anymore, but your mind seems to create them out of thin air even in absentia, as if there was no need for you to be there. Learning a new language often engenders an empowering feeling, as if you just invented a new way of walking or breathing or smiling… you don't even realize it's happening until you consciously make the effort to think about it.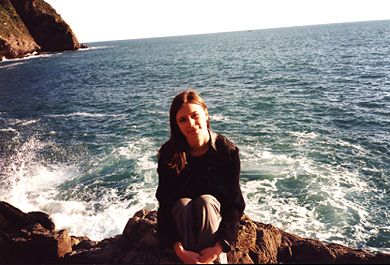 My first language is Romanian. My second language is English. My third is French. My fourth is Italian. My fifth…I'm still trying to decide. There was a 20 year lag between the time I started learning my first and last foreign language. Italian was the only one among them that I chose for myself, life assigned the others to me in some way or other. I started learning Italian as a sophomore in college and tried to make up for this late start through more intense independent studies and by spending an adventurous and fantastic semester abroad. Literally fantastic. I recently graduated with a double major in Foreign Languages and Math (although many might argue that this is not at all a double major). I have been inspired. Over and over again. By wonderful teachers and mentors who helped me see life like a puzzle of passions: it all comes together at the end.
This is my journey. It has started with the first word that I uttered and will likely never end. One thing I would like to mention though. Romanian seems to be the easiest language to learn in the world: I don't remember ever carrying a dictionary in my pocket while growing up …
A big thank you to Prof. Mwantuali and Davis in the French Department, Prof. Taft and Smith for Italian, Mary Beth and Dana for helping me fulfill my dreams
.