---



August 2010
From the Editor

- Maureen Scoones

We are excited and ready to welcome students and faculty back to the Hill. It has been a busy summer for ITS! Highlights of changes are contained in this newsletter. We hope you find this newsletter a useful resource throughout the year. Best wishes for a great semester!

ITS Strategic Directions – 2010 and beyond
- Dave Smallen

In June 2010, members of ITS completed a six-month planning process to develop strategic directions for 2010 and beyond. As part of that process we reviewed Hamilton's strategic plan, considered organizational strengths and weaknesses, assessed opportunities and threats in the wider world, and reviewed suggestions we received from members of the Hamilton community. The achievement of most institutional goals in the strategic plan have implications for information technology. Four strategic directions align ITS efforts with those of the College:

Foster effective applications of technology in academic and co-curricular programs.
Improve the level of technical knowledge of members of the Hamilton community.
Reduce institutional costs through the effective use of IT.
Improve ITS organizational agility.

The strategies and ITS initiatives that follow from these strategic directions are explained in our Strategic Plan.

Hamilton faculty and students have access to high performance computing resources generally available only at a research university. HPC resources include: supercomputers/computing clusters, high speed networking, specialized software and hardware, and technical support.

The creation of HPC resources at Hamilton began in the last decade with the acquisition of super computer facilities by former Professor of Chemistry George Shields, to support his work and the work of students in computational chemistry. This was followed by a grant in Biology to create a Bioinformatics facility containing a high performance computing server. In recent years another HPC computing cluster was obtained by Assistant Professor of Physics, Natalia Connolly and members of the Economics Department are experimenting with various alternatives for meeting their advanced statistical and simulation needs. Most recently, a grant from the National Science Foundation was awarded to Hamilton to support the work of professors Adam Van Wynsberghe, Natalia Connelly, Nathan Goodale and Wei-Jen Chang. The money was used to purchase a high-performance computing cluster. Faculty members in the Digital Humanities initiative (DHi) are exploring opportunities that will likely lead to the need for HPC in the next five years.

Technical support for Hamilton's HPC resources is provided by Steve Young, ITS Unix/HPC System Administrator.

In the 2009-2010 academic year, a governance structure for HPC resources was created by a committee on which all current and potential users of HPC resources participated. An HPC advisory committee, consisting of faculty and administrators advises the Vice-President for Information Technology on matters related to the operation and growth of HPC at Hamilton.

back to top
---
Saving The Environment, One Printout/Tree At A Time -
Papercut™

Print Management

- Dave Smallen
Each year approximately 3,000,000 pages are printed on the laser printers in the ITS computer labs and approximately 8,000,000 pages are used for printing or copying campus-wide. That's a lot of trees and energy used and we all can help to reduce this. After piloting the system in the spring of 2010, the Papercutâ"¢ print management system will be used to help Hamilton reduce its carbon footprint, save trees and reduce energy consumption.
Each semester students will be assigned a print quota that should cover the normal printing needs of students in connection with their academic program. For the first semester the quotas will be:
Seniors - $70
Juniors - $50
Sophomores - $45
First years - $30
Black and white printing will cost .05 for single-sided printing
Black and white printing will cost .07 for two-sided duplex printing (a discount of 30%)
Color printing will cost .15/side.
The quota is based on data collected in the Spring 2010 semester and from peer institutions and should be sufficient for all printing supporting the academic program. Quotas will be restarted between semesters. The data for each semester will enable us to fine tune the quota system for the following semester. Individuals who go beyond their quota will have to purchase additional print units.
Employees of the College will not be assigned quotas, but the system will track usage to provide data that can be used to help Hamilton plan for the future.
Papercut â"¢lets you view the history of all things you printed, and displays various details about the printouts. Your print usage is summarized in graphical form and approximations of environmental impact.

To view data about your printing click on the Papercutâ"¢ icon: on Macs minimized in the dock; on Windows XP and Windows 7 it's minimized in the system tray. In the window that appears click on "Details" and log in with your username and password. The summary and details of your printing will be displayed.
AVS Moves/Uses HillConnect for Electronic Job Board

- Tim Hicks
The Audiovisual Services team moved from the 4th floor of Christian A Johnson to the main ITS offices in Burke Library. Marilyn Huntley, Graham Espe and Forrest Warner are in Team room 363 and Tim Hicks is located across the hall in 361. Some services will be consolidated with other teams in ITS for improved efficiency. The functions currently accomplished in CAJ 305 â€" 307 (e.g., videoconferencing, equipment repair, video editing) will remain in that building. AV's evening on-call workers will be located in the Help Desk area from 4pm -10pm M-F. If you have technical issues in the TE classrooms please continue to call "#600" for assistance.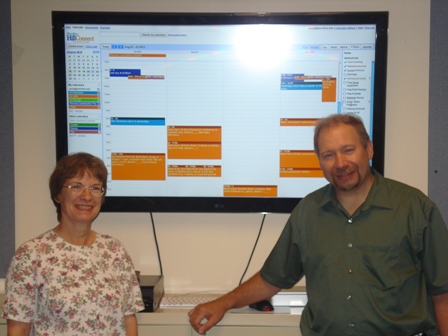 In the picture to the right you see Marilyn Huntley and Tim Hicks next to the new "Electronic" job board. For many years AV's job board used 3x5 cards on a large bulletin board. Now AVS will be using HillConnect for scheduling your request. When you place a room reservation in the campus calendar and you mark the box for "Check here if you require A/V support," AV will be notified of your request. Please mark off the resources you require, as well as describe your needs in the comment box at the bottom of the page.

Stefany Lewis has moved her family south and is no longer in ITS. With AV moving into the main ITS offices, the Classroom Coordinator and Film Specialist positions have been combined and responsibilities distributed among ITS staff. Please call or e-mail Marilyn Huntley at x4120 with your support needs.
TE Classroom Reminder
- Tim Hicks
Faculty should familiarize themselves with the technology in their assigned classrooms before their first class. Many dual platform classrooms were made into single platform systems over the summer to simplify operations and improve reliability; the auditoriums all remain dual platform.
Mac users remember, you need to go into the system preferences, Displays, and set the resolutions to 1024 x 768 and 60 Hrz. The Mac will remember the setting for each individual person.
PCs in the podiums have a power saver setting; the computers will go to sleep and the power button will be flashing green. You need to push the power button one time to wake up the computer. It will not wake up by moving the mouse or hitting the return key.
back to top
IT Course Support
-Nikki Reynolds
If you are considering using technology in your course, contact Instructional Technology Services (x4877 or askus@hamilton.edu) to learn about our comprehensive Course Support Service. When we say Course Support, we mean that we will work with you to research, select, and design technology assignments that meet your learning goals and complement your course content. In our course support service, we explore with you how to reinforce course content with technology assignments that facilitate analytical and/or creative learning. We structure our resources and services to meet your students' learning needs throughout the learning process in and outside of class. Partnering with experts in the library and oral communication center, we offer coordinated academic support for your students through each phase of a learning process. Through our partnerships, we can supply "just in time" training, practice sessions and critique for researching, reporting and presenting their project outcomes. Contact us today to begin a Course Support collaboration!
Cable Television - Channel Lineup/Premium Services
- Tim Hicks
As announced last month, cable television services on campus are now provided by Time Warner Cable. The new expanded cable lineup is now available as well as details about adding premium channels and services, e.g. DVR.
Channel Lineup
Order form for premium channels and additional services
HillConnect News and Opportunities
Orientation Calendar Now Available Through HillConnect - Maureen Scoones

To add the orientation calendar to your HillConnect account, do the following:
Under Other calendars, click Add.
Choose Browse Interesting Calendars.
Click on the More tab.
Click on Resources for hamilton.edu
Click on Orientation Calendar (Resource)
Click on Subscribe
Learn How to Use Gmail and the Calendar Through Lynda.com - Maureen Scoones

Lynda.com contains over 53,000 online video tutorials for just about any software application. Among them:
Google Apps: Gmail Essential Training
Google Apps: Calendar Essential Training
Google Apps: Docs Essential Training
If you are interested in using this web-based system, please e-mail learnit@hamilton.edu for account information.
We encourage you to continue to visit the HillConnect Web page for information about using the system, including conversations, FAQs, configuring mobile devices and more.

Please don't hesitate to contact the ITS Help Desk at x4181 if you have any questions.
Thunderbird Performance Tips - Debby Quayle

If Thunderbird is unbearably slow, you can unsubscribe from the Gmail "All Mail" folder to improve performance. The only down side to doing this is that old mail from Sun Java Communications Express that might not have transferred cleanly might only exist in your All Mail folder, which means it won't be found when you perform a search. Unsubscribing will NOT remove the All Mail folder, which can still be searched by logging in to http://hillconnect.hamilton.edu. Here's how to unsubscribe: Click on the File menu in Thunderbird, then select Subscribe.... Wait for the list of folders to appear, then scroll to the bottom of the list. Click on the triangle next to [Gmail], then uncheck the box (or dot) next to All Mail. Click on OK.
Thunderbird Message Reply Contains the Wrong Content! - Debby Quayle
If you notice the message to which you are replying suddenly contains the wrong content (usually the content of a totally unrelated message), it is time to reindex your mail folder. Here's how: Right click (Windows) or press the Control key while clicking (Macintosh) on the name of the offending mailbox in your list of mailboxes (e.g. Inbox). Select Properties. On the General Information tab, click on the button labeled Rebuild Index then click on OK. Once the spinning circle stops under the Get Mail icon

at the top left corner of Thunderbird, quit out of Thunderbird and then reopen it.
Mass Mail Reminder
- Debby Quayle
Mass mail usage is about to increase dramatically as the semester begins. Here are a few reminders that will help you avoid problems.
Send your message to the appropriate list (remember that for every audience there is now a "notices" and an "events" list).
Send your message well in advance. Now that Google is processing our mail, it can sometimes get delayed if Internet traffic is heavy.
Student organizations need to register with Student Activities every fall to reestablish their posting privileges.
Review the guidelines so you do not lose your posting privileges. They can be found at: http://www.hamilton.edu/college/its/policies_standards_plans/sec_5_email.html.
Overwhelmed by Mass Mail?
(Digest Mode) Instead of receiving mass e-mail messages one at a time you can receive all the messages sent during a day as one message. This is called "digest mode". Your digest will be sent at 4:30 PM and it will contain the full text of the messages sent to that list that day. To have a list send digest messages do the following:
Address a message to listserv@listserv.hamilton.edu
Leave the subject line blank
In the body of the message type: set listname html digest (e.g. set events-all html digest)
Send your message
To disable digest mode, change html digest to nodigest in step 3.
If you are overwhelmed by mass mail in your Inbox, visit the Gmail Help Center at http://mail.google.com/support/a/hamilton.edu/?hl=en. Search for "filters" and you'll receive a long list of helpful articles.
back to top
SiteManager Upgrade and Website Refresh
- J.D. Ross
As you may be aware, the Hamilton website has been undergoing a refresh this summer, along with an upgrade to SiteManager, the content management system that allows users to post content to the web. While we have encountered some speed bumps along the way that have slowed us down a bit, we're hoping to have this work completed by the last week of August / first week of September. In addition to managing the content on our main site, www.hamilton.edu, the new version of SiteManager will now support student and faculty personal pages, student organization pages, and academic departments that want to maintain their own pages.

In preparation for the new version of SiteManager, we are asking all users to take a training class with Maureen Scoones. Classes are separated for each of the following groups:
Because of the range of enhancements to SiteManager, all users must go through training, even if you had been trained on the previous version of SiteManager.

Schedule of SiteManager classes
Sadove Student Center Spaces Available in Events Calendar

-Lisa Magnarelli
The Sadove Student Center at Emerson Hall is now open which means the conference room and sun porch are reservable through the online Events Calendar web request form. SDV 112 (conference room) is set as a large conference table for up to 50 people. It also has an LCD screen and sound system for computer presentations, and a counter-top for additional setups. SDV 118 (sun porch) has soft seating (couches and armchairs) for informal meetings and discussions, and does not have presentation capabilities. Online pictures will be available in the coming weeks.
back to top
---