---



August 2011
Need assistance from ITS

helpdesk@hamilton.edu

(315) 859-4181

Help Desk Hours:

Aug. 24: 8 a.m. - 8 p.m.

August 25
Begin Regular Hours:
8:30 a.m. - 10 p.m. M-F
10 a.m. - 10 p.m. Sa-Su

Audiovisual Services
(315) 859-4120


From the Editor

- Maureen Scoones

Welcome back students and faculty and a special welcome to Hamilton's class of 2015. Members of ITS spent the summer upgrading various computer systems on campus. Highlights of changes are contained in this newsletter. We hope you find this newsletter a useful resource throughout the year. Best wishes for a great semester!

TE Classroom Reminder

- Tim Hicks

We recommend that faculty familiarize themselves with the technology in their assigned classrooms before their first class. During the summer ITS reimaged all classroom computers. The computer will take a little while longer to log in for the first time and might require you to make some changes to the resolution settings. These settings are posted on the podium. SCCT G029, G041, 3024 and Molly Root 116 all had Dual Boot Mac Mini's installed this summer; this will allow you to choose the operating platform upon powering up and logging in.

Mac users remember, you need to go into the system preferences and then Displays, and set the resolutions to 1024 x 768 and 60 Hrz. The Mac will remember the setting for each individual person.

PCs in the podiums have a power saver setting; the computers will go to sleep and the power button will be flashing green. You need to push the power button one time to wake up the computer. It will not wake up by moving the mouse or hitting the return key.

Couper 111, 207 & Molly Root 116 received new podiums and touch screen control systems. The podiums have document cameras, new DVD/VHS decks and the cables paths from the podium to the projector were replaced to improve the image quality.

Couper 203, Root 310, Chapel 205 have new 52" LCD TV's. These LCD TV's will allow you to attach a laptop computer. Located below the TV is a wall plate with VGA, HDMI, and standard AV connections. If you are assigned one of these spaces and require the proper cables or would like training please contact AV @x4120.

Schambach 201 was Technology Enhanced this summer. It has an I-Mac computer installed on top of the stereo rack. This room has a simple touch pad next to the rack to turn on the projector and select the input signal. The computer has a wireless keyboard and mouse that you can move into the space so you can see the screen.

back to top
---
Requests for AV Services and Support
- Tim Hicks
AV/IT requests for event support go through the Events Calendar when you reserve the space. If you are requesting a space and are not sure of the AV needs please check the AV request box and in the notes field tell us that you will contact AV with the needs when you have them. By doing this, we will get a heads up that you have needs and not get the panic call the day or hour before the event starts. We will place your event into our job calendar and will follow up with you the week before the event if we haven't heard back from you.
In the Event Options area check the A/V support box.
In the Resources area check the appropriate equipment boxes.
In the Comments box at the bottom of the page please describe the service you are requesting.
This information will be reviewed by AV, approved or denied, and the scheduler will send you one confirmation for your space and AV needs. Please be aware, if you are reserving a technology-enhanced classroom, but do not require assistance from AV, just reserve the space. For example, do not check any resources if you are just doing a PowerPoint presentation in the room and everything is there and you know how to use it yourself.
Special AV Equipment Requirements

- Tim Hicks
If you need older styles of AV equipment, e.g. overhead transparency projectors, 35mm slide projectors, laser disc players, etc., please contact AV at x4120 and request the equipment be placed in your assigned classroom or delivered for a specific class period. ITS will continue to support these media formats in a limited fashion for the foreseeable future.
Event Calendar Reminders
- Maureen Scoones
When using the campus-wide Events Calendar, please keep the following in mind when reserving spaces:
If applicable, please note the setup time of an event on the event request form.
You can edit an event request submission until such time that it is confirmed.

When viewing the Events Calendar, click on the Pending link that appears on the left side of the Events Calendar screen.

Please do not resubmit approved event requests when you need to change the time, date, or location. Instead, please e-mail the scheduler the updated event details. You can locate the scheduler by clicking on Approved under the My Requests area on the Events Calendar.
If you have any questions about using the Events Calendar, please e-mail r25help@listserv.hamilton.edu.
Viewing Room Characteristics - Marilyn Huntley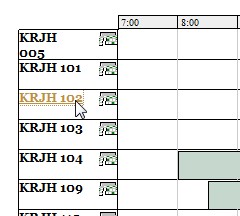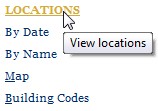 Trying to locate a space on the campus for an event? Not sure what the room looks like or what equipment might be installed? Go to the Events calendar page and choose the space availability view by locations (by date or name) in the left margin. Find the room you are looking for and click on the room number (in small, black, bold print) located at the upper left corner of the calendar. This will open a window with the attributes and picture of that room.
back to top
Wireless Network Upgraded in Residence Halls - Dave Roback

Over the summer, the wireless network in all residence halls was upgraded to the the 802.11N standard. The 802.11N system is the latest production wireless environment providing greater speeds and more access frequencies improving both range and coverage. The hardware upgrade also allows for improved interference management.

To take advantage of the 802.11N benefits, students will need an 802.11N compatible network card. The system is also backward compatible so your existing wireless card will work as it always has.

New Wireless Documentation

- Scott Paul

We updated the wireless configuration documentation for Windows and Macintosh. Our new instructions include a workaround to address a problem experienced on some Macintosh laptops, where the laptop would randomly lose the wireless connection. ITS recommends all Apple laptop users go through the new wireless configuration documentation to ensure a more stable connection to our wireless network. If you need assistance configuring wireless settings on your laptop or mobile device, please contact the ITS Help Desk.
IT Course Support
- Nikki Reynolds
If you are considering using technology in your course, contact Instructional Technology Services (x4877 or askus@hamilton.edu) to learn about our comprehensive Course Support Service. When we say Course Support, we mean that we will work with you to research, select, and design technology assignments that meet your learning goals and complement your course content. In our course support service, we explore with you how to reinforce course content with technology assignments that facilitate analytical and/or creative learning. We structure our resources and services to meet your students' learning needs throughout the learning process in and outside of class. Partnering with experts in the library and oral communication center, we offer coordinated academic support for your students through each phase of a learning process. Through our partnerships, we can supply "just in time" training, practice sessions and critique for researching, reporting and presenting their project outcomes. Contact us today to begin a Course Support collaboration!
Going Green - PaperCut Print Management
- Gretchen Maxam
We are continuing our use of the PaperCut Print Management System. Quotas are as follows (and are restarted each semester):
Seniors - $70
Juniors - $65
Sophomores - $45
First years - $30
Charges for printing remain as follows:
Black and white printing will cost .05 for single-sided printing
Black and white printing will cost .07 for two-sided duplex printing (a discount of 30%)
Color printing will cost .15/side.
Beginning in the fall 2011, when students have gone through their provided free print quota (less then five percent of students exceeded their print quotas in 2010-2011), they'll be able to add money to their PaperCut accounts directly from their Hill Cards via the PaperCut account details page.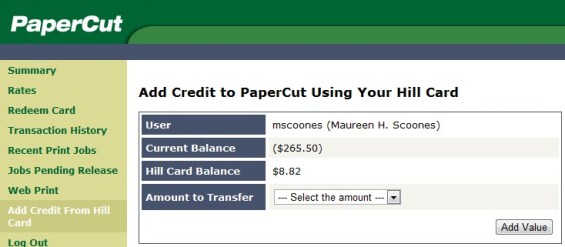 Students can manually transfer from a pre-defined list of amounts ($1.00, $2.00, $5.00). It happens in real time as long as there are sufficient funds available.
If there are not enough funds in PaperCut to cover the cost of a job, the minimum amount needed will be
automatically transferred from their Hill Card, provided there is a sufficient available balance.
The current Hill Card balance shows in PaperCut.
For more information about the PaperCut Print Management system, please visit our webpage. If you have any questions, please contact the ITS Help Desk at x4181 or helpdesk@hamilton.edu.
Mass Mail Reminder
- Debby Quayle
Mass mail usage is about to increase dramatically as the semester begins. Here are a few reminders that will help you avoid problems.
Send your message to the appropriate list (remember that for every audience there is now a "notices" and an "events" list).
Send your message well in advance. Now that Google is processing our mail, it can sometimes get delayed if Internet traffic is heavy.
Student organizations need to register with Student Activities every fall to reestablish their posting privileges.
Review the guidelines so you do not lose your posting privileges.
Overwhelmed by Mass Mail?
(Digest Mode) Instead of receiving mass e-mail messages one at a time you can receive all the messages sent during a day as one message. This is called "digest mode". Your digest will be sent at 4:30 PM and it will contain the full text of the messages sent to that list that day. To have a list send digest messages do the following:
Address a message to listserv@listserv.hamilton.edu
Leave the subject line blank
In the body of the message type: set listname html digest (e.g. set events-all html digest)
Send your message
To disable digest mode, change html digest to nodigest in step 3.
If you are overwhelmed by mass mail in your Inbox, visit the Gmail Help Center. Search for "filters" and you'll receive a long list of helpful articles.
back to top
Web Editing Class Schedule
- Maureen Scoones
SiteManager classes and working sessions continue to be offered. Whether creating a page for your administrative office, academic department, student organization, or your own professional page, SiteManager, Hamilton's own web editing tool, can be used to create your web presence.
back to top
---