From the Editor
- Maureen Scoones
Welcome to the newly designed ITS Newsletter. Although the look is different, the purpose and content remain the same. The goal is to provide you with relevant and timely information about our services. Please let me know your comments and suggestions for making this a more useful resource for you.
Changes in ITS Personnel
- Dave Smallen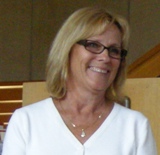 Nick Brockner left Hamilton on June 30, 2010. Nick was half-time in ITS and half-time in Computer Science. Nick's replacement will be full-time in Computer Science.

Colleen Holliday retired on June 30, 2010. Her responsibilities are being assumed by others in ITS and our representative from TAG, Mike Ferrucci.

Stefany Lewis will leave ITS on July 22, 2010 to move to Virginia. Her responsibilities are being assumed by others in ITS.

Maureen Scoones takes on new responsibilities. In addition to overseeing technology education opportunities, she will collaborate with administrative offices to improve business processes and with instructional technologists and librarians to help faculty incorporate information and technology resources into teaching, learning and research. She will also coordinate ITS communication efforts and oversee annual ITS assessment activities. Her title is now Associate Director, IT Process Improvement & Education.

Janet Simons is now Associate Director, Instructional Technology Support Services and Co-Director of Hamilton's Digital Humanities Initiative (DHi) (with Associate Professor of Africana Studies, Angel Nieves). Janet has been a leader in helping faculty implement learning goals through technology and a contributor to regional and national technology organizations. DHi has applied for an $800,000 grant from the Mellon Foundation to be an incubator hub where new media and computing technologies promote inter- and multi-disciplinary humanities-based scholarship, ultimately leading to the creation of knowledge and curricular innovation.

Krista Siniscarco will leave ITS on August 31, 2010 to enter graduate school in Georgia. A search for her replacement is underway.

Steve Young, Unix/High Performance Computing Administrator, joined the ITS Network and Telecommunication Services Team on July 1, 2010. For the past two years Steve reported to the Associate Dean of the Faculty (see more details on High Performance Computing in the August issue of the ITS Newsletter). Steve's office will remain in the Science Center.
back to top
AVS Moves to Burke
- Dave Smallen
The members of the Audio Visual Services Team will complete their move to Burke Library by the end of July, vacating their current offices on the 4th floor of Christian A. Johnson (CAJ). The three spaces on the third floor of CAJ (the Remote Collaboration Facility and the workroom and studio) will continue to be used by ITS. Telephone numbers for members of AVS will remain the same.
back to top
Funding Need-Blind Admissions ? One Process At A Time
- Dave Smallen
Every dollar that Hamilton can save in its operating budget is $20 that doesn't have to be raised in endowment to fund our commitment to need-blind admissions. One way of achieving such operating budget savings is through redesign of business processes. A campus-wide Business Process Improvement Committee (BPIC) has been meeting since June to identify candidates for process improvement.

A business process is a collection of related, structured activities or tasks that produce a specific service or product. Some examples of business processes at Hamilton include: (a) billing parents/students for various charges and collecting their payments, (b) assigning parking stickers to cars for employees (c) paying students for their work on campus. Many of these processes are currently labor intensive and thus consume significant personnel time and other resources. The charge to BPIC is to identify two processes for improvement that have the potential to save significant college resources. If you have any suggestions for the committee to consider, you are encouraged to submit your ideas using our online form. Appropriate task forces will then map out the processes and develop simplifications that enhance services while being more efficient. Through process improvement we can all support Hamilton's strategic goal of being need-blind.
back to top
Cable Television Provider To Change
- Dave Smallen
This fall, cable television services on campus will be provided by Time Warner Cable. In addition to providing an expanded cable lineup, individuals at Hamilton will be able to contract with TWC for enhanced services such as premium channels and DVR. We expect the changeover to be complete by the end of August. This will not affect the additional foreign language channels which Hamilton contracts for separately. The new channel lineup will be available later in the summer.
back to top
Campus Network Printing Upgrades
- Karen Schaffer
Starting this month, ITS is planning to upgrade campus printing services. That is, everything behind the scenes that allows you to print. Our goal is to make the transition for you as easy as possible.

Who Does This Impact? All Employees who print to a networked printer from their Macintosh or Windows computer.

When? July 27 through August 10. Deployment will be done by department. Your department chair will be contacted by ITS to schedule an appointment.

What Is Changing? All printing from Macintosh and Windows computers will:
Use the new PaperCut print management system. Additional details to follow.
Use centrally managed print queues.
Not use AppleTalk or IP protocols.
How? The process has been automated and on the day of the upgrade you will simply need to have your computer turned on and connected to the campus wired network.
The process does the following:
Installs the PaperCut client software on your computer.
Installs your printer connections to work with the new setup.
Why? To replace outdated systems with current technologies that will:

Provide reliable printing services.
Improve printing from Macintosh computers.
Support green initiatives.
back to top
Things to know about using the NEW mass mailing lists
- Debby Quayle
As of July 1, the old mass mailing lists (allcampus-a, allstudents-a, faculty-a, etc.) were replaced with new lists that segregate event announcements (speakers, meetings, etc.) from notices (parking lot closures, deadlines, personnel changes, etc.). The guidelines have also been updated to clarify portions that may have caused confusion in the past.
If you want to receive messages in "digest mode" - where you receive a single daily message at 4:30 PM that contains the full text of the messages sent to that list that day, do the following:

Address a message to listserv@listserv.hamilton.edu
Leave the subject line blank
In the body of the message type: set listname html digest (e.g. set events-all html digest)
Send your message
To disable digest mode, change html digest to nodigest in step 3.
In addition, please pay attention to the following:
Do not count on your mass mail messages to be delivered as quickly as in the past. Heavy internet mail traffic on Google's Gmail servers can occasionally cause mass mail delivery delays as long as an hour or more.
Your mass mail subscriptions are the same as they were before the change.
If you filtered mail for the old lists, you must create new filters for the new lists.
If you want to stop receiving mail from a particular list do the following:
Follow steps 1 & 2 in the instructions above for digest mode.
In the body of the message type: set listname nomail (e.g. set events-all nomail)
Send your message
To receive mail again, change nomail to mail in step 2.
If you find you are not able to post messages directly to a list, please send your message to exception@hamilton.edu. This account is checked only in the morning, Monday ? Friday, so please plan accordingly.

Message archives are available for the old lists. Please call the ITS Help Desk 859-4181 for assistance if you need to find an old message.

Please contact the ITS Help Desk at 859-4181 during business hours for any other list related questions. back to top
HillConnect News and Opportunities
- Maureen Scoones
Visit our recently updated HillConnect Web page for information about using our new system, including conversations, FAQs, configuring mobile devices and more.

As you continue to use HillConnect, please don't hesitate to contact the ITS Help Desk at x4181 if you have any questions.

Upcoming HillConnect Basics Class
This hands-on session will introduce you to the environment and how to use it more efficiently. Learn about conversations, labels, filters, and more.

Thursday, July 29, 2010, 1:30 p.m. - 3:00 p.m. - Couper Classroom - Sign Up
back to top
Tips of the Month - Windows 7
- Maureen Scoones

Q: How can I minimize all windows, except for one?
A: Click and hold the Status Bar of the window you want to keep open and quickly shake your mouse pointer back and forth.

Q: Where is the Show Desktop icon in Windows 7?
A: In the lower right corner of your screen, next to the time and date, mouse over the rectangle to quickly view your desktop or click on the rectangle to show your desktop.
back to top
New Web Editing Tool on the Horizon
- Maureen Scoones
As you have heard, Hamilton's Web site is undergoing a refresh this month. With this new look will come the release of a new version of SiteManager, our content management system.

In order to facilitate these changes in an efficient manner, the Hamilton Web site was "locked" for editing on Monday, July 12. That means that current editors are unable to change any portion of their sites during the transition. If updates to your site are needed during the transition period, you can send an e-mail to emedia@hamilton.edu.

The transition is expected to last at least four weeks, however pages will be "re-opened" to editing earlier if the project finishes ahead of schedule.

A schedule of SiteManager 3.0 classes will be forthcoming. Watch your e-mail for details.
back to top
ITS Newsletter Archives
- Maureen Scoones
All past issues of the ITS Newsletter are available on our Web site.
back to top