Saturday, November 6
Old Rocking Chair: A seat worth waiting for
By Chip Larsen '13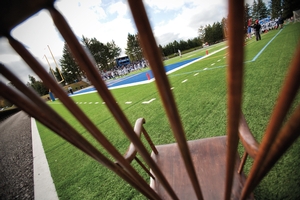 Middlebury's up 30-26 with 1:38 to go.
If Hamilton can get the ball back, there's just enough time for Jordan Eck '12 to lead the Continentals to another touchdown. Donald McKillop, the top quarterback in NESCAC, leads the Panthers to the line on fourth and 3. With a stop and some luck on offense, the Rocking Chair will sit on the Hill for the first time in 16 years.
The Rocking Chair Classic dates to 1980, when Hamilton's bitter century-long rivalry with Union was winding down. William M. "Mac" Bristol III '43, chairman of Hamilton's Board of Trustees and a former football captain, wanted to recognize the rivalry with Middlebury. "We need a symbol," Bristol is remembered by his family to have said after discussing the subject with his friend Jack Kirk, chairman of Middlebury's Board of Trustees. "Something with absolutely no tangible value that the teams will play their hearts out for, like that bucket Purdue and Indiana play for." As he spoke, the antique rocking chair he was sitting in collapsed. Bristol had found his symbol.
Hamilton is just 8-23 against Middlebury in Rocking Chair games, and the Continentals have not beaten the Panthers since 1995. This season's classic, however, has special meaning. It's the first on Hamilton's newly turfed Steuben Field, and the first at home since Bristol's passing in 2009. Hamilton Coach Steve Stetson, Bristol's longtime friend, is well aware of this game's significance. "Mac was an amazing man," he says. "It's always a heated, emotional game, but just the fact that it meant so much to Mac Bristol, it makes it mean so much more to us."
The Continentals have enjoyed one of their best offensive performances of the season. But now Hamilton needs a stop. Mike MacDonald '13 and Rob Gannon '11 bark out coverages as McKillop takes the snap. The slot receiver cuts inside on a slant, and McKillop completes the pass just past MacDonald's outstretched arms. "We were all over it," says Defensive Coordinator Mike Tracy. "The quarterback just threw a perfect pass, and the receiver ran a great route."
Related
MacDonald, a captain next year along with Jacob Sheetz-Willard '12 and Eck, has high hopes for 2011's classic. "I cannot wait for our shot at these guys next year and the chance to bring the Rocking Chair back to Hamilton."