The Making of Hamilton's Budget
By Vige Barrie
Dan Walker '05 knew he wanted to be a Buffer since he was a sophomore in high school. He attended an a cappella concert while visiting Hamilton with his parents on Family Weekend (his sister is Rebecca Walker '02) and was hooked.
Now, five years later, Dan is not only a member of Hamilton's popular men's singing ensemble, he is co-music director, lending his arranging skills to such favorites as Frank Sinatra's "My Way" and Lionel Richie's "All Night Long."
Also a member of the College Choir and College Hill Singers -- not to mention a Writing Center tutor and Levitt Center Scholar -- the double English/music major from Marcellus, N.Y., conducts research with his advisor, Associate Professor of English Onno Oerlemans. The two spent the summer working on a literary analysis of Nathaniel Hawthorne's third novel, The Blithedale Romance.
Walker also maintains the top GPA in his class -- the continuation of a fine academic record that earned him a Schambach Scholarship, a merit award that recognizes Hamilton's strongest applicants by meeting their full financial need, without loans, for four years.
"What attracted me to Hamilton, besides the awesome a cappella groups, was the College's reputation for quality academics and the emphasis on writing," he said. "I would not have been able to attend Hamilton without the generous scholarship support, and I can't imagine what life would be like if I hadn't come here."
After Hamilton, Walker plans to attend graduate school, but not before receiving a Fulbright Scholarship to spend a year teaching in Germany.
Like many of Hamilton's most promising students, Dan Walker's ambitions and potential were equaled only by his financial need. Although he was offered admission at several top liberal arts colleges, Hamilton's scholarship package was the most generous he received -- evidence of the College's long-standing commitment to remaining a "school of opportunity."
Hamilton foregoes almost a third of its yearly tuition income to financial aid, which represents 17 percent of the College's annual budget. This amount is higher than the average among peer liberal arts colleges. (Figure 1) In fact, the financial assistance Hamilton offers students has increased 66 percent from $9.28 million to 5.37 million over the last 10 years.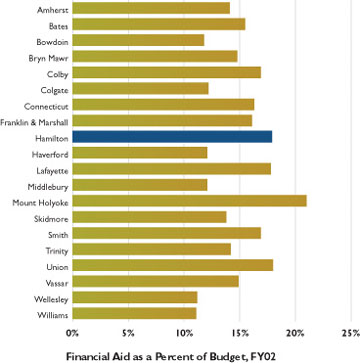 Figure 1.
Upward trends in financial aid spending most likely will continue at Hamilton, an indication of ongoing efforts to attract the most qualified and diverse student body in an increasingly competitive market. However, that decision does not come without tradeoffs. More money for scholarships means less for other areas, such as academic programming and student services -- two areas that ultimately impact the College's overall ranking in U.S. News and World Report.
"Managing the College finances is a continual exercise in balancing competing priorities," said Karen Leach, Hamilton's vice president of administration and finance. "One way to look at it is as a series of challenges, all of which involve both a push and a pull. First, there is a need to keep tuition down, but there is also tremendous pressure from students and parents for more programs, more facilities and more services. Plus we have our own aspirations to get better and better in order to do the very best by our students."
Hamilton has always been a highly personalized place, but that comes at a price. Services and resources, including new academic programs, extensive career and counseling services, student research opportunities and multimedia facilities, to name a few, have inflated College expenses in recent years. The same is true of capital projects. The expansion and renovation of the Science Building, scheduled for completion in September 2005, will help ensure Hamilton's leadership position in undergraduate science education by nearly doubling the amount of space devoted to science instruction. At $56 million, it is the most expensive building project in the College's history.
The personalized attention that has defined Hamilton over the years is also evident in the size of its faculty and staff. Five years ago, the faculty totalled 160; today that number is 190. Hamilton's low student-to-faculty ratio is an impressive 9-to-1, a figure below its peer institutions' median.
Over the last decade, however, the cost of health insurance, a significant portion of employee benefits, increased by 99 percent from $1.2 million to $2.4 million per year. "In order to significantly reduce costs, we would have to reduce people, but you need people to provide the kind of individual attention that comes with the academic and residential experience offered at a place like Hamilton," Leach said.
"What we offer at Hamilton goes far beyond the classroom experience," she continued. "What we are running here, as at many other rural liberal arts institutions, is a small town. We provide restaurants, a bookstore, multiple laundry facilities, cable TV, phone services, computer access, a public library, security and health services, utilities, and recreational spaces and facilities."
Hamilton's "town" covers 1300 acres on which stand 25 residence halls, 28 academic buildings, 19 administrative and athletic buildings, 24 houses and 18 miscellaneous buildings. These structures currently total 1.5 million square feet. The operation and maintenance of this "town," as in any municipality, is people-driven. It is not surprising, then, that more than 40 percent of Hamilton's budget is allocated to salaries.
In addition to people, many of the College's greatest expenses are "goods" that far outpace the rate of inflation. Library costs are a prime example. Over the last two years, the cost of library serials has grown by 22 percent. Electronic serial subscriptions, a relatively new but increasingly vital resource for faculty and students, have grown from $7,000 in 1990 to 33,000 in 2002. (Figure 2)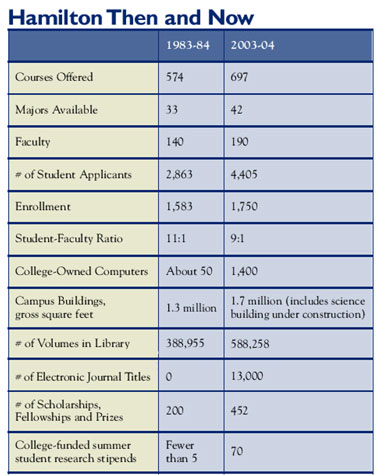 Figure 2.
Technology is another budget item that has taken on new significance over the last decade. Essential to both the educational and business processes of an institution of higher learning, information technology now consumes between 4 and 6 percent of most college and university budgets. Hamilton spends 4.8 percent of its budget on this line item. A decade ago technology represented less than 1 percent.
The College's liability and property insurance expenses rose 49 percent in the three years from 2000-01 to 2003-04, increasing from $508,000 to $755,000, also following a national trend. A May 2002 Chronicle of Higher Education article reported, "As underwriters scrutinize colleges and the risks they pose more closely, some colleges will pay 15 percent more than in the past for some policies, but others could pay more than 300 percent more."
As expenses and competitive pressures grow, stock market performance and other economic uncertainties place pressure on the income side of Hamilton's budget. A common belief is that tuition covers the total expense of educating each student. This is rarely, if ever, the case at any institution. At Hamilton, tuition and room and board fees ($37,360 in 2003-04) cover 60 percent of budgeted expenses. The true cost of educating a single student per year at Hamilton is approximately $48,000. A large part of the additional cost is covered by carefully drawing a modest amount of income from the endowment. (Figure 3)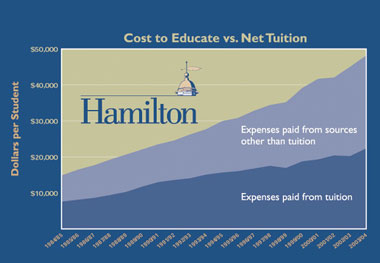 Figure 3.
Hamilton has become more dependent on its endowment as a source of income, even as the market value suffered recently. At its peak in early March 2000, the College's endowment topped $500 million. After sinking to a low of $400 million the first week of October 2002, the value has rebounded to about $475 million last month. An essential component for financial aid support and funding for strategic programs, the endowment now represents 22 percent of the income side of the budget. (Figure 4) The 2002-03 market value of the endowment was 34,823 per student, compared to the median among peer colleges of 25,171.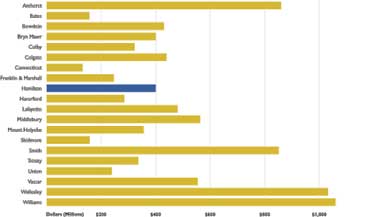 Figure 4.
"We must continually address the preservation of our financial resources so that Hamilton thrives far into the future," Leach said. "I often cite the Native American tradition that actions should be taken with the welfare of the seventh succeeding generation in mind. For us that means not drawing too heavily on our endowment to support operations, and it also means avoiding deferred maintenance in our physical plant. We have to both use and preserve our assets."
Many other colleges and universities have experienced debilitating endowment losses. This September, The Boston Globe revealed that "The Massachusetts Institute of Technology is cutting its budget for next year by roughly $70 million and may lay off 200 people to make up for three years of losses in its endowment. These cutbacks come after the institute already reduced its operating budget by $34 million for this fiscal year and raised student health care charges by 60 percent."
Hamilton has, through careful planning and management, remained in the black since World War II; however, a balanced budget cannot be taken for granted. Some colleges have gone into the red when faced with financial pressures.
Annual gifts from Hamilton alumni and friends also provide essential income. Hamilton is extremely fortunate to have one of the highest alumni giving participation rates among all colleges and universities nationally. At 59 percent, Hamilton ranks sixth compared to all national liberal arts colleges, according to U.S. News and World Report. In preparing the 2003-04 budget, Leach said, "We try to remain realistic yet hopeful that our expectations, in terms of the Annual Fund, will be exceeded." (Figure 5)
Figure 5.
Hamilton's fiscal year runs from July 1 to June 30. The budget process begins each fall with a review of projected revenue -- tuition, room, board and fees; income from the endowment; anticipated Annual Fund gifts; income from foundation and research grants; and miscellaneous income sources such as summer camps, conferences and bookstore sales. (Figure 6)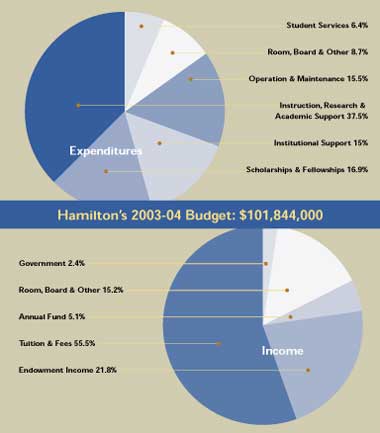 Figure 6.
Current expenses consist of $17 million for financial aid; $45 million for salaries and benefits; million for equipment, facilities renewal and technology; $3 million for utilities; $8.1 million for debt service; $4 million for externally funded grant and research projects; more than million to run programs abroad; almost million for travel for student recruiting, fundraising and professional development; million in contracted services, including everything from maintenance to planning and design fees; $1.7 million for materials and services for the physical plant; $1.4 million for periodicals and books for the library; $1 million for printing; $500,000 for postage; and more than $4 million for a wide variety of other program and general operating expenses.
"Spending goals in each area are based on priorities outlined in the strategic plan and articulated by the faculty and administration," Leach said. "We continue by defining anticipated operating budget increases and try to predict what our expenses will be for utilities and other contracts with outside vendors. We then explore how we will bring the budget into balance for the next year, and we also look at the effect on the longer planning period."
The next step is to collect budget requests from every department on campus and enter the requests into a draft budget. Inevitably the draft is several million dollars out of balance because there are legitimate needs, good ideas and aspirations that cannot be accommodated, Leach noted. Forecasted assumptions that have been agreed upon are compared and adjusted to establish a balanced scenario, making tradeoffs as needed.
"It requires a lot of discussion, and when you get down to the final decisions, it gets the most challenging. We are then choosing between cutting current programs to fund new ones or postponing really good new ideas," Leach said.
"The public doesn't necessarily see the efficiencies that we routinely implement so that we can reallocate resources," she continued. "We often have to back off the timetable for our goals. Always, that's the challenge: how to do more with less and deliver the highest possible quality, how to compete in what is really a niche market."
The people most closely involved in the budgeting process are the president and vice president for academic affairs, along with the four members of the on-campus budget committee. This committee provides strategic advice to balance the budget, which is then passed to the vice presidents, who determine specific budget cuts in their areas and establish the end result.
"Our goal is to keep tuition increases to a minimum. We want to give students the richest program possible while remaining very aware that this kind of quality education is a big investment and a financial reach for most families," Leach said.
This year Hamilton announced that charges to students for tuition, room and board for the 2003-04 year would total $37,360, a 4.9 percent increase over last year. The median increase of total charges at peer liberal arts colleges was 5.6 percent, and the increase nationally for private colleges, according to The Wall Street Journal, was 5.8 percent. (Figure 7)
Figure 7.
Although average liberal arts tuitions have risen 52 percent over the last 10 years, after adjusting for inflation, this increase has, in real terms, only been 17 percent, according to Leach. "The fact is that the prices of the goods and services a college has to buy rise faster than the items that are used to establish the national inflation figure," she said. "At the same time, the uncertainty of the economy has placed heavier financial burdens on some of our students and prospective students. We expect the pressure on financial assistance to continue, especially with the weak economy."
Looking to the future, Leach said that she will continue her work on what she calls "financial transparency" -- in other words keeping the lines of communication open.
"Our goal is to put more budget information and tools online in the coming year," she explained. "I grab every possible opportunity to talk about the budget. This fall I will be speaking at a faculty meeting, at Family Weekend and to the Student Assembly. I always get excellent questions and suggestions when I do these presentations. I learn a lot, and I hope the people in the room feel that what I tell them gives them some insight into the bigger picture."

Vige Barrie is a media consultant for Hamilton College and Colgate University. She is a recent transplant from Dallas, Texas, where she was director of marketing and communications for Southern Methodist University's business school. She is also president of the Executive Alumni Board of the Wharton School of the University of Pennsylvania.