Archivist Katherine Collett (left) maintains historical materials in the library's Archives; many of those documents, such as this 1885 bill of sale for vegetable seeds (middle), are now being scanned and made available electronically.
'Digital' doesn't mean 'permanent'
Paradoxically, technological advances complicate the preservation of the College's archives. When records were kept on paper all that was required was the use of good, acid-free paper and a safe storage area with environmental controls. Now that information — not only conventional library materials, but such documents as course catalogs, committee reports and college directories — are saved in computer files rather than between covers and in manila folders, archivists face surprising challenges. Every software advance demands that old files be translated into current programs, or software engineers must devise programs to read the old data. Information stored on outmoded media like floppy disks has to be transferred into contemporary digital formats. And while this digital storage does not occupy physical shelf space, it needs ever-growing storage space on a computer server.
In fact, the library staff circumvents this inconvenience by resorting to throwback technology: It prints out frequently consulted records and keeps them on paper, a simpler process than ensuring that the digital files are constantly upgraded.
More often, however, the process works in the other direction: technology allows the library's Special Collections simultaneously to preserve and display precious paper records. The library owns a collection of Civil War regimental histories among its treasures. Library staff have begun to scan enlistment forms from the New York 117th Regiment and 58 letters soldier George Pearl wrote to his family in Clinton, N.Y., so they can be searched by name, home location and several other criteria.
But when Archives and Special Collections staff members scan selected documents, the digital files do not supplant the paper originals. Despite technological progress, acid-free paper is still the most stable and most reliable storage medium, and books can have a longer shelf-life than digital files. Ericson marvels that there are books more than 500 years old "that are in as good a shape as anything published today." When researchers study the digital images, they reduce the wear and tear on the originals, and people all over the world can study them online without traveling to the College.
Burke Library does not collect individual e-books, but it has begun to buy digital collections from publishers. Each collection can contain an immense number of monographs that library patrons can access on their own computers through ALEX. In 2009 the library purchased a collection from Springer Publishing of 16,000 books on social science topics. Ericson explains that buying individual e-books creates problems providing access, but "if we can get things in a collection, that simplifies a lot of things. It probably gives us access to more books than we would otherwise get, at a relatively reasonable price."
Ericson also is wary about Google Books and other mass digitization projects that are still in their infancy and prone to glitches. Occasionally the material does not scan properly and readers see screens filled only with strange symbols. Kelly, the history professor, recalls how one project to scan books printed in Fraktur, an old German typeface, turned the text into "gibberish."
"It looks like 300 pages of a curse," he says.
Of particular concern to librarians and researchers, these large scanning projects are not always careful to include information such as the publisher and date of publication that are critical to scholarly research. Ericson hopes that Google Books and similar projects will act as an index for what has been published, and then "it will actually drive people into the stacks to use the books that we have or [request them from] interlibrary loan."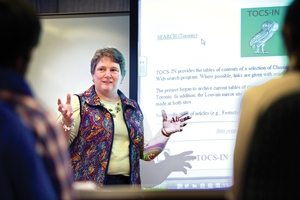 Library staff builds bridges
Librarians, standing in the midst of these transformations, see their own jobs changing. They have always had to learn how to incorporate new reference materials and media into their tasks, but, as Ericson observes, the differences between librarians' traditional tools and the new cyber-tools are "a little bit more dramatic."
Librarians also have to combat the sense that Google does it all. "Students come thinking that all they have to do is Google something and they will find what they need," Ericson laments. "They often work in ignorance of what the possibilities are." Hamilton's librarians seek to develop a closer relationship with the faculty, working together to anticipate reference needs for particular assignments. Librarians are ready to visit classes to introduce reference materials most pertinent to the course's subject matter and assignments.
The library also engages in other forms of outreach. Ericson describes how he and the librarians are "trying to develop our marketing plan. I think we have to go out and make ourselves known to the students…. We have to go out and encourage them to come and talk to us." The library has its own page on Facebook, and its website offers reference services through instant messaging. "We are looking for ways to meet students where they are and to provide access to us through the channels that they would use normally," Ericson says.
Amid the changing roles and expectations, one thing has remained the same. Students seeking company and study space outside their dorm rooms still flock to the library. Burke's first floor boasts several group-study rooms where students come to work together on group assignments or simply for companionship while working on their own tasks. The appeal is "camaraderie," Ericson says. "They may not be studying the same thing, but they are all involved in the same overall project" — learning. The library staff encourage that social dimension. At the end of the semester, the library plies students with free coffee and cookies, providing calories and caffeine to fuel long nights at work.
Newer locales like the Kirner-Johnson atrium and the Science Center may attract students who like to work in groups, but the library retains its allure. Mulcrone explains that campus geography also has some bearing, describing KJ as a frequent study stop "for people who live on the dark side." But she notes that for all students, the library "is still the place to do serious studying."
For faculty, however, the library's status as a social hub may be diminishing. Some professors regret that Burke is less often home to chance encounters with their colleagues than it once was. It is, in a sense, the price of success — a side effect of the excellence and efficiency of Burke's digital dimension. Professors can find the books and articles they need through ALEX and other online resources while sitting in their offices or at home. They can download articles on their own computers and request books from the stacks that will be delivered to their department mailboxes the next day. Such convenience minimizes the need to walk across campus to dig through the stacks or visit the reference desk. Kelly remembers that when professors used to go to the library, "they met people there from other departments. They took out books, they browsed the journals. That behavior is pretty much gone." He misses those interactions, "I think any time … that technology discourages people from congregating at a common place," he says, "it erodes community."