Levitt Leadership Institute trains first 18 students
Eighteen students recently took part in a two-week pilot leadership program through the Arthur Levitt Public Affairs Center. The program, called the Levitt Leadership Institute, is designed and led by former Ambassador Prudence Bushnell with the assistance of Christine Powers. It is intended to provide strong leadership training for students interested in working in public service. LLI was made possible by a gift from Arthur Levitt, Jr. P'81.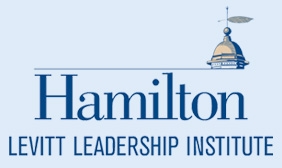 The first week of the program was devoted to developing leader­ship skills, including team-building, problem-solving, interviewing and presenting. The second week, conducted in Washington, D.C., involved team interviews with public service practitioners, including trustees and other alumni.

"Maybe the most valuable thing we did during the LLI was learning how to learn about ourselves," said Alex Powers '13. "We accomplished this by practicing giving and receiving feedback, taking and interpreting psychological measures of personality, and by noticing how we acted in group activities. Since Hamilton's motto is 'know thyself,' [the Institute] brought us closer to that ideal."

Rivera named Fulbright Scholar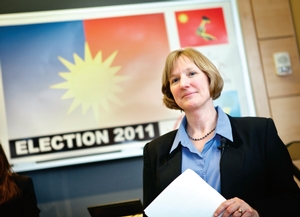 Associate Professor of Government Sharon Rivera has been selected as a 2012-13 Fulbright U.S. Scholar to the Russian Federation. While in Russia on a teaching/research award, she will continue an ongoing project on the demographic and professional composition of the Russian elite in collaboration with Russian scholars.

Rivera's research is based on an original database of demographic, educational and occupational information on more than 2,500 individuals prominent in the political, economic or cultural life of the Russian Federation between 1999 and 2010. In addition, she plans to conduct faculty workshops on curriculum development and the use of technology in the classroom, drawing in part on her published work on the use of simulations in teaching comparative politics.

5 Hamiltonians do Antarctic research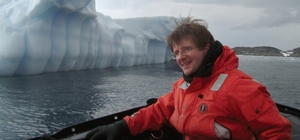 An international team of scientists — including Associate Professor of Biology Mike McCormick, alumna Elizabeth Bucceri '11 and students Natalie Elking '12, Manique Talaia-Murray '12 and Andrew Seraichick '13 — were part of the third cruise of the LARISSA program aboard the U.S. Antarctic Program ship Nathaniel B. Palmer this semester.
The LARISSA project (LARsen Ice Shelf System, Antarctica), part of the National Science Foundation's Antarctic Integrated Systems Science department, was initiated in 2007 in response to the collapse of the Larsen B Ice Shelf in 2002. The collapse prompted scientists to discover as much as possible about the newly exposed area.
As part of the LARISSA initiative, Hamilton College has been awarded two related NSF grants for work directed by Eugene Domack, the Joel W. Johnson Family Professor of Geosciences, and McCormick. "Our work contributes to the understanding of these climatic changes — where they are occurring first and with greatest magnitude and impact upon the environment," Domack says. Although he was unable to join this expedition, Domack has taken more than 100 undergraduates to Antarctica from Hamilton and other colleges and universities since 1987.
Blog posts from the Hamilton participants can be found at www.hamilton.edu/antarctica.
Chinese language grant to College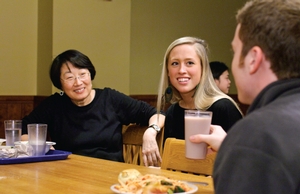 For the third year, Hamilton College is the recipient of STARTALK funding to operate two programs for Chinese language this summer — a Chinese teacher development program and a week-long intensive learning Chinese immersion course for students in grades 8 and 9. This year's grant of $125,000 will fund the ACC-STARTALK Teacher Program for non-native K-12 Chinese teachers and ACC-STARTALK Youth Camp for Utica BOCES students on the Hamilton campus July 1 through 14.

The grant proposal was submitted to STARTALK by William R. Kenan Professor of East Asian Languages and Literatures Hong Gang Jin and Associate Director of Foundation, Corporate and Government Relations Amy Lindner. Jin is the Hamilton STARTALK program director.