"You've got a president who has a strong relationship-based personality," said David Hodges, former chair of USC's College of Liberal Arts National Advisory Council and an ardent USC supporter. "She'll know everyone's name at Hamilton College, she'll like them because she likes people, and they will like her. That will give her a reservoir of good will which will help her make hard decisions. If people like her as a person, and if they believe she has a basic understanding of their position, then when she has to step back and say this isn't going to work, you can't do this, or we have to change that, I believe people will give her more room than if they didn't like her to start with.
"It's always easier to leave things as they are," Hodges said. "[But] if there's an issue that needs to be dealt with, she'll deal with it.
"Joan is supportive of new ideas," continued Hodges, "and she has the confidence to let people try new things. She has wonderful judgment, and her genius is empowering people around her to be creative."
Added Samuel Tenenbaum, Hodges' successor as chair of the College's National Advisory Council: "Joan helps nurture people to come up with good ideas; she will stimulate that."
"I ask a lot of advice and try to find out as much as I can," Stewart said. "I understand the importance of being decisive, but I don't act in a precipitous way."
Modest and unassuming, with a quick smile and an easy laugh, Stewart, nonetheless, acknowledged that she is a perfectionist. "She has an eye for excellence and is bold," said USC history department chair Maney. "When you hire it's not just a matter of choosing the best person in the applicant pool. She's looking for the best people in the country, and she's not satisfied with less."
"She's a person who is always going to move the bar up," Tenenbaum said.
In taking the Hamilton presidency, Stewart is returning to her home state and making good on a promise she made nearly 40 years earlier when a New York State Regents Scholarship made it possible for her to attend college.
Soon after she was introduced as Hamilton's 19th president, Joan Stewart joined USC Assistant Professor of Psychology Brad Smith, a 1983 Hamilton graduate, and his daughters outside "Hamilton College," the building housing the anthropology and naval science programs on the Columbia, S.C., campus.
"As part of that scholarship, I promised that, if possible, I would make a career of teaching in New York. I'm happy to be back, and happy to be able to fulfill that promise after so many years."
"Small residential liberal arts colleges are the glory of the American educational system -- and Hamilton College is a particularly glorious example of such an institution."
Stewart graduated from St. Joseph's College in Brooklyn, the first in her family to attend college. She lived at home and commuted more than an hour each way by subway and bus. "I did a lot of studying on the train," she recalled. When she received her bachelor's degree, summa cum laude, her mother asked her father the significance of the Latin honor. "I don't know," he responded, "but it must be good."
"The world that I'm in is foreign to my family," Stewart said, "but they have been totally supportive of me." That's especially true of her sister and 92-year-old mother, who still lives in Brooklyn.
When Ruth Simmons was named the 18th president of Brown University in November 2000, Stewart's mother clipped the article from the New York Daily News and sent it to her daughter in South Carolina. "Look Joan," Stewart recalled her mother saying, "she's just like you. She studied languages, and now she's a college president."
"The implication was clear," Stewart recounted, "and even though I realized, of course, that this was my mother speaking, somewhere deep within I must have thought, hmmmÉ."
Hamilton's Presidential Search Committee started thinking seriously about Stewart soon after she was identified as a potential candidate by the search firm that worked with the College. "She immediately rose to the short list in terms of the candidates we were considering," said Associate Professor of Philosophy Todd Franklin. "The College has great momentum, and we were looking for someone who could maintain and continue the upward trajectory of the institution. By the time we got to the final stage for making our selection, she was the unanimous choice."
At the same time, 800 miles to the south, Stewart's interest was growing. "It was a cumulative process for me," Stewart said. "With every encounter I had, either with a person from Hamilton or with something [written] about Hamilton, I became more interested and more excited." Her interest progressed to the point that when Chairman of the Board Stuart Scott '61 and Vice President for Academic Affairs David Paris '71 offered Stewart the position over dinner in early May at Garibaldi's on Greene Street in Columbia, she accepted on the spot.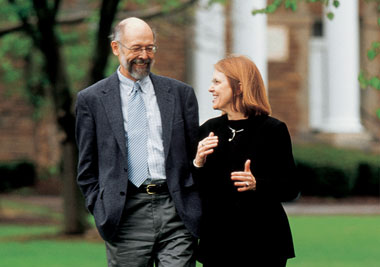 Stewart's passion for education and her progression to the Hamilton presidency go back to her days in Brooklyn. As if to remind herself of her roots, her office wall displays a photograph of her third grade class at St. Mary Mother of Jesus School. "I loved school; I loved books; I loved libraries; I loved teachers; and I loved sitting in class." Not surprisingly, then, she does not recall having ever been absent or late during her four years at St. Brendan's High School. "I was a very committed, happy student. I just loved school."
And even though she says going to college was "a natural thing for me," she only considered attending St. Joseph's, St. John's and Brooklyn College. "I didn't know there were colleges outside of Brooklyn and Queens, and I didn't know about residential colleges," she said, perhaps only half in jest.
Today, she can't imagine a more perfect place than the institution she now heads. "Small residential liberal arts colleges are the glory of the American educational system," she told those gathered in the Chapel for her introduction in May, "and Hamilton College is a particularly glorious example of such an institution." And even though her South Carolina colleagues regret her departure, they acknowledge such a move was inevitable.
"This selection did not surprise me," said Hubbard, the former USC board chair. "In my judgment it was only a matter of time before she was tapped to be a college or university president. Hamilton College showed great wisdom in getting to the front of the line in selecting Joan to be its president.
"She's a big loss," Hubbard continued. "She's absolutely one of the top leaders here at the university, [but] I'm absolutely delighted for her. She has enriched my life."
"She may make a decision that is not popular, but she'll do so because she has a great sense of the big picture and can weigh what she thinks will work best for her college."
Added Rosbottom, former dean of the faculty at Amherst College: "This is a wonderful match. Whatever adjustments she may have to make, she'll make quickly and successfully."
The skeptics will cite Stewart's association with large public universities, but Hamilton Professor Todd Franklin said the search committee considered that issue and quickly dismissed it. "The concern about the transition from a large public to a private institution was mitigated by her experience in the liberal arts and her ability to speak to issues that resonate with all of us concerned about the liberal arts."
"Although I have spent most of my career in large public institutions," Stewart acknowledged, "I cherish my experience, both as a student and as a young teacher, in small colleges. Liberal arts colleges are the great American invention. They were born of the European Enlightenment, but it was Americans who hadÊthe energy to put those ideas into practice."
"She is a lively and entertaining speaker who makes the case for the liberal arts in the most compelling fashion that I have ever heard," Hubbard said. "In an age in which people tend to talk more about technology and skills training and economic development, she makes the case for liberal arts in a thoughtful and articulate way."
"She sincerely believes in the power of education to change the world," Rosbottom said, "and she believes in the liberal arts."
And if, as Hamilton's president, Stewart ever needs to provide evidence of the transforming nature of a liberal arts education, she can offer herself as an example. A first-generation college student with a limited worldview after high school, Stewart now assumes the presidency of one of America's pre-eminent liberal arts colleges. She said she can hardly express her joy at the challenge that awaits her at Hamilton, but those who know her best are betting she'll find the words ... perhaps in one of those dictionaries that are never far from her side.