Forever Teachers
By Rebecca Downing Costello '91
"And gladly wolde he lerne, and gladly teche."
-- Geoffrey Chaucer's Canterbury Tales. Prologue, Line 308
Hamilton has changed in many ways throughout the last 50 years. New buildings erected, old ones razed, some transformed. Revisions to the curriculum. The advent of Kirkland College, and then, coeducation. Evolution -- and revolution -- in student life. But through it all was, and is, the constancy of mission: to teach.
Generations of professors have, in turn, nurtured generations of students through Hamilton before eventually moving on to new and different endeavors in their retirement. One exception, however, is a man who hasn't yet finished his mission of teaching, even after five decades in the classroom.
"The fundamentals are still exactly where they were 50 years ago. We're teaching our students how to think," said Professor of Economics Sidney Wertimer, reflecting on the day he first set foot in a Hamilton classroom. Although he officially retired in 1991, the ever energetic and engaging Wertimer continues to inspire students in his accounting course each fall and just concluded a half-century on the Hill.
As a salute to Sidney Wertimer's accomplishments and longevity, here's a look at how he and a few of his former faculty colleagues are spending their retirement years.
Sidney Wertimer
Professor of Economics, 1952-1991
Taught Introductory Economics, Accounting, Corporation and Finance, Money and Banking, and Public Finance. Still teaches Accounting every fall. Also served as associate dean of the college, 1957-1965, and provost, 1975-1980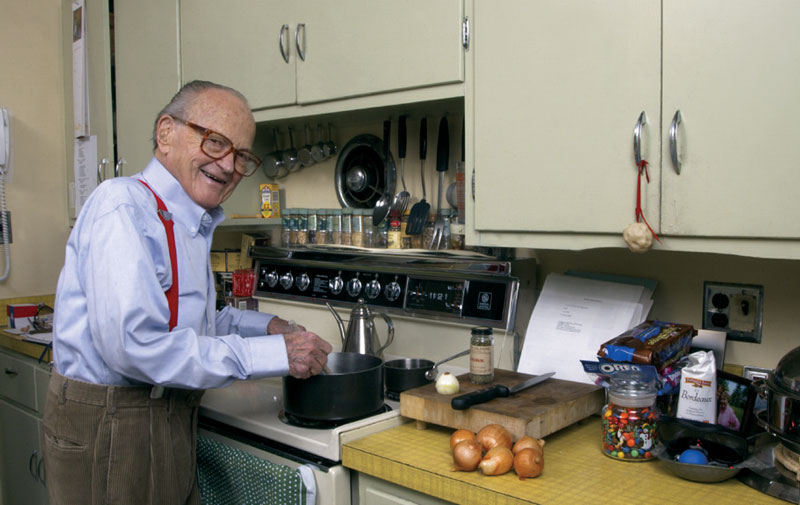 Sidney Wertimer in his kitchen trying out another culinary delight
Photo by: Dave Tewksbury
Why, after retiring in 1991, is Sidney Wertimer still in the classroom at Hamilton? Simple.
"I love teaching," he said.
Wertimer reminisced about the circumstances that brought him to Hamilton. It was the spring of 1952, and he was completing his Ph.D. at the London School of Economics.
"I got hired by telephone," he explained. "John Gambs [professor of economics] called me. The telephone line was in terrible shape. He said, 'We'd like to offer you a job with the rank of eereifworeir and the salary will be breelelelelel.' And my wife, who is an attorney, said, 'Did he make an offer?' I said, 'I don't know!' So I wrote him a letter saying, 'If you made an offer that consisted of being an assistant professor at a salary of $4,000, I accept.' And three weeks later, by slow freight, I got a letter from President McEwen confirming that.
"They never saw me, and I never saw the College, until July," Wertimer exclaimed with that ever-present twinkle in his eye. "And we've been here ever since. International phone calls can be very effective! I was only one of two in the economics department at the time."
Wertimer described what attracted him to Hamilton. "I had wanted to come to a small liberal arts college where I could meet and talk to and have dinner with people in the physics department, the music department, the English department and so forth, which is exactly what happened. It's a broadening experience to be at a place like this. "
Wertimer said that his favorite course to teach was Money and Banking. Each November he would take the class to New York City where they would spend the morning at the Federal Reserve and the afternoon at a commercial bank -- an experience that would "light up the sky for the students," and, in Wertimer's opinion, what steered many toward careers in finance and banking.
Finding the spark that ignites a student's interest is still something Wertimer pursues each fall in his "practical" accounting course. "I say in my introductory lecture, 'We're not going to turn you into accountants. We're not going to do much damage to you in one semester -- if you get interested, you can go on and do it in graduate school.' And a lot of my former students have gone into accounting. As a matter of fact, when there were what was referred to as the Big Eight accounting firms, we had a senior partner in every one of them."
When he was provost, Wertimer turned to those former students for help in remedying the College's ailing accounting system. "The College ended up with Coopers & Lybrand, and we changed the accounting system, which is essentially still in place."
Besides teaching -- and regularly donning his academic regalia to process with the faculty at Commencement and other academic exercises -- Wertimer keeps busy "doing not very much," which is part of the business of retiring. He spends time on the computer and reading. "I'm just finishing Roy Jenkins' volume on Churchill. I've read all kinds of biography, and I'm very interested in 19th-century English history. I've been reading about Wellington and Hamilton and Disraeli."
While his wife, Ellie, has taken over the gardening at their home on College Hill Road, Wertimer does all the shopping and the cooking, where he delights in trying new dishes. "I get Cook's Magazine and I have every copy."
Looking back, he said, "I've had a ball. I have often said, here I am getting paid for something I love to do. We've had an absolutely beautiful life. And for 50 years I've been at this wonderful institution; it's just terrific."
Thirty-five students have signed up for Sidney Wertimer's accounting class next fall.
Frederick Wagner
Professor of English, 1969-1995
Taught survey courses in 19th- and 20th-Century American Literature, Seminar on Faulkner and His Southern Contemporaries, British and American Drama, American Literary Autobiography, Restoration and 18th-Century Drama, English 200 and Freshman Composition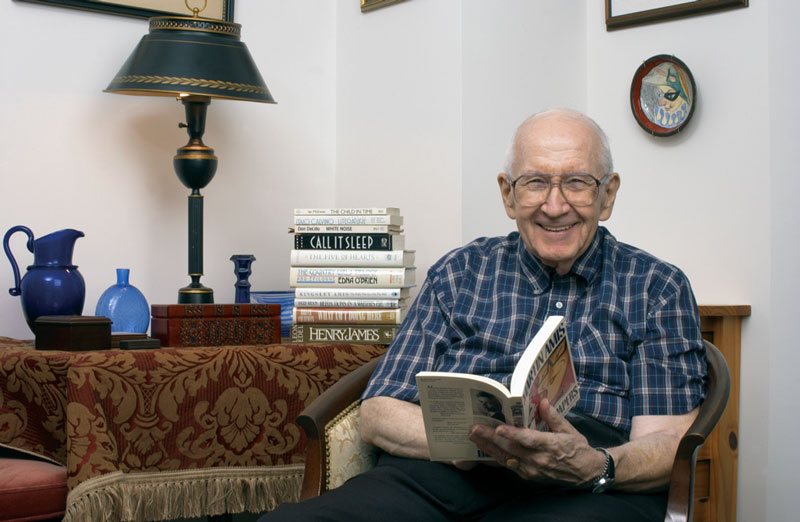 Fred Wagner at home with a good book.
Photo By: Dave Tewksbury
"Teaching was the center of my life," Fred Wagner said. "I put everything aside for teaching -- preparing for classes, correcting essays, having discussion groups. I never planned to retire. I suppose I had assumed one day I'd just drop dead in front of a class, and that would be it. If I hadn't had a stroke in '92, I would have kept right on teaching."
Reminiscing, he said that the course he had the most fun teaching was Faulkner and his Southern Contemporaries. "The students were always so excited about Faulkner," he said. "I didn't have to spend any time arousing their enthusiasm. And because I like autobiography, I enjoyed teaching American Literary Autobiography."
What surprised Wagner most about retiring was that "oddly enough, I don't miss it now that I've stopped doing it. It's as if I closed the door on one sort of life and started another. I've really been enjoying retirement."
Wagner spends most of his time reading. Right now that includes Beryl Bainbridge's According to Queenie, a fictionalized biography of Dr. Johnson, and the Pulitzer Prize-winning Middlesex by Jeffrey Eugenides. He also enjoys listening to National Public Radio and music on his Bose radio/CD player.
After shattering his hip and thighbone last summer, Wagner moved into an apartment in Acacia Village, a retirement community in the Utica area. Living relatively close to Clinton, however, allows him to have lunch with former colleagues and friends from Hamilton on occasion.
"I'm much better now," he noted. "This is a very nice place, and I'm doing a lot more socializing than I did at 28 Dwight. After 30 years, I've taken up bridge again. It keeps the mind active."
Channing Richardson
Professor of International Affairs, 1952-1983
Taught International Affairs, African Politics, American Foreign Policy and International Law, and The African Novel

Comfort Richardson
Assistant Professor of Physical Education, 1969-1982
Coached tennis, coordinator of sports activities at Kirkland College from 1969-78; instrumental in creating the Hamilton women's athletics program, retiring as associate director of athletics
Channing Richardson vividly remembers his first visit to Clinton in 1952.
"The guy that hired me, Landon Rockwell [associate professor of political science], was one of the nicest guys in the world," he recalled. "I was teaching at Columbia at the time, and came up during the winter. We spent the whole time listening to Bach with the snow pouring down. I didn't have any galoshes, so I borrowed the president's [McEwen]. I forgot they were his and walked home with the presidential galoshes. So I guess he hired me to get 'em back!"
After his wife, Comfort, joined the Kirkland physical education department in 1969, "we were about the only couple on the faculty that covered both colleges at the same time," Channing noted.
They now live in Kennett Square, Pa., at Crosslands, one of the Kendall retirement communities. "Being a Quaker outfit, they don't let you sit very long," Channing quipped. "We've got 80 or 90 committees doing everything you can imagine."
"A lot of it is volunteer work," Comfort explained. "We rarely have a free evening, and when we do, we sigh a great sigh of relief."
Channing continues his interest in politics and international affairs. "I'm giving talks from time to time, mostly on the Middle East. I'm reading a lot on Islamic religion," he said. "The book I have enjoyed the most is Islam Today by Ahmed. I've also been reading in the Koran and enjoy very thoroughly Karen Armstrong's The Battle for God, which is on comparative fundamentalism among Jews, Christians and Arabs."
The Richardsons also spend several months a year at their home in New Hampshire. They have, though, both given up a beloved pastime. "I used to play good tennis," Comfort said, "and when I couldn't play good tennis, I quit."
"It was a beautiful life, and an important one," said Channing of their time on the Hill. "I don't think I could have stayed at doing anything else but that. The attitude and the quality of the students and the administration were of the highest, and that really made it wonderful."
"We still have a Hamilton College sticker on the back of the car," Comfort noted.
Jean D'Costa
Leavenworth Professor of English, 1980-1998
Taught English 200, Creative Writing, The Tortured Sensibility, Old English, History of the English Language, Major Caribbean Writers, and Life and Letters in England 1485-1660
"Retired" hardly seems the word to describe Jean D'Costa, who lives with her husband, David, and their cats in Weston, Fla., a suburb of Ft. Lauderdale.
Last summer, D'Costa attended the Conference of the Society for Caribbean Linguistics in Trinidad, and, she said, "Right now, I'm looking at a manuscript from my former co-author, Barbara Lalla, on Medieval English literature and post-colonialism."
Noting that she enjoys proofreading and editing, D'Costa is also editing two children's novels for Carlong, the publishing house in Kingston, Jamaica, that has also accepted for publication two of her own works for their Sandpebbles fiction series for 8- to 10-year-olds.
In the last few years, D'Costa copy-edited a number of books for the University Press of the University of the West Indies, as well a historical novel by filmmaker Perry Henzell of The Harder They Come fame. She has also continued to write fiction and poetry for adults, adolescents and children.
Volunteer work is another focus. As a member of the Service Agency for Senior Citizens of Broward County, each week she provides respite care for an Alzheimer's patient so that his wife can shop and do errands. "I'm very fond of them," she said.
She has also done a fair amount of traveling for research, family concerns and pleasure. In Costa Rica last November, she witnessed a volcano erupting ("fortunately, very gently," she quipped) and recently spent 20 days in Provence, where they experienced a mistral.
D'Costa stays in contact with Hamilton by doing some regional interviewing of faculty candidates, "which I enjoy thoroughly," she said. Reflecting on her own experiences at the College, she noted: "When I walked up those wooden polished stairs, looking into those classrooms in Root Hall during my interview in February 1980, I felt that this was a place where I could be at home. It was a lovely feeling, and I have never forgotten it."
Donald Potter
Professor of Geology, 1954-1988
Taught Introduction to Geology, Mineralogy and Petrology, Glacial Geology, Seismology and Economic Geology with an emphasis on field geology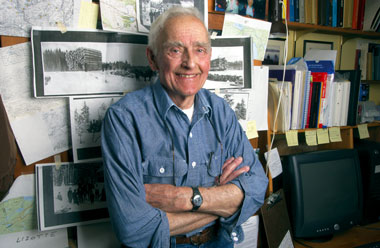 Don Potter with a few of his many Adirondack maps, books and photographs.
Photo By: Dave Tewksbury
Don Potter and his wife still make their home in Clinton, in the Reservoir Road farmhouse they renovated in the early 1960s and where they raised their six children. "We're lucky to be where we are and still living in this community," he said. "We like it."
Retirement hasn't removed Potter from active fieldwork or scholarship. He's currently researching and writing the history of an Adirondack logging operation on a large family holding north of Raquette Lake.
"I'm looking at the total lumbering history from way back in the 1890s," he explained. "Who logged? Who were the lumbermen? Where did they have their lumber camps? How did they ship their logs? The whole works."
Potter also recently delivered a talk on the origin of the Adirondack wetlands at a conference in Lake Placid and conducted workshops on Adirondack geology at the Nature Conservancy. In addition, he has enjoyed leading week-long Hamilton alumni trips to Big Bend National Park in Texas, where he used to take his students for January Term field work. "I call it Trekking Big Bend. It's like a walking Elderhostel," he quipped.
In his spare time, Potter enjoys cross country skiing and has done some racing in the Tug Hill area. A former Oratorio Society member, he sings in the choir at St. James Church. "And, we get up into the Adirondacks. I read and enjoy life with my wife," he said.
Of his time at Hamilton, Potter noted that he "thoroughly enjoyed trying to interest students" in geology, especially by involving them in his research project mapping the geology of the Taconic Mountains east of Albany, and the J-Term trips to Big Bend. "To camp out in the desert for 10 days, it makes a big impression, brings you close," he said.
Charles "Lafe" Todd '33
Professor of Speech, 1959-1977
Taught Basic Speech, Rhetoric and Persuasion, and History of the Women's Rights and Antislavery Movements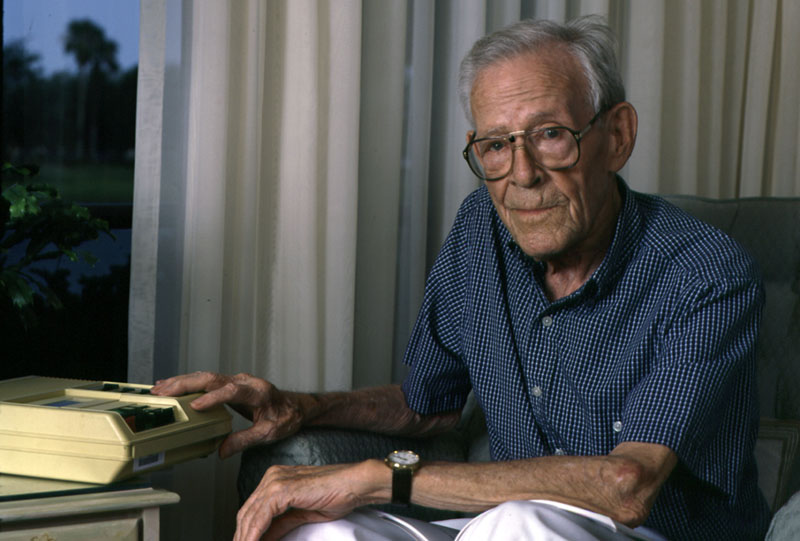 Lafe Todd reviewing one of his recordings recently featured on National Public Radio.
Photo By: John Eisinger
"I've been pretty busy," said 91-year-old Charles "Lafe" Todd, whose recordings of migrant workers singing early American folk songs was recently released by the Library of Congress. He made the recordings in the 1940s while living in and managing a farm camp in California.
"We had recovered a lot of English ballads and early American folk songs, and that all got onto National Public Radio just last year. I did the narration on most of these and discussed the ballads," he said.
Todd lives in a "very pleasant retirement home" in Vero Beach, Fla. "I do a lot of outdoor exercise, walking around. I've done some lecturing. I still enjoy it."
Looking back on his years at Hamilton, Todd said his favorite course to teach was Early American Reform Movements. "I got more reaction from the students in that class. We discussed various movements and their histories, how they achieved success and the means of persuasion that were used by speakers in those days."
One of his proudest accomplishments was bringing Alex Haley to teach for two years in the 1970s. "He had just written the biography of Malcolm X, and I was quite fascinated by Malcolm as a public speaker," Todd noted. "Alex wrote Roots while he was with us. If you look at the last pages, you'll find his story about meeting me and my bringing him into the department. He came with his wife and daughter, and they lived right next door to us. I handled a lot of the courses on black history, and Alex was a great help to me. He was also a great influence on the campus and a great help to the black population then. We developed the Black Student Union.
"I'm a great admirer of Hamilton. I loved it as a student, and I enjoyed teaching there very much."
Rouben Cholakian
Burgess Professor of Romance Languages and Literature, 1963-1996
Taught courses in the literature of Medieval and Renaissance France; directed Hamilton's Junior Year in France program seven times
Patricia Cholakian
Associate Professor of French, 1971-1998
Taught courses on 17th-century French literature, also survey courses, 200-level business French, Contemporary France, and French Women Then and Now
Rouben and Patricia Cholakian taught in the French department for more than 30 years. Rouben directed the Junior Year in France program every fourth year, and Patricia, one of the first women on the faculty, was involved in the Faculty for Women's Concerns organization, which was created after Kirkland College merged with Hamilton.
The Cholakians moved to New York City permanently in 1997 and bought an apartment in upper Manhattan. They take advantage of the city's cultural offerings and enjoy visits from friends in Clinton, as well as occasionally from former students.
"But," Patricia is quick to point out, "we have both continued to write and to do scholarship." She recently finished a book she had been working on at Hamilton on 17th-century women's memoirs, and Rouben published a novel, Murder on the Junior Year in France, which, in part, grew out of their own experiences in Paris.
They're currently working together on a literary biography of a 16th-century Frenchwoman, Marguerite de Navarre. "She was the wife of the King of France," Rouben said, "but she was herself a considerable writer."
"We usually devote about half of each day to that," Patricia said, "and half of each day to the rest. We've made quite a few friends here. And then, of course, there's shopping and cooking."
Rouben finds himself indulging "the dilettante part of my personality, too. I do embroidery, can you imagine?" And following his great interest in music -- he fondly remembers his years as a tenor in the Oratorio Society and participating in theatrical productions on the Hill -- he is also writing a children's book with original songs.
That was a characteristic of Hamilton that Rouben said he particularly enjoyed; in addition to his role as a professor, "You could allow yourself to be all of these other things."
Edwin Lee
Professor of History, 1958-1987
Taught Asian History (his specialty is modern Japanese history), Foundations of Modern Society, Historiography and East Asian History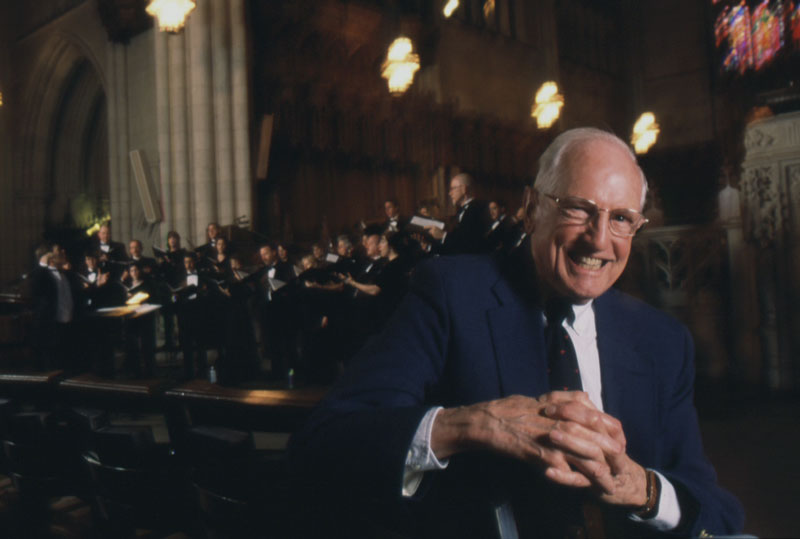 Ed Lee in the Duke University Chapel with the Vocal Arts Ensemble rehearsing in the background
Photo By: Chris Hildreth
"I can see Chapel Hill from my window," said Edwin Lee, who grew up in North Carolina, graduated from Duke University and moved to the Forest at Duke retirement community in Durham 10 years ago.
He finds his setting ideal and takes advantage of many area university offerings. Having taught summer school at Columbia and Long Island universities before moving south, he has himself taken a few courses at Duke. He tries to keep up with scholarship in his discipline and has also given a few lectures.
"Classical music is my great hobby," he noted. "We have wonderful music here. I can go to a concert almost every week of the year." He is also a member of several music associations and makes a point of going to Hamilton choir concerts when the group performs in his area.
A member of a reading group at his retirement community, he said that "it seems to fall into my lap to lead the discussions. I had done this at the public library in Clinton after I retired. I don't mind, so I keep it up."
Lee is also active in the Duke University Chapel Congregation, a group that studies the month's upcoming lectionary readings. His sister and her family live nearby. "I try to keep up with my nieces and nephews and give them whatever advice they feel like taking or asking," he remarked.
Recalling his time at Hamilton, Lee mentioned that he's proud that a number of his students have gone on in the field.
"Hamilton and I were made for each other," he said. "I am not a compulsive scholar. My joy was teaching, and Hamilton emphasizes teaching." He also enjoyed the small intellectual community, for the opportunity to learn "more about other fields than you have ever known before."
Victoria Vernon
Associate Professor of Comparative Literature, 1983-2001
Taught Short Fiction, Comic Fiction, Fiction of the Future, Literature of Imperialism, Realms of Literature, Women Writers of Japan and China, Japanese Literature and Film, and World Literature
"In the beginning, you try out a whole bunch of things," Vicky Vernon said about retirement. She now lives in the foothills of the Sierra mountains in Placerville, Calif., five miles from the site where gold was discovered in 1848.
For one, she joined a writing group. She has been writing, mostly short stories set near her home. "When you're in an area that you haven't been in for a long time, you haven't normalized yet," she explained, "so you see the place with the outsider's eye. That makes it easier to see it, actually." In one story, "Parallel Universes," she examines the SUV culture vis-a-vis the AARP culture.
"I pick up my 12-year-old grandson from the bus," said Vernon, whose daughter and family live down the road. "I've also been doing a lot of plain old reading."
But, what has turned out to be unexpectedly time-consuming, and also very rewarding, is something she calls "ghost editing" -- editorial coaching or copy-editing for academic writers before they submit their manuscripts to their publishers.
"It turns out I'm good at it, and I enjoy doing it," she said. "It gives you the same pleasure as doing a really attentive job of grading somebody's term paper -- but then you don't have to give them a grade!
"I got my biggest satisfaction from teaching," Vernon said. "The classroom was a locus of illumination. The thing is, the light didn't just go on for the students, it went on for me. And every once in a while I get a communiqu? from a former student: 'OK, Vicky, what's it all about?!' or, 'It was you who first taught me to deconstruct reality.' It's an enormous pleasure when a former student takes the time to say, 'You really made a difference.' The life of the mind can be very breathtaking, and that's protected on a college campus."

Rebecca Downing Costello '91 is associate editor of university publications at Colgate University. A creative writing major at Hamilton, she is a former student of Professors Fred Wagner and Vicky Vernon.